December 4th, 2013
Uncategorized

It's a tough world out there but Avnet Technology Solutions plan to meet its demands with durable computers and tablets from Panasonic. The new distribution deal will see Avnet offering their customers products from the Toughbook range that spans everything from laptops, to tablets and convertible Ultrabooks.
Avnet Technology Solutions, general manager A/NZ, Darren Adams, said it saw strong opportunities to further increase the penetration of Toughbook products in Australia, including with resellers in markets where there is a strong need for a robust, mobile offering such as medical, resources and mining, and point of sale.
Built to military standard specifications, Panasonic Toughbooks and Toughpads are far from the average IT fare. The business-rugged range is designed to withstand all manner of bangs, bumps and liquid spillage, while the fully-rugged units can endure the world's most extreme conditions, such as drops from a height, rain, oil, pressure, dust and extraordinary swings in temperature.
All this durability translates into significantly reduced total cost of ownership for Avnet's customers because it virtually eliminates costly repairs and the investment of time to recover lost data.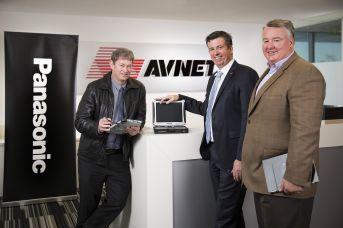 L-R: Darren Adams, VP & General Manager, Avnet Technology Solutions, Australia & New Zealand; Marc Amelung, Toughbook Group Manager, Panasonic Business Systems Group; Chris Ford, National Sales Director, Avnet Technology Solutions, Australia & New Zealand
READ MORE
Avnet Technology Solutions appointed distributor of rugged Panasonic Toughbook line up in Australia.