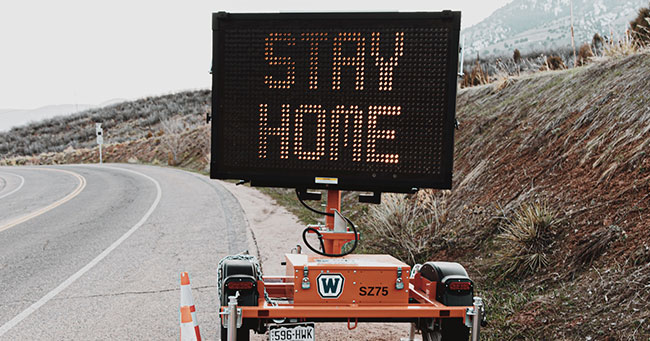 Welcome to part 2 of our 3-part series on how the events of 2020 have affected those in the supply chain industry, and how they can improve their processes to strengthen their competitive position through the use of connected technologies, including practical mobility solutions, innovative semi-automation improvements, and transport insights. Be sure to follow Panasonic Australia on LinkedIn to stay up to date with our latest news and blog posts.
As the events of 2020 continue to develop, it seems people are beginning to accept the fact that certain things they used to take for granted may not be the same for the foreseeable future. They are coming to terms with the notion that we'll be in this new normal for the short to medium term, and the only thing left to do is to be adaptable, understanding and open to change.
The global COVID-19 pandemic has caused significant losses in some of the industries that we all thought were reasonably steady. Hospitality, travel, entertainment and retail have all faced major setbacks as their customers have been encouraged to reduce social interactions and in some cases are still restricted in their movements.
Conversely, industries that make self-isolation a more practical or pleasant experience are surging in popularity. Video conferencing apps like Zoom and entertainment and streaming platforms like Netflix and Amazon Prime Video have seen a significant rise in popularity.
Expectedly, online shopping and food delivery services have also experienced a major surge. Companies like Uber Eats and Deliveroo were primed to fulfil the flood of demand from foodies that were no longer able to eat at their favourite local restaurants.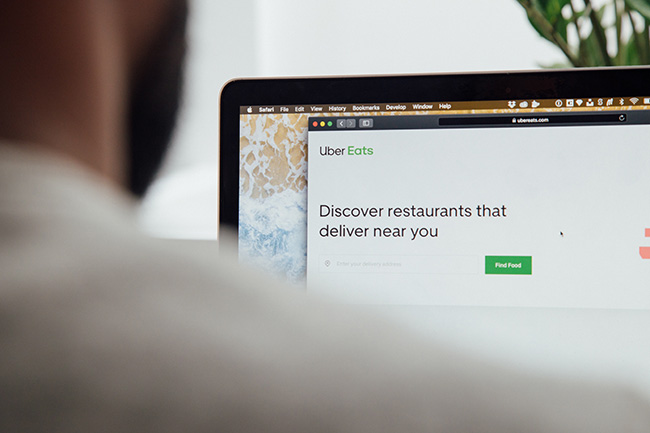 In March 2020, Adobe announced the Digital Economy Index (DEI). It's a rapid read of the digital economy, promising to provide consumers and companies with a dynamic look at the state of the global online economy.
It looks at trillions of anonymised and aggregated visits to e-commerce sites and tens of millions of product SKUs to give insight into local and global trends. It currently only aggregates data from US and UK sources, but plans are in place to include other global economies in the future.
Data from the US reveals July 2020 experienced a 55% increase compared to July 2019 and predictions forecast that online spending for 2020 is set to exceed online spend for all of 2019 by October 5." It also revealed that "what people are buying online is expanding as one-day delivery, buy online pickup in-store, and other fulfilment innovations make more products digitally accessible".[2]
"COVID-19 has changed business forever. We think that over the next couple of months we will see an even bigger focus on experience-driven e-commerce, as the competition heats up where consumers are now putting so much of their attention online." 1 John Copeland, VP of Customer & Marketing Insights, Adobe
The silver lining amid the turmoil of 2020 so far is that industries that can leverage technology to update their processes or value propositions have been able to buck the trend and find growth as consumers become more accustomed to changing their living and spending behaviours.
Speaking with Charbel Massoud, Enterprise Solutions Consultant, Panasonic Australia, we asked him how the events of 2020 have changed the supply chain landscape.
"Companies have worked out that they need to be more agile then ever and that complex supply chains struggle in emergency situations."
This is why we are very excited about the potential of our semi-automated T&L solutions, including the likes of Visual Sort Assist (VSA) technology. VSA is one of Panasonic's latest logistics solutions, capable of dramatically transforming the process of manual parcel sorting. It combines object recognition and projection mapping technology to improve the efficiency of sorting parcel destinations.
Visual Sort Assist uses Panasonic's projection mapping technology to display a distinguishing colour and a large, clearly visible symbol onto a moving parcel based on a scanned barcode. Workers simply look at the symbol for sorting to determine where the parcel needs to go, eliminating the need to read every label, decipher where it should go, and then sort it accordingly.
Human error is an on-going concern that supply chain and logistics experts are constantly trying to mitigate. VSA can realise major improvements process and handling mistakes, increasing the speed and reliability of the picking and sorting processes.
Another major advantage of this system is that staff don't require extensive training on how to make logistics decisions. They simply need to know a box marked 'Destination A' needs to go to the 'Destination A' holding bay. This also provides greater agility in meeting seasonal demand, equipping warehouse operators with the flexibility to scale their operations.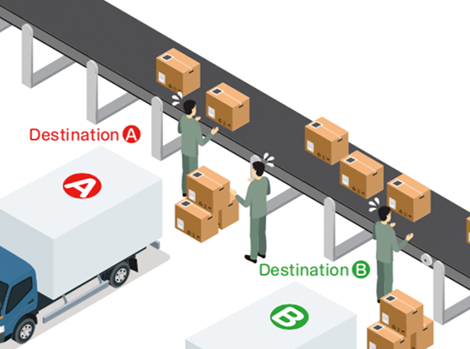 Before VSA
– Staff read every label to determine its destination.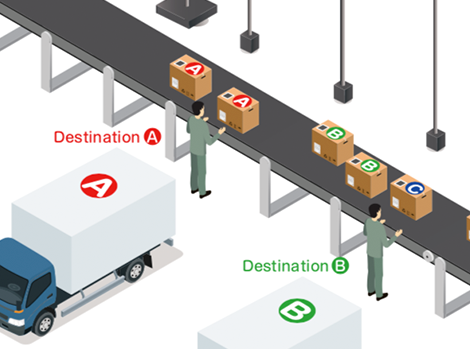 After VSA
– Staff only look at deliveries marked with their destination.
This innovative system works best in sites where employees pick packages based on information which can be read from the label and includes applications in sorting centres, last mile DCs and reverse logistics applications.
"With the learning that companies can take out of the COVID-19 disruption, now is the time to advance digitisation and set the path forward. From efficiency gains via technology adoption, through to being better informed via the data collected and analysed through the technology implemented." – Charbel Massoud, Enterprise Solutions Consultant, Transport & Logistics
---
If you're ready to put your organisation in a position to take advantage of the ever increasing demand for warehouse, logistics and supply chain services, contact the Panasonic Business Solutions team today.
---
Contact us
Contact us for more information on Panasonic Business products:.