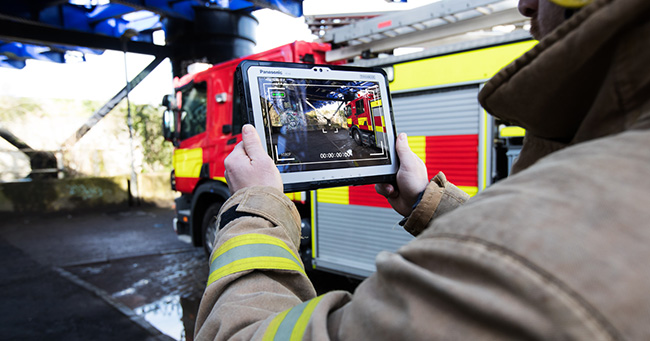 From the outside, the new Panasonic TOUGHBOOK A3 looks very similar to its predecessor, the TOUGHBOOK A2. Both are designed to support mobile workforces who need to combine the power of technology with physically demanding working conditions. But in what areas has the latest A3 advanced, and why should organisations consider this latest iteration to support their own evolving requirements? Read on to find out.
"A successor to the popular TOUGHBOOK A2, this latest device is more rugged, powerful and able to work even longer in the field than its predecessor."- Ranjit Sohoni, Senior Product Marketing Manager – Mobility Solutions at Panasonic System Solutions Oceania.
At a glance, the A2 and A3 are physically very similar. The units are basically identical in size, measuring 272 mm × 196 mm × 16.4 mm. Both use a 10.1-inch high-resolution LCD capacitive touchscreen and weigh basically the same -the A2 at 880g and the A3 at 885g.
Panasonic TOUGHBOOK A2 (Left), Panasonic TOUGHBOOK A3 (Right)
In terms of toughness, the A3 is now best-in-class with a 1.5m drop resistance on concrete, up from 1.2m. In addition the IP65 rating for its waterproof and dust resistant capabilities, plus the MIL-STD 810G certification ensures they comply with the audit requirements your organisation may require.
But below the hood is where the A3 starts to shine. Running Android™ 9 (Pie) is the first big improvement of the TOUGHBOOK A3. Compared to the Android™ 6.0.1 of the A2, the A3 offers a significant improvement in security, usability and connectivity.
To ensure that performance and the end user experience was not compromised, the processing power of the A3 has been upgraded accordingly. A Qualcomm® SDM660 Octa-core Processor is employed to ensure the increased demands from the operating system are met. The upgraded CPU is complemented by 4GB of LPDDR4 RAM, upgraded from LPDDR3 to augment responsiveness and usability.
Organisations with complex graphics and video processing applications will appreciate the implementation of a Qualcomm® Adreno 512 GPU. Testing at up to 3.4x better than the previous Intel® HD Graphics 400 chipset ensures the A3 is well equipped to handle the evolving popularity of video streaming and augmented reality applications.
Understanding the requirements of modern workforces, the TOUGHBOOK A3 doubles the storage capacity of the previous generation. 64GB of eMMC internal storage combined with a MicroSD/SDXC Memory card slot eliminates storage anxiety, allowing organisations to access and store up to 2TB of additional data via an external SDXC SD card.
Often overlooked, but still important are improvements in the A3's connectivity. Bluetooth™ 5.0 has been updated from 4.2 to offer a faster, more reliable wireless connection to a broader range of devices and third party peripherals.
The Wireless LAN has been upgraded from the Intel® Dual Band Wireless AC to chip to one that is compatible with IEEE802.11 a/b/g/n/ac/d/h/i/r/k/v/w and MIMO – 2.4GHz / 5GHz frequencies.
Practicality for extended use has also improved, with the A3 capable of running for up to 9 hours on a standard battery or 15 hours using the latest optional large battery with dual battery capability. But despite all these hardware and performance improvements, perhaps the most important development of the TOUGHBOOK A3 tablet is its pending* Android Enterprise Recommended (AER) device certification.
The formal application to demonstrate that this latest piece of hardware will meet Google's strict enterprise requirements for hardware and software signals Panasonic's intention to be a serious contender as the flagship Android powered tablet for enterprise-level organisations.
AER offers IT teams a range of Android Enterprise features including enterprise grade device deployment and management, enterprise grade security and Google Play Protect compatibility.
AER certification will mean demanding industries such as warehousing and logistics, and critical roles such as emergency services can be confident that the Panasonic A3 is a viable long-term investment, well suited to business-critical applications.
Read more about the importance of the Android Enterprise Recommended certification for the A3 here, and stay up to date with the latest developments by following us on LinkedIn.
*As at 24 July 2020.
---
Contact us
Contact us for more information on Panasonic Business products:.