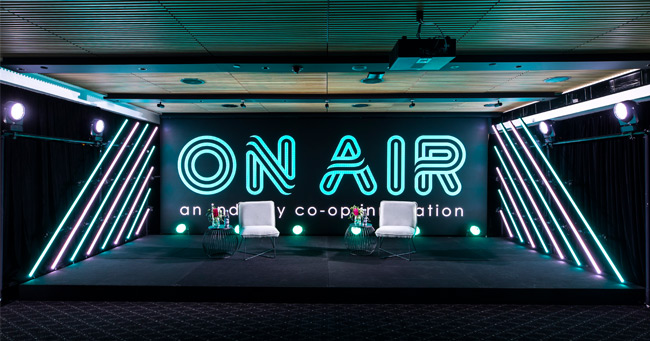 ON AIR is a state of the art semi-permanent studio located in Sydney's SMC Conference & Function Centre. The ambitious project attempts to redefine the future of seminars, conferences, and creative performances in a world turned upside down by unprecedented social restrictions.
Events all over the world have been forced to cancel or suspend activities indefinitely. From multi-billion dollar sporting events such as the NBA and Formula 1 to international tradeshows and conferences such as E3 and Google IO – all have been impacted by advice from governments across the globe encouraging people to stay home and practice social distancing.
The pandemic has left organisations that rely on venues to host their events scrambling to figure out how to adapt and keep the conversation with their audiences going. The closing of borders and social distancing rules were simply not in the contingency plan, leaving teams under prepared to transition their events online.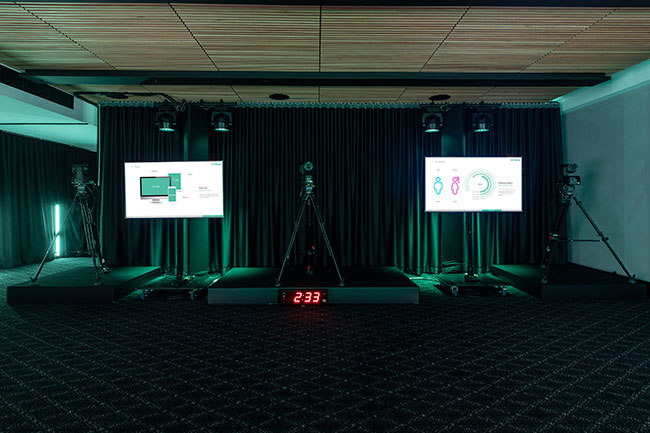 Recognising this gap, three long-term industry partners teamed up to conceive and build a creative space with high-end audio visual and virtual event capabilities. Creative agency 'Create Engage', equipment supplier 'Audio Visual Events' and the 'SMC Conference and Function Centre' created the ON AIR co-op to give clients an alternative way to connect with their audiences while keeping event industry professionals employed, and event specific businesses afloat.
"COVID-19 has upended the events industry and government orders that rule out mass gatherings mean large-scale face-to-face events are unlikely to resume for some time. We understand that organisations still need to communicate with their clientele, associates and their staff," – Paul Davison, General Manager, SMC
The ability to leverage a creative agency, a technical AV hardware specialist, and a top-tier event space has provided clients with little to no experience in virtual events with a turnkey solution that can transform their ideas into reality.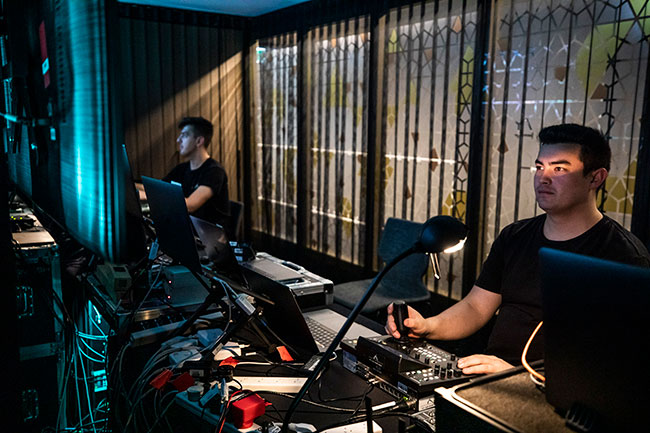 The space itself was designed with versatility in mind. Offering multiple studio configurations ensures its suitability across a broad range of scenarios including virtual conferences, panel discussions, corporate training and fundraising events.
The technical implementation of the ON AIR studio also encourages clients to think beyond what is possible with a normal real-life event to truly exploit the advantages of a virtual event.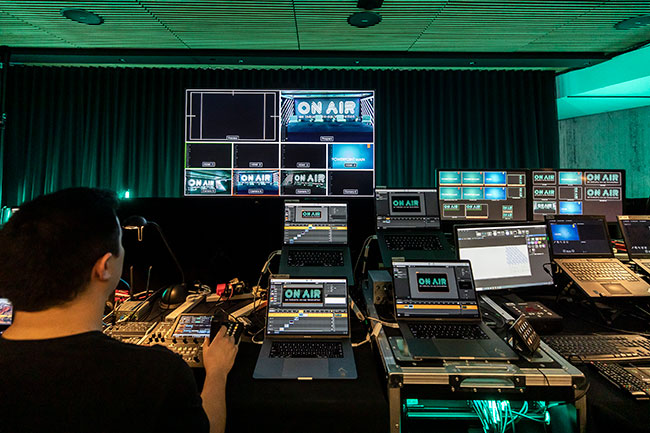 A 7m wide by 2.5m tall custom built LED wall makes for a great centre piece, most often being used as a rich static background or video backdrop. It can display a single image or multiple heads/videos simultaneously to create a more immersive environment allowing presenters to support their message with engaging imagery.
Video is captured on three Panasonic AW-UE150 ProPTZ cameras and operated by one central AW-RP150 controller. The impressive 4K image quality combined with their ability to use pre-sets means the operations team can quickly establish camera angles during rehearsal and help reduce production costs for clients by requiring just one operator for the event.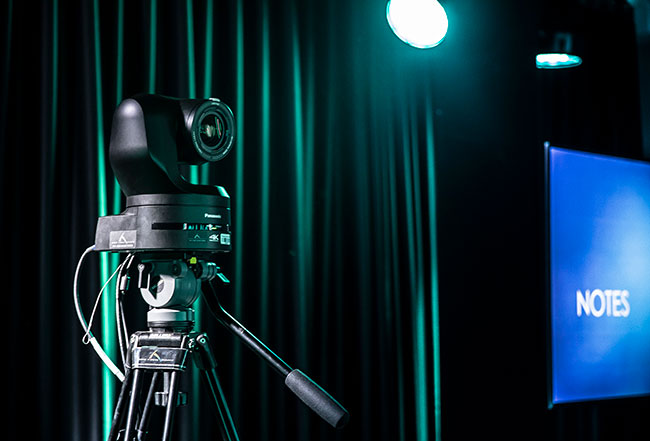 "We have stocked a range of Panasonic ProPTZ cameras and controllers for years, and the use of pre-sets within the AW-RP150 enables perfect repeatability and control over each camera's setting. Our technical operators enjoy working with them during shows and clients love the results, flexibility and cost savings these products deliver." – Paul Keating, General Manager, AVE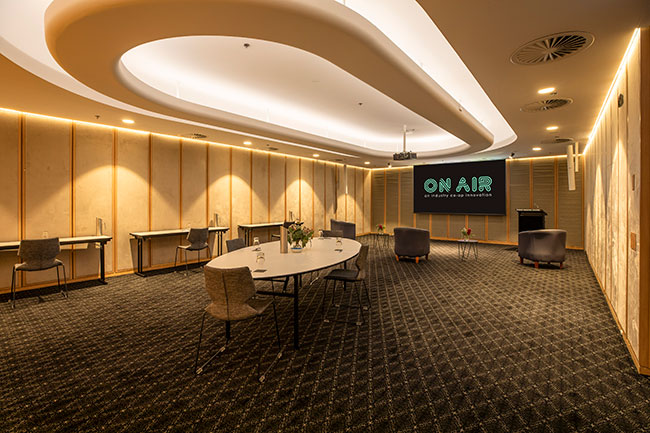 The event space comes with the features you can expect from a professional function centre including car parking, a large green room, multiple workstations, exceptional catering plus access to stylists, curated furniture and other design elements to really bring your event to life.
To date, the ON AIR studio space has hosted events for some major organisations with great reviews from a broad range of industries including Blackmores Group, Salesforce, Vinnies CEO Sleepout and Palliative Care Australia.
A clear indicator that the general public is accepting virtual events as the new normal can be seen in the fact that ON AIR has seen back to back bookings in May and is already fully booked throughout July and August.
For more information about ON AIR studio, visit: https://www.onairstudio.com.au/
---
Contact us
Contact us for more information on Panasonic Business products:.