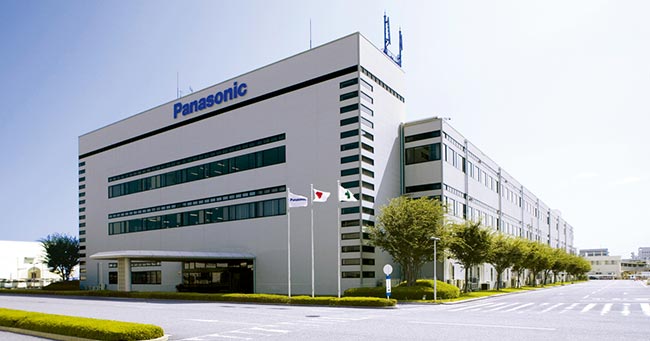 Recently our manufacturing plant for TOUGHBOOK in Japan held a virtual tour, giving Panasonic Business customers and TOUGHBOOK users a sneak peek behind the curtain into the production process of our mobile computing range.
Located in Kobe, approximately one hour's drive from the Panasonic head office in Osaka, the factory combines the speed and accuracy of robots with the thoroughness and attention to detail of humans to create one of the most durable, and reliable mobile computing devices on the market.
Our latest Android Enterprise Recommended A3 TOUGHBOOK features up to 1.5m drop and shock resistance[1], IP65 water and dust resistance1 and is designed to keep working at temperatures between -20°C and +50°C1.
So just how does TOUGHBOOK achieve such impressive rugged specifications while offering reliability, portability, processing performance and long battery life? Our glimpse into the processes and attention to detail during the production phase of a TOUGHBOOK device explains the level of commitment required to deliver a rugged enterprise-grade device in 2021.
Everything begins at the Kobe facility which features three quality control systems that underpin every step in the production of a TOUGHBOOK device.
The first is the Traceability System which enables us to track every individual component of a laptop or tablet as soon as it is soldered onto a device.
The second is the Kobe Intranet of Super Production System (KISS) which allows the factory to reconcile every component back to a device, and then to a customer.
The third is the Early Detection System which aggregates and monitors repair information around the world to proactively identify issues to maintain industry-leading low failure rates.
The very first step begins with a QR code that is soldered onto every TOUGHBOOK device. This unique identifier stores all information relating to the components that are attached to that specific motherboard, ensuring every step of the production process is recorded for fast, accurate troubleshooting and auditing.
From there a team of precision machines go to work to printing up to 5000 soldering points that will house approximately 1800 different components that need to be connected to the motherboard.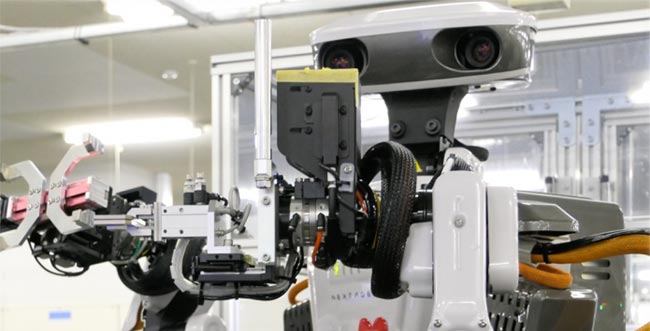 Next, a production line of the latest generation chip mounting systems use machine-to-machine communication to attach all the necessary computer chips and integrated circuits onto the motherboard, while recording every action against the unique QR code on the motherboard.
The motherboard then moves into a reflow furnace which melts the soldering points at the optimum temperature to ensure maximum conductivity. Nitrogen is also pumped into the furnace to prevent oxidation, cracking, and misalignment of the solder joints for optimum reliability.
A team of automated robots then take over, inspecting and testing all motherboards for any potential connection or conductivity problems.
Once the motherboard has passed testing, a team of skilled technicians begin with the assembly process. Due to the 10,000 different active configuration options available across our TOUGHBOOK range, devices are assembled by hand, bringing an element of Japanese craftsmanship to every single TOUGHBOOK device, while maintaining the flexibility to cater to specific organisational requirements.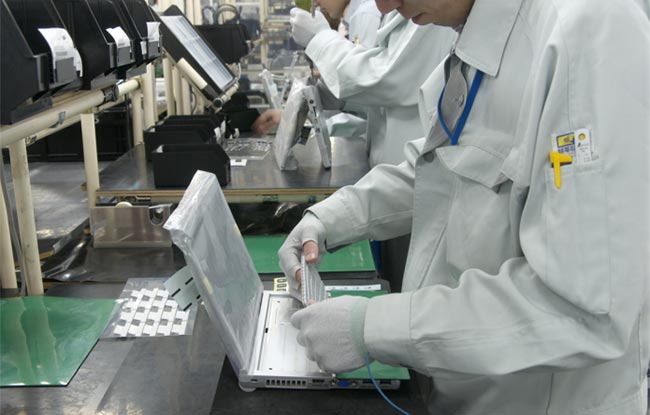 Finally, once the device has been assembled it begins the testing phase to ensure all standards have been met and the end product can deliver on its promises of uncompromising reliability and ruggedness.
The first tests scrutinise the functionality of the device, testing the LCD display, speakers, LAN and USB ports and more. Next, the CPU and RAM are stress tested to ensure the actual computing and processing performance of the device is running optimally.
Interestingly, while other manufacturers' batch test their products selecting a small sample of each production to undergo testing, Panasonic's obsession with quality means each and every device is tested to guarantee reliability straight out of the box.
Once through the operational tests, each TOUGHBOOK progresses on to the rugged capability testing, ensuring they are built to the exacting tolerances required to survive the harsh conditions a TOUGHBOOK device might experience out in the field.
Devices are tested for their water resistance, in a purpose built chamber where a water jet sends 12.5l of water per minute onto a powered device to ensure all seals and gaskets have been installed according to spec.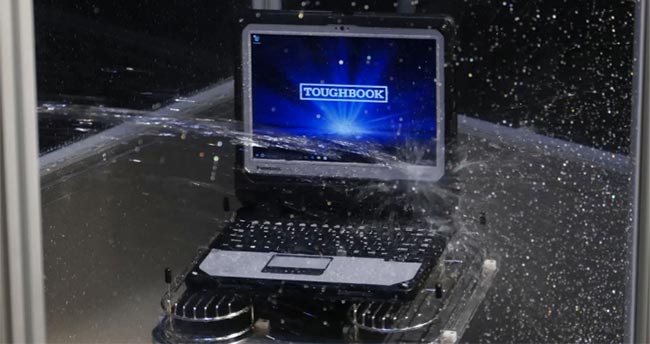 Next is the drop test, where the TOUGHBOOK is dropped by a purpose built machine from a range of heights to test the shock absorbing characteristics of its internal floating architecture.
The last test occurs in an anechoic chamber that is housed in a futuristic dome like building. The chamber blocks radio signals and electromagnetic waves and is designed to test electrical compliance of each TOUGHBOOK.
The TOUGHBOOK anechoic chamber is the biggest facility of its kind at any PC manufacturer. While many companies choose to outsource this element of testing, the fact that Panasonic have a dedicated onsite facility to enable it to carry out around the clock assessment and make adjustments based on test results to continually improve performance and reliability speaks volumes about Panasonic's commitment to quality of the final product.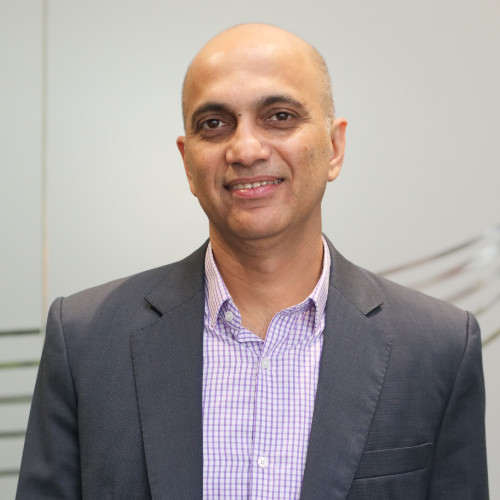 Want to know how your organisation can benefit from a rugged, reliable mobile computing solution? Reach out to
Ranjit Sohoni
, Senior Product Marketing Manager- Mobility Solutions, Panasonic Australia via LinkedIn, or fill in our contact form below.
Contact Form
[1] Tested by an independent third party lab following MIL-STD-810G and IEC 60529, Sections 13.4, 13.6.2, 14.2.5 and 14.3
---
Contact us
Contact us for more information on Panasonic Business products:.