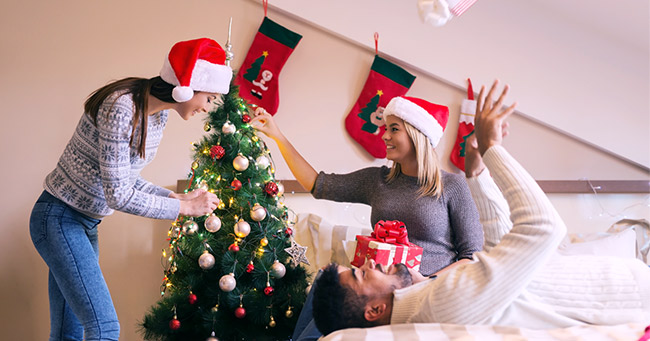 We're feeling extra festive this year, so we've put together a giveaway filled with Christmas presents (valued at over $2.5K) and we're sharing a little recap of our favourite moments from the year gone by…
JACKO'S TOUR
We Met Jacko, Our #1 Fan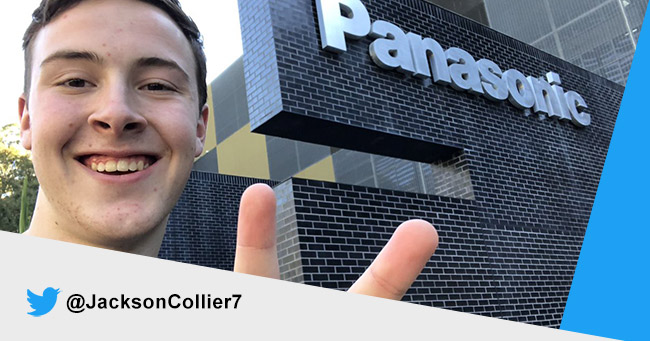 See what happened when everyone at Panasonic HQ got to meet our biggest fan.
Jackson Collier is, without a doubt, our brand's biggest fan. We became friends with him through the Panasonic Australia Twitter profile and have been treated to so many great pictures and videos that show his Panasonic obsession.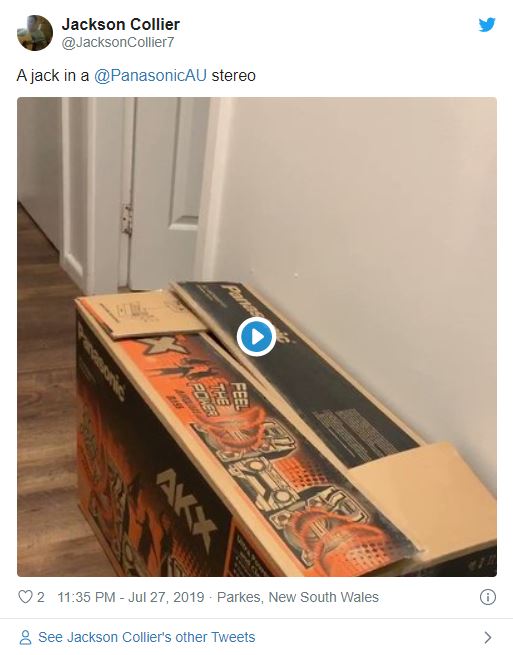 He constantly posts pictures and videos on social media featuring his products in action; from the family's pet bird dancing on his Panasonic stereo, or the series of him grooming with a Panasonic shaver, and our favourite video featuring him jumping out of the box from his brand new Panasonic hi-fi acquisition.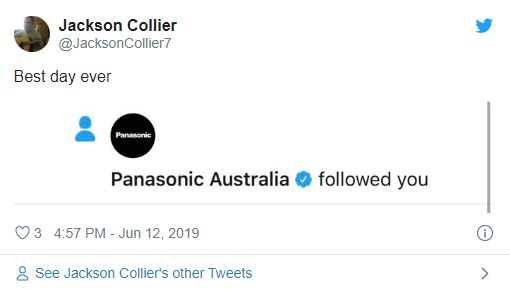 We followed Jacko back on Twitter and he reposted a screenshot to say it was the "best day ever" and then listed us in his own Twitter bio. So when Jacko and his family accepted our invitation for an official visit to Panasonic HQ, to say we were excited barely covers it! In fact, we all went into OTT mode to ensure the experience rivalled that of the most important visiting dignitary. Our signage was changed to welcome Jacko, a VIP tour guide and itinerary was arranged, and the staff all contributed to an Aladdin's cave of Panasonic-branded merchandise and treasures.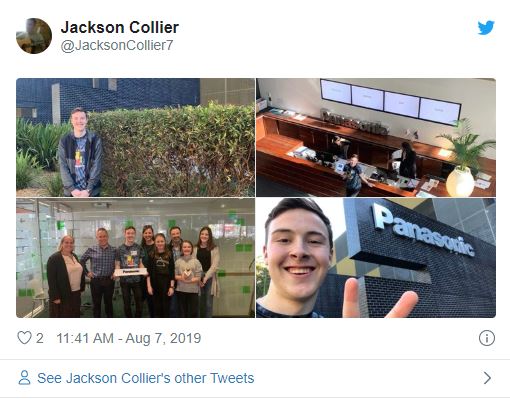 The VIP tour included an introduction to our Managing Director, Paul Reid, meet and greets with product managers, a wander through our history showcase, and an exclusive experience in the showroom to get hands-on with everything in our latest range. Jacko had carte blanche to capture his tour on film and we absolutely loved seeing his social media posts afterward – both of his time at Panasonic and the shrine he created back at our home with all our gifts.
From everyone here at Panasonic, we want to thank Jacko and the whole Collier family for taking the time to visit and giving us the opportunity to see our brand through the loving eyes of our biggest fan. It's an experience we will never forget!

TOP 10 GALLERY
We Celebrated Team Spirit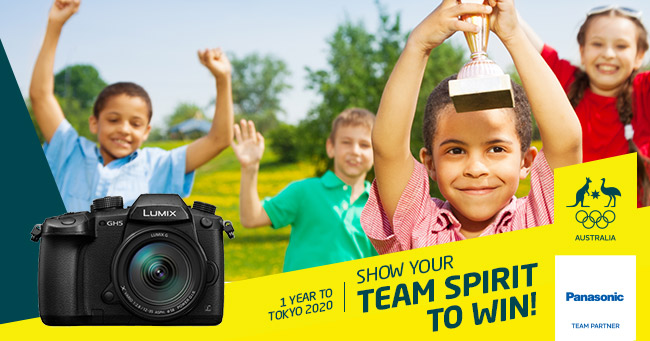 Our #1YearToGo until Tokyo 2020 photo-comp showed team spirit isn't in short supply.
To mark 1 Year to Tokyo 2020 Olympic Games, , we invited fans to celebrate team spirit by uploading a photo to our nationwide competition for the chance to win a GH5 camera and 12-35mm lens valued at $3,599.
The theme showed us that team spirit comes in so many shapes and forms, with entries portraying work teams, sports teams, kids playing together as a team, friends cheering a team on to victory, and so much more.
We narrowed the field down to twenty finalists, drawn from the top 10 images by vote and 10 wildcard images. Our jury of LUMIX photographic experts then judged the finalists based on the team spirit portrayed in their image, along with the creativity of their title and image caption.
After careful deliberation, the Grand Prize Winner title was bestowed upon Louise from Victoria, for her image 'Winners R Grinners!'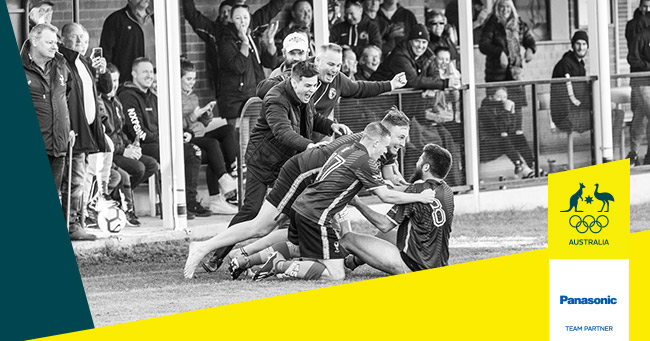 Grand Prize Winner: Louise from VIC
Image Title: Winners R Grinners!
Image Caption: Number 8 scored a goal in the dying minutes to seal match victory for his team!
WATCH VIDEO
We Glimpsed TV's Future
At our 2019 AV launch, this transparent OLED was our favourite show-stopping star.
At the Panasonic 2019 Premium AV Launch, we introduced so many exciting new products. But there was one futuristic item on display that stopped the industry's best and brightest in their tracks; a transparent OLED prototype we flew in from Japan! How can a TV screen be see-through? Watch our video and see the transformation for yourself.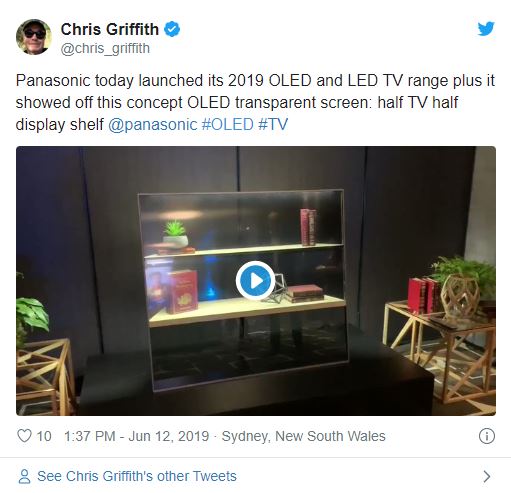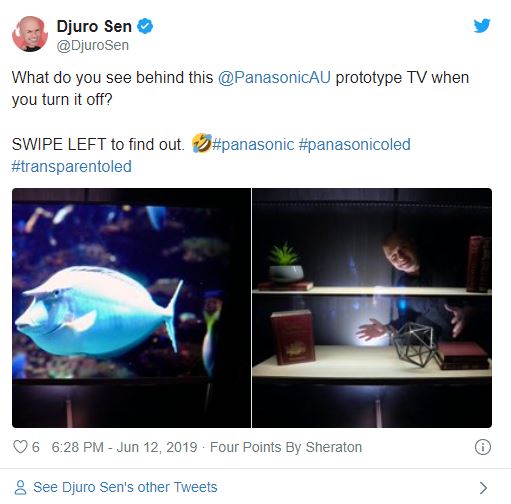 "Panasonic showed off a transparent OLED TV for the first time in Australia today, and it just proves that we're living in 2019 and tech companies are living in 3019… I tried so hard to stay professional during the demo, because it's so goddamn cool – but my inner nerd was screaming."
– Sarah Lewis
READ MORE
Transparent OLED, the world's most cinematic TV and more
WATCH VIDEO
We Relaunched an Icon
Our acclaimed audio brand, Technics is the talk of the town after this massive Australian launch.
It was a big moment for original Technics aficionados and the latest generation of vinyl lovers when we launched a new line-up of turntables featuring the acclaimed Technics direct drive system, along with OTTAVA stereo and wireless speaker systems, plus must-have headphones.
To celebrate the momentous occasion we held an exclusive media launch at the Pullman Grand Quay, followed by a party at hot spot, Hacienda. DJs, producers, retailers, and journalists, together with audiophiles and vinyl enthusiasts, rediscovered music through turntables that provided unparalleled sound quality, wireless speakers that brought uncompromising clarity and of course, the iconic Direct Drive Turntable which took DJ performance to a new level.
"Hi-fi enthusiasts have had to sit back and watch as the famed-Technics brand relaunched around the globe, while year on year releasing even more new products. Well, wait no more, as Technics is back Downunder."
– Marc Rushton
READ MORE
Technics begins a new chapter in Australia
ENTER NOW
We Took Over Instagram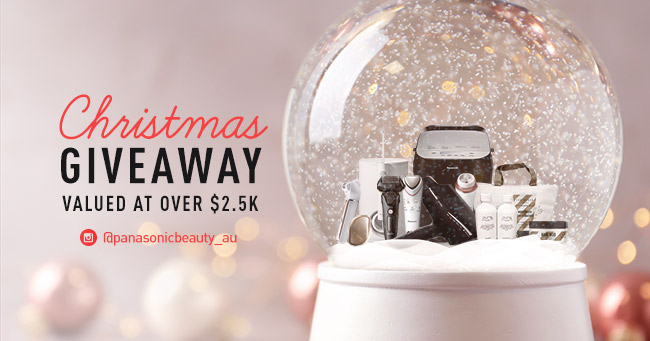 Our very favourite thing? Instagram giveaways! Of course we couldn't let Christmas go by without giving you the chance to win a whole sleigh full of presents.

Panasonic's epic Christmas giveaway on Instagram will see one lucky person take home a gift pack valued at over $2.5K, stocked with
1 x EH-ST63 ionic cleanser
1 x ES-EL8A epilator
1 x EW1611 ultrasonic water flosser
1 x ES-LV97 5-blade shaver
1 x EH-NA98 hair dryer
1 x Pure Fusion Complex Trio
1 x Tangle Teezer detangling hairbrush
1 x SD-ZP2000 bread maker
1 x EH-SC65 micro-foaming cleanser
1 x Ted Baker gift pack.
ENTER NOW
FOTO BIENNALE
We Supported Art & Culture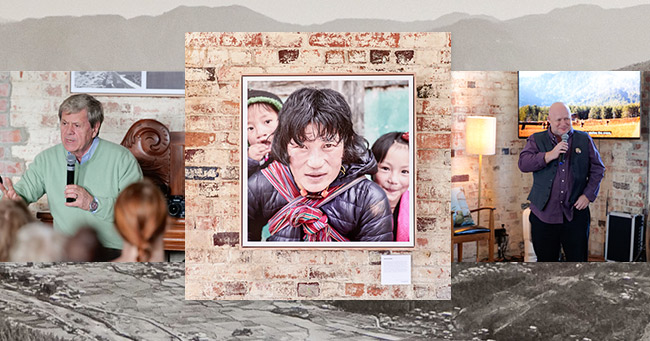 Through our Biennale sponsorship, Ray Martin & Ewen Bell showcased a stunning photo exhibition.
For over a decade, the Ballarat International Foto Biennale has enriched the cultural landscape of regional Victoria and become the most significant, prestigious photographic arts festival in Australia. This year, Biennale attendees were able to enjoy three special LUMIX events.
Ewen Bell and Ray Martin
Feathers of the Dragon Exhibition
Iconic Australian journalist, Ray Martin teamed up with leading editorial photographer, Ewen Bell, to showcase a breathtaking exhibition. 'Feathers of the Dragon' offered a rare and touching glimpse into bird conservation in the forests of Bhutan, and the Bhutanese who protect the habitat. The stunning images captured by Ray and Ewen, using state-of-the-art LUMIX S1R and LUMIX G9 cameras, told an enthralling story of hope and cultural preservation.
Ray Martin Q&A

One of the most respected and influential journalists of our time, Ray Martin is a master of the story. In the last decade he has embraced the camera as a new horizon for his own story telling. In this sold-out Q&A session, Ray shared his photographic journey and travels in Bhutan. Guests also had a unique opportunity to chat with Ray about cameras, creativity, culture and his most recent work from the Himalayas culminating in the 'Feathers of the Dragon' exhibition.
Ewen Bell Parrot Walk
When we announced this hands-on workshop photographing parrots with LUMIX Ambassador Ewen Bell, the event sold out within a matter of days! Those lucky ticket-holders began their day with an introductory talk on bird photography techniques before heading out to nearby park to chase some parrots using LUMIX G9 cameras and wildlife lenses. The experience concluded with an image processing session so guests could go home with a selected print of their best parrot.
READ MORE
LUMIX highlights from Ballarat International Foto Biennale
S1H CINEMAGIC
We Created Cinematic Magic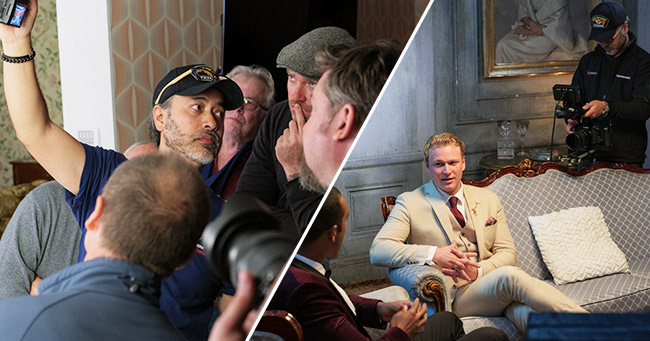 What better way to unveil the LUMIX S1H camera than with a cinematic VIP launch?
At the LUMIX S1H full-frame cinema camera launch, we treated Australian photographic specialists and media to the ultimate behind-the-scenes look at the SH1 in action with a series of cinematic scenarios showcasing the camera's dazzling array of capabilities.
"Imagine a VariCam and a GH5 fell in love and had a brilliant baby – a small, powerful full-frame camera baby capable of shooting 6K V-Log video and 96 megapixel raw images and with image stabilisation so impressive it all but eliminates the need for gimbals. That's the new flagship S series cinema camera from Panasonic, the Lumix S1H – and from what we know so far, it's a filmmaker's dream."
– Erin Smith
READ MORE
LUMIX S1H wows the critics on debut
FAB FOODIES
We Got Our Gourmet On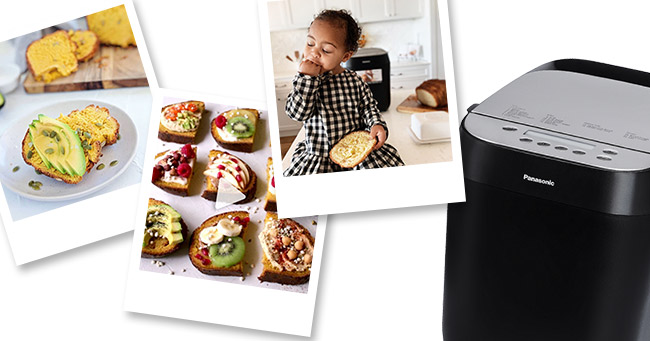 To celebrate the launch of our posh bread maker, we collaborated with the finest of foodies.
To celebrate the launch of our ZP2000 Hard-Crust Bread Maker, we collaborated with eight creative food bloggers around Australia. These culinary goddesses with over 650k social media followers combined, tested, reviewed and created a variety of savory and sweet bread recipes using our dream machine.
The verdict? Our bread maker was a fave and got a huge tick of approval! The influencers shared beautifully curated photographs and videos of their recipes, showing how to use our bread maker.
READ MORE
Panasonic's must-have kitchen gadgets for foodies
HAIR AFFAIRS
We Nabbed the 'It List'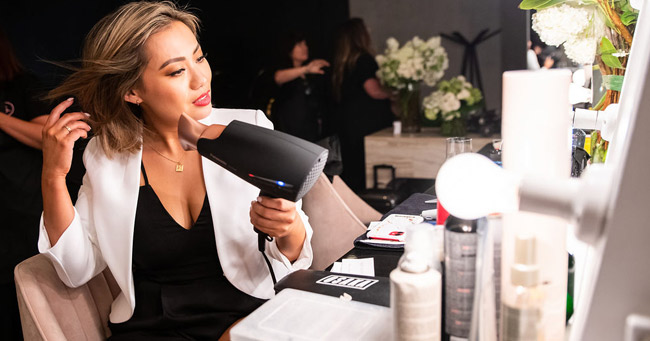 For the launch of our dreamy hair dryers, a who's who of beauty gurus came out to play.
Check out the beautiful people spotted with our on-trend rose gold and black hair dryers! These Instagram beauty babes are known for their creative flair, aesthetic and dedication to their followers – so we're absolutely thrilled to see them all head-over-heels for our on-trend rose gold hair dryers and hair that has it hall.
READ MORE
Beautiful people spotted with our rose gold hair dryers