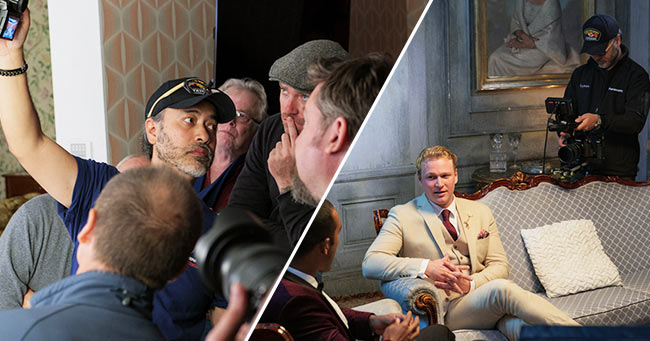 When we unveiled the LUMIX S1H full-frame mirrorless camera to Australian photographic media ahead of the global embargo, they were keen to share their first impressions with the local audience. This camera is Panasonic's new star in the growing S Series portfolio, with a dazzling array of capabilities, delivering cinematic performance and boundless creativity.
As Scott Mellish, Senior Product Marketing Manager, LUMIX, explains:
"Panasonic has a long history of developing professional cinema cameras for demanding filmmakers. We are proud to introduce this milestone camera which sets new benchmarks in what cinematographers can achieve from a mirrorless system."
A short history: the road to the S1H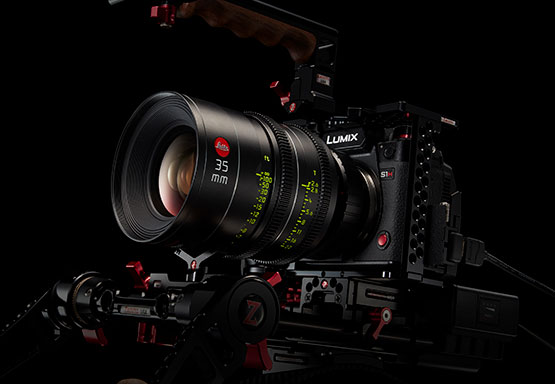 Panasonic has a long history in cinematography, and for roughly a quarter of a century we have worked with film creators to foster the development of new technologies that bring innovation to the industry and expand the possibilities of digital cinema. Our high end professional cameras, including the VariCam range, introduced many game-changing firsts, from slow motion video, which led the beginning of the digital cinema era, to 24p recording, the P2 card, and Dual Native ISO.
When LUMIX was born, this lineage and expertise gave us the opportunity to begin to introduce the same class-leading video technology to our mirrorless cameras.  And as the brand evolved, these cameras became increasingly sophisticated.
The LUMIX GH1 made its debut in 2009 as the world's first Mirrorless camera capable of full-HD AVCHD video recording. The next technological leap saw the LUMIX GH4 launched in 2014 with the world's first 4K video recording in its class.
And in 2017, the landmark LUMIX GH5 was released with the world's first 4K/60p, 4:2:2 10-bit 4K/30p video recording capability. The GH5 is highly acclaimed by film creators worldwide for its high performance, excellent mobility, and superb versatility in film production
The LUMIX S1R and S1 brought acclaimed LUMIX capabilities to full-frame shooting, and took LUMIX even deeper into the professional world. And we are certain that the LUMIX S1H will be our next imaging game changer – offering superb video performance drawn from the cinema industry, and the agility and functionality developed from our mirrorless cameras.
A groundswell of excitement in the industry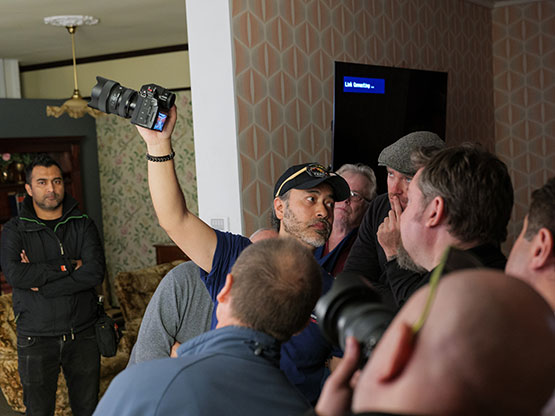 The S1H is fast gaining recognition for its swag of capabilities.  Its powerful features are designed to satisfy the most discerning filmmaker – from  6K full-frame capture and  Cinema 4K/4K 60p/50p recording in 10-bit internally; to Dual Native ISO for amazing low-light performance;  Dual I.S. (Image Stabilisation) 2 up to 6.5 stops, for powerful stabilisation correction; and V-Log/V-Gamut with 14+ stops of dynamic range, delivering impressively rich gradation.
Here's what they had to say:
"Imagine a VariCam and a GH5 fell in love and had a brilliant baby – a small, powerful full-frame camera baby capable of shooting 6K V-Log video and 96 megapixel raw images and with image stabilisation so impressive it all but eliminates the need for gimbals. That's the new flagship S series cinema camera from Panasonic, the Lumix S1H – and from what we know so far, it's a filmmaker's dream."
– Erin Smith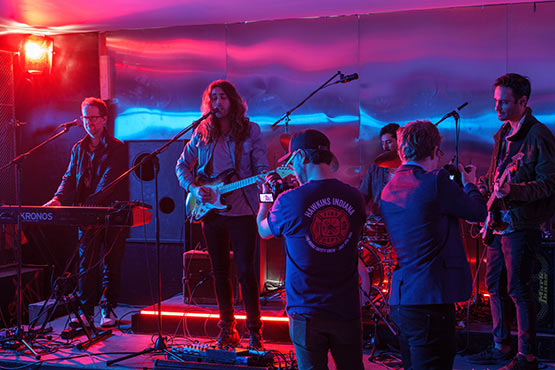 "When shooting a 1950s diner scene with dancers swinging on the chequered floor, footage taken using just handheld panning looked as if the camera was on a rig. This Dual IS 2 technology (already available on the GH5) allows for more precision and buttery smooth footage when using the camera handheld for long periods of time. Even when holding the camera aloft (like many of us would do if we were standing in the crowd while watching a band perform) for minutes at a time offers near-perfect results."
– Sharmista Sarkar
"You just knew it was coming. After augmenting its mirrorless lineup with the terrific S1 and S1R full-frame stills-focused cameras, Panasonic has now released an H version focused on video. Like a GH5 on some serious steroids, or a super-compact, hand-holdable Varicam, the S1H is a cinema-ready low-light beast that should put a chill up Sony's spine."
– Loz Blain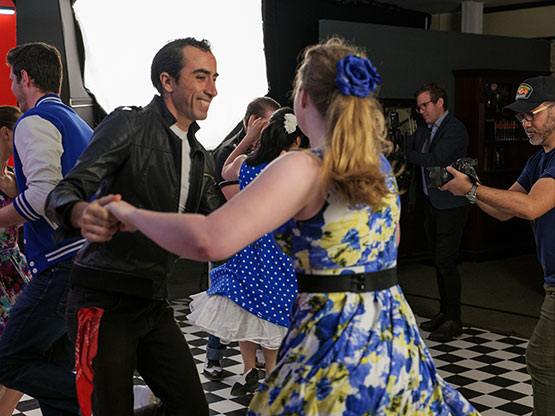 "Of course, the camera has a highly competent autofocus system. But it also has stuff that appeals to the video maker. One that was particularly impressive was the ability to "memorise" two or three focus points, and then have the camera smoothly slide from one to the other. Several speeds were provided. That's a cool feature that would, until now, have required a cinematographer with enormous experience to pull off."
– Thomas Bartlett
"A world first: The S1H will be the world's first camera able to record 6K/24p (3:2 aspect ratio), 5.9K/30p (16:19 aspect ratio), and 10bit 60p 4K/C4K – bringing pro-level cine camera capabilities to a far more manageable package. The addition of 6K will provide plenty of latitude for editing and downsampling, which will enable maximum quality 4K output."
– Craig Pringle
"Our Take?Look – for amateurs, the Lumix S1H is probably going to be overkill. But for those who want the best looking video content at the highest frame-rates possible, it's looking like an impressive evolution of the Lumix GH5 and GH5S."
– Fergus Halliday
"Finally the big change over sister cameras the S1 and S1R comes with the dedicated heat management system. The S1H incorporates a cooling fan that allows the camera to deliver non-stop video in every recording mode, limited only by the size of the SD card. Speaking of which, there are 2 UHS-II slots. Even with the cooling fan, Panasonic have confirmed the impressive weather sealing of the S1 series is carried over to the S1H."
– Australian Photography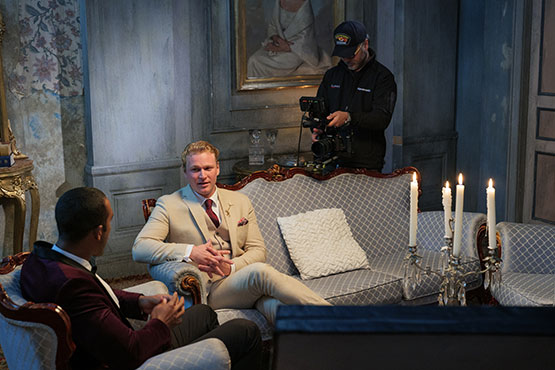 "The ability to record 6K 3:2 (5760 x 3840 pixels) full-frame video or 5.9K 16:9 video in 10-bit depth internally puts the new camera in a class of its own. It is also the first full-frame system camera to support 10-bit 60/50p 4K/C4K HEVC video recording when using the image area equivalent to Super 35mm, which has a crop factor of approximately 1.5x."
– Margaret Brown
"Panasonic has just announced the Lumix S1H – the new full frame mirror-less cinema camera that is capable of capturing 6K and offering filmmakers never-before-seen flexibility."
– Stephen Fenech
"S1H on Set: The camera's 24.2-megapixel full-frame CMOS sensor measures 35.6 mm x 23.8mm and employs the Dual Native ISO system originally developed for the Panasonic VariCam. The sensor can work with an ISO setting that has two bases at once, which means the sensor will be able to read two native ISOs on the sensor instead of one, resulting in less noise from low to high sensitivity. This function increases the user's artistic flexibility, enhanced by the ability to use less light on the set, which also saves time because shoots can use practical or existing lights, even if less than ideal, instead of special set lighting."
"Australian journalist and presenter Djuro Sen provides a video overview of the S1H, the 6K full frame mirrorless camera squarely aimed at filmmakers"
– Djuro Sen