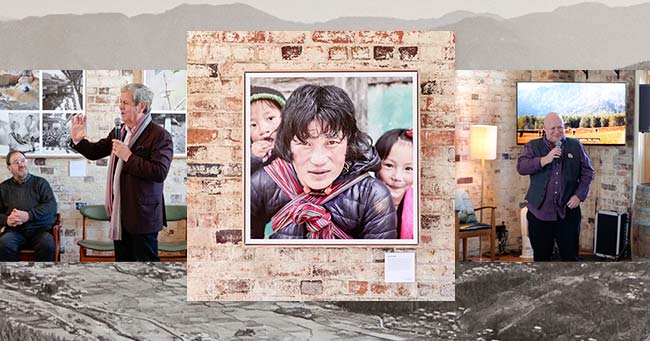 For over a decade, the Ballarat International Foto Biennale has enriched the cultural landscape of regional Victoria and become the most significant, prestigious photographic arts festival in Australia. This year, Biennale attendees have been able to enjoy three special LUMIX events. These include the 'Feathers of the Dragon' exhibition; a Q&A with Ray Martin; and the opportunity to join LUMIX Ambassador Ewen Bell for a hands-on workshop photographing parrots.
Ewen Bell and Ray Martin
Feathers of the Dragon Exhibition
23 August to 20 October 2019 at Mitchell Harris Wines
Ballarat International Foto Biennale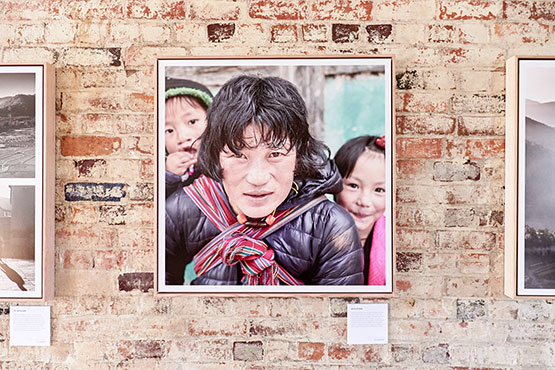 Iconic Australian journalist, Ray Martin has teamed up with leading editorial photographer, Ewen Bell, to showcase a unique photo exhibition at the 2019 Ballarat International Foto Biennale, in collaboration with Panasonic LUMIX.
The breathtaking exhibition, 'Feathers of the Dragon', offers a rare and touching glimpse into bird conservation in the forests of Bhutan, and the Bhutanese who protect the habitat. The stunning images captured by Ray and Ewen, using state-of-the-art LUMIX S1R and LUMIX G9 cameras, tell an enthralling story of hope and cultural preservation.
"It's difficult enough to combine creative intent from two photographers into a single exhibition, let alone with two different camera systems, and yet that's what we've done and the result looks amazing. There are some subtle joys in the collection and some gritty moments as well. I'm proud to be a part of this exhibition and share with the world what makes Bhutan special in terms of the people, the habitats and the birds."
– Ewen Bell
Panasonic is delighted to support the work of Ray and Ewen in Bhutan and arm them with cameras that truly capture their experience. We're proud that our involvement in the 2019 Ballarat International Foto Biennale, as a major sponsor and exclusive camera partner, allows us to share worthy exhibitions such as 'Feathers of the Dragon' and contribute to a vibrant photographic community in Australia.
Feathers of the Dragon Launch Event
Ray Martin Q&A
1 September 2019 at Mitchell Harris Wines
Ballarat International Foto Biennale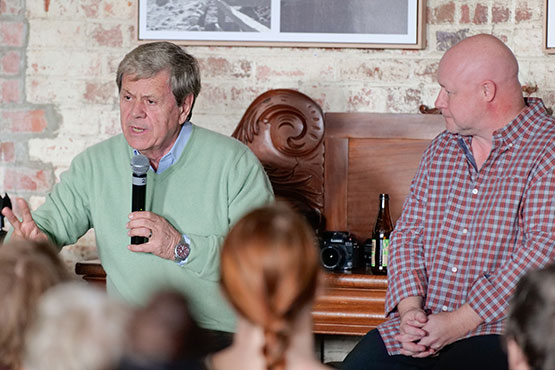 One of the most respected and influential journalists of our time, Ray Martin is a master of the story. In the last decade he has embraced the camera as a new horizon for his own story telling. In this sold-out Q&A session, Ray shared his photographic journey and travels in Bhutan. Guests also had a unique opportunity to chat with Ray about cameras, creativity, culture and his most recent work from the Himalayas culminating in the 'Feathers of the Dragon' exhibition.
"Our cameras have been able to go behind the scenes of a country, which until recently was shrouded in mystery. What we found was absolute gold – a system of living where religion, culture, tradition and the environment are interwoven tightly in harmony, allowing people to live in a pristine ecosystem.

"I remember having lunch with a lovely rice farmer and asked to take his photograph. To my surprise he had never had his photo taken or seen himself on camera in his 60 years of life. He was truly fascinated and continued to pose for a number of photos – it was amazing! What an absolute joy it was to capture those raw and pure emotions."
– Ray Martin
Ewen Bell Parrot Walk
21 September 2019 at Mitchell Harris Wines
Ballarat International Foto Biennale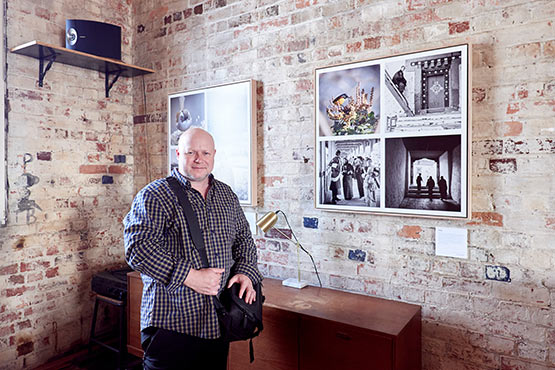 When we announced this hands-on workshop photographing parrots with LUMIX Ambassador Ewen Bell, the event sold out within a matter of days! Those lucky ticket-holders began their day with an introductory talk on bird photography techniques before heading out to nearby park to chase some parrots using LUMIX G9 cameras and wildlife lenses. The experience concluded with an image processing session at the Mitchell Harris wine bar so that all guests could go home with a selected print of their best parrot.
Our photography expert @ewster processing a participant's pic of an eastern rosella (Platycercus eximius) taken on this morning's #ParrotWalk in Ballarat, sponsored by @PanasonicAU #LumixG9 pic.twitter.com/AnO5PiuzlC

— Parrot Now and Then 🦜 (@ParrotOfTheDay) September 21, 2019