GUEST BLOG: MAD CREATIONS
Low Carb Bread with Feta & Olives | Bread Maker Recipe

You're going to love this low-carb feta and olive bread recipe dreamed up by Mad Creations' Megan Ellam using our new ZP2000 bread maker.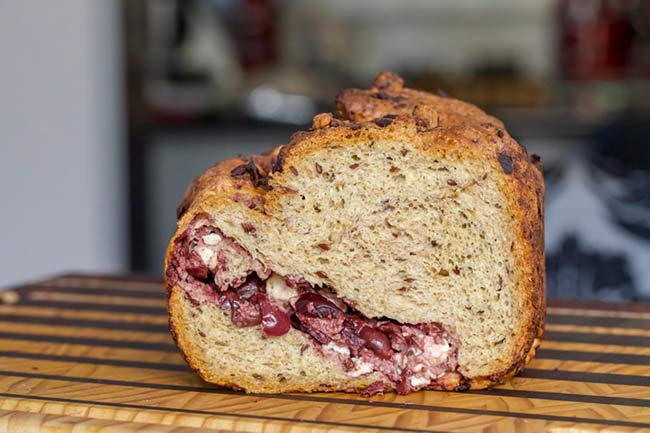 This Bread Maker Low Carb Bread with Feta & Olives is so delicious and completely satisfying! Recently I was approached by Panasonic Australia to create a recipes and test out the amazing SD-ZP2000 Hard Crust Bread Maker. As you may know I am a little prone to enjoy a gadget or two in my kitchen and I was completely intrigued. This bread maker not only can bake using bread flours, but also works just as well with lower gluten and gluten free breads. So I knew I had to test it out.
Read on for more about the Hard Crust Bread Maker and how to recreate this delicious bread maker low carb bread (with a delicious hard crust) at home.
My Bread Maker Review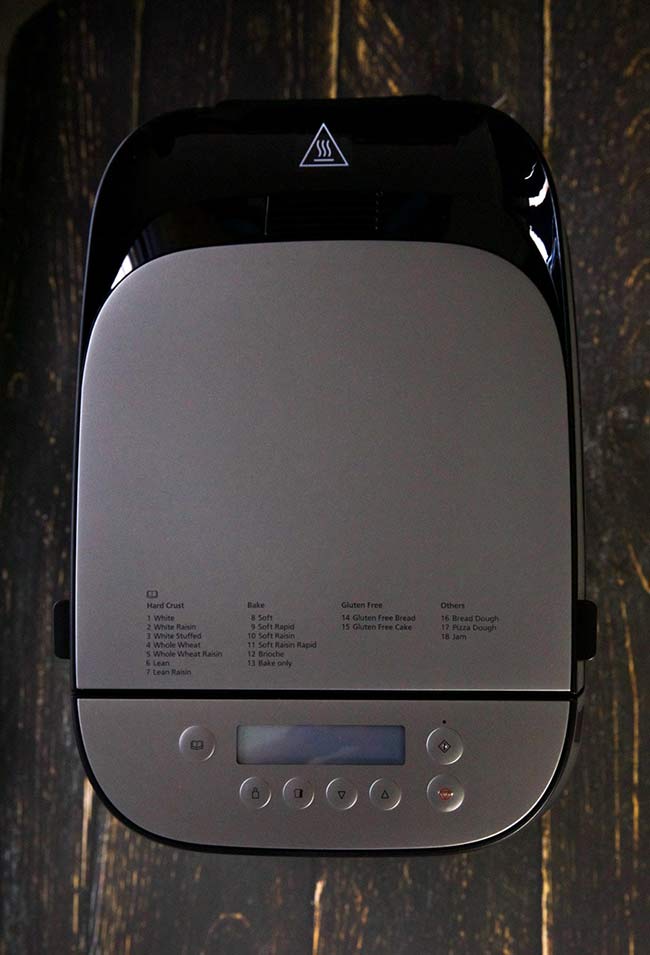 Let's have a little look at some of the features of the SD- ZP2000.  As I mentioned I was intrigued that a bread maker could create a delicious artisan style crust on a loaf. I think most of you know me now as a pretty honest kind of cook and blogger. So while a sponsored post, I have to tell you that I do turn away a lot of offers. Breads, low carb breads, and keto bread recipes have been a large portion of my recipe development so I had to test it out and see how it performed. Yes, I am impressed! I also get a lot of questions asking how the recipes go in a bread maker and to be honest I had not had one in such a long time. The timing was perfect and the additional features of Panasonic's Bread Maker seemed more geared to our keto lifestyle and cooking needs.
The Panasonic Hard Crust Bread Maker
Panasonic have been creating bread makers and helping us with baking for 30 years. The hard crust bread maker has 18 baking functions and several key features that work well for low carb and gluten free baking. A mirror finish on the inside of the lid and specialised heating elements give this bread maker the ability to bake both deliciously soft breads as well has a crispy crust loaf. Sounds good to me!
For a bread maker low carb bread you can actually use 7 functions for a Hard Crust Bake. Hello crusty bread, with choice! There is also a Bake Function for softer loaves including a Brioche, which I have also tested and love! Haha!  Yes I will have a recipe up soon, but seriously another winner in my opinion. Other functions include Gluten Free Bread, Gluten Free Cake, Bread Dough, Pizza Dough and Jam! Pretty cool for keto and low carb followers for sure.
If you do have the Hard Crust Bread Maker and you are smashing out some amazing crusty loaves give us a hashtag #HardCrustIsAMust and show us some of your creations.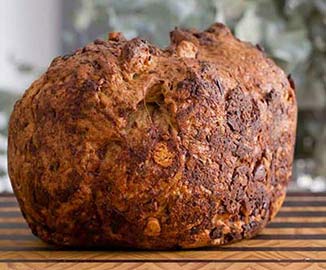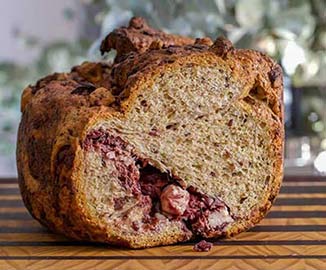 Bread Maker Low Carb Bread – How To
The good thing is using a bread maker to bake bread means less time for you preparing it. With most recipes it is simply placing them into the bread pan in order, selecting your bread baking style you want and pressing start.
For a low carb bread we sometimes have to do a little more work and I only did one little thing "extra" for this very simple bread maker crusty loaf.
In most of my bread recipes I do always use a yeast starter. Mixing the yeast, inulin and warm water help get a head start on the yeast activation and a better overall rise. It can be hard using flours that are not all geared towards strong gluten development.
So, while I chop olives and feta, I already have my yeast mixed and covered and activating before pouring into the bread pan. You can completely omit this step, and just add it directly, but I find it just gives a higher rise to my loaf. After that, I just add everything in order to the bread pan and select my function. Which in this particular loaf is Hard Crust Bake 3.
Once the loaf is baked simply tip the bread out of the pan onto a wire rack. Be careful and use an oven mit as the pan will hot. No burned fingers on my watch!
The Ingredients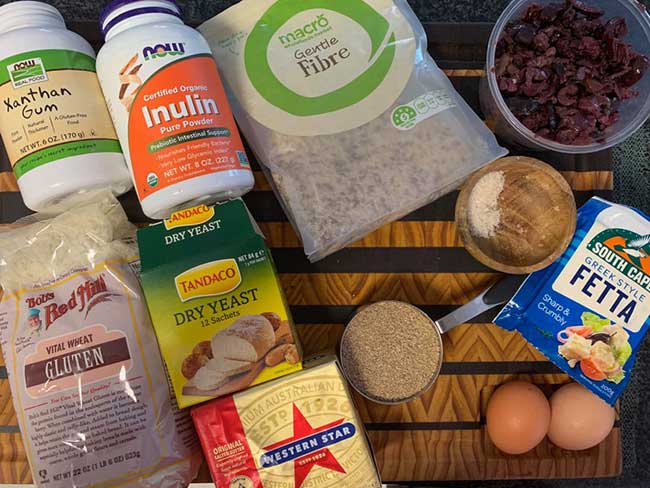 There are a few substitutes you can use for the bread maker low carb bread. I use prebiotic inulin for a yeast activator. Naturally low carb, inulin works great to activate yeast. If you would prefer to use sugar or honey both can be used. The yeast will consume the carbohydrate value. Sweeteners however will not work otherwise.
Eggs should always be room temperature when baking. This helps keep the mix temperate without affecting the yeast rise and give a far better result in baking than cold eggs. To warm an egg from the fridge place into warm water for 20 minutes until warm.
Chia Flour. I use freshly milled white chia seeds. You can purchase chia flour from specialty stores and some Coles supermarkets. Golden flax meal can also be substituted.
Macro Gentle Fibre – this product is available from Woolworths. A combination of oat flour, linseeds and psyllium seeds and psyllium husks. This product provides a fibre, the ability to draw in moisture and helps to contribute to a lower carb count for the low carb bread recipe.
Gluten Flour – is available from most health shops and good markets. Gluten flour is a higher gluten concentrate flour with lower fructans than strong bread flours. It is often used in bread making. Used with the other flour substitutes it does help to give a true bread-like result with lower carb count.
You're going to love this low-carb feta and olive bread recipe dreamed up by Mad Creations' Megan Ellam using our new ZP2000 bread maker.
Panasonic SD-ZP2000 Hard-Crust Bread Maker
Culinary creativity has never been easier, with the SD-ZP2000 to create authentic oval-shaped crusty loaves, as if fresh from the local bakery! Gourmands can also use this bread maker to effortlessly craft a versatile selection of cakes, specialty doughs, jams, and more.
SD-ZP2000
Mad Creations x Panasonic
We're excited about collaborating with Megan Ellam to make Panasonic bread maker recipes. Her Mad Creations is a cooking community built around a shared love for great food, with a focus is on providing you with a fresh innovative approach to the Keto diet with the best low carb recipes and meal plans.
For more delicious recipes, follow Mad Creations on:
YouTube: https://www.youtube.com/channel/UC8Emsk43wpKDtS1mT9MqFjA
Instagram: https://www.instagram.com/meganellam/
Facebook: https://www.facebook.com/groups/lowcarbmixers/
Pinterest: https://www.pinterest.com.au/lowcarbmixers/
Twitter: https://twitter.com/lowcarbmixersau/
Website: https://www.madcreationshub.com/