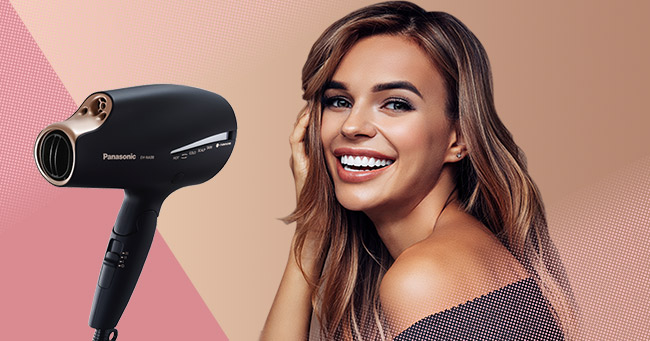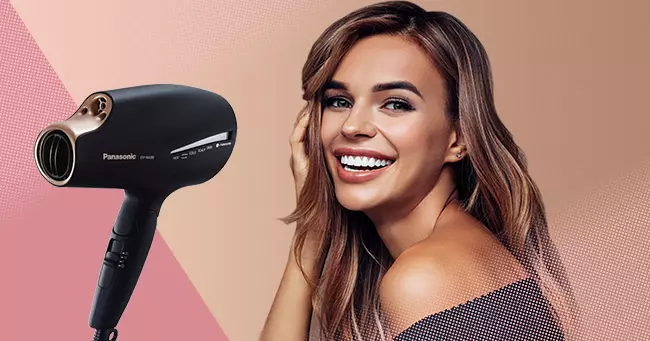 Meet Panasonic's gorgeous new rose-gold hair dryers that use Nanoe™ tech to infuse your locks with nourishing moisture.
You Can Now Expect So Much More from a Blow Dry
Panasonic research shows that women are most concerned about heat damage over anything else when purchasing a hair dryer. Drying speed is also a top consideration. So with this in mind, our new NA98 and NA65 hair dryers have been created to give women what they need: a quick blow dry that reduces visible damage and frizz, while boosting shine.
Put Your Trust in Panasonic's Time-Tested Hair History
We don't want to brag, but Panasonic has been in the hair care game for over 80 years internationally. Our beauty appliance history began in Japan in 1935, with the sale of our first hair dryer which took the world by storm. Now, our latest hair dryer range is finally here in Australia to take hair care to the next level and give Aussie women hair that has it all. Our premium rose gold hair dryer range is set to impress, powered by state-of-the-art technology.
The Secret Ingredient? A Clever Design & Nanoe™ Technology
The uniquely shaped design facilitates the key advantage of the new range – Panasonic's innovative Nanoe™ technology. Nano-sized, atomised water particles flow from the top of the chassis and penetrate deep into hair, delivering 1000 times more moisture than standard ions. You can enjoy shinier, more hydrated hair – all day, every day. Mineral ions also work to reduce split ends and frizz, making hair less damaged and more resistant over time
PLAY
Love is in the Hair – Glamazon Launch Event Highlights
Watch as the who's who of beauty gurus discover hair that has it all with glam blow drys, smoothie labs, creation stations and more at the VIP launch of our gorgeous new rose-gold hair dryers!
EH-NA98
High-Tech Hair Hydration | Panasonic EH-NA98 Hair Dryer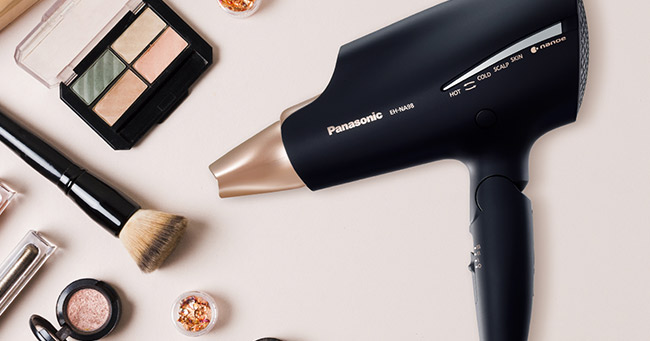 Split up with your split ends, fight frizz and say goodbye to bad hair days. This advanced hair dryer infuses your locks with nourishing moisture and packs in intelligent temperature control to dry your hair in record time. This matte black and rose gold beauty is also travel-friendly thanks to a folding handle.
EH-NA98 Highlights
Nanoe™ + Double Mineral Technology
Intelligent Air-Flow
Heat Control Sensors
Quick Dry Nozzle
360° Hair Scalp & Skin Modes
Lightweight
Folding Handle
Premium Rose Gold Design
EH-NA98 Moisture Infusing Advanced Hair Dryer
EH-NA65
Smooth, Soft, Shiny Hair | Panasonic EH-NA65 Hair Dryer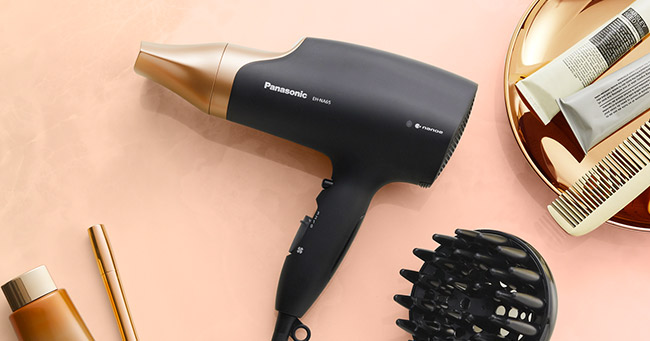 For a blow dry that's set to blow the style barometer to new levels, this ionic rose gold hair dryer with salon-style attachments will leave you feeling anything but flat.
EH-NA65 Highlights
Nanoe™ Technology
Quick Dry Nozzle
Set Nozzle
Full-Size Diffuser
Speed & Temperature Control
Healthy Hair Mode
Cool Shot Button
Rose Gold Design
EH-NA65 Moisture Infusing Hair Dryer
HAIR LAB
Lab Muffin Puts Nanoe™ Tech Under the Microscope
To launch our hair care range in Australia, we collaborated with leading beauty influencer and renowned beauty-science YouTuber Michelle Wong (also known as Lab Muffin),who said:
"I am always interested in the science behind a product and whether the technology can speak for itself. Panasonic's new hair dryers left my hair noticeably shinier and smoother, with each blow dry making my hair feel even more hydrated and refreshed."
Watch as Lab Muffin puts Panasonic Nanoe™ technology under the microscope to show how our gorgeous new rose-gold hair dryers deliver a quick blow dry that reduces visible damage and frizz, while boosting shine.
PAPARAZZI
'It List' Hair Affairs Starring Australia's InstaGLAM Squad
Beautiful people spotted with our on-trend rose gold and black hair dryers. These Instagram beauty babes are known for their creative flair, aesthetic and dedication to their followers – so we're absolutely thrilled to see them head-over-heels for our on-trend rose gold hair dryers and #HairThatHasItAll