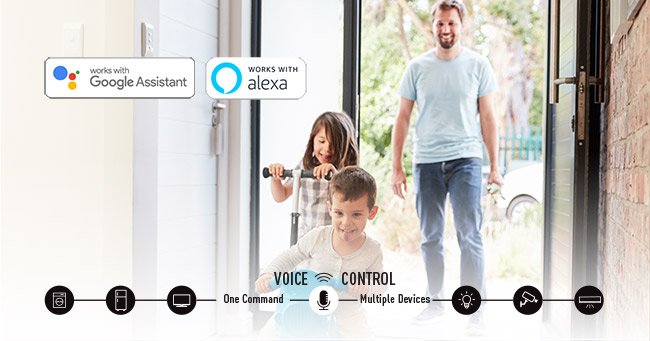 From simple voice commands to customised routines and remote smartphone operation, our new air conditioning range delivers freedom and connectivity*.
The introduction of Google Assistant and Amazon Alexa compatibility to our entire range of reverse-cycle and cooling-only systems means you can have a smart home system with total climate control and comfort. Voice control can be used for hands-free tasks like turning the system on and off, switching between operating modes, managing temperature settings and more.
Want to ramp up the coolness factor? You can take things to the next level by automating your air conditioning using the Google Home app or Alexa Routines. Commands such as "Hey Google, Good Morning" can be programmed to launch a custom routine with your desired temperature and schedule.
You can even include your other smart devices in custom routines so that "Hey Google, Good Morning" sets your air con, turns on your smart lights, updates you on traffic and weather, and alerts you to upcoming appointments!
*Panasonic WLAN adaptor and third party voice control devices are required to be purchased separately.
Google is a trademark of Google LLC.
Amazon, Alexa and all related logos are trademarks of Amazon.com, Inc. or its affiliates.
READ MORE
Our 2019 Air Con Range Delivers New Levels of Innovation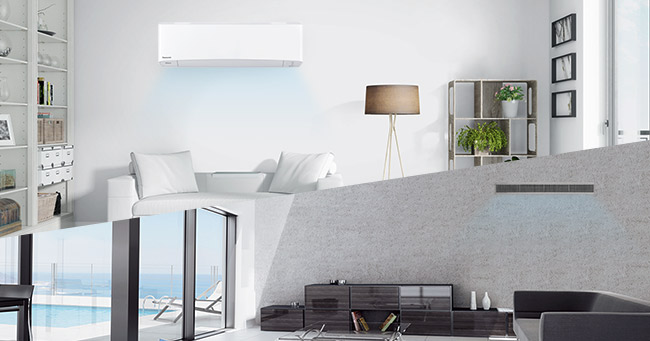 Panasonic leads the way in convenience and comfort with our versatile array of wall-mounted and ducted solutions for heating, cooling and purifying.
Our new range of air-conditioning products put an emphasis on user convenience and comfort, incorporating the latest remote control and voice control technology, along with the revolutionary nanoeX air purifying system.
The 2019 residential range includes reverse cycle wall split systems, multi-split systems (both indoor and outdoor), and whole-house-ducted systems, providing you with one of the widest product ranges in the industry.
All of Panasonic's new air-conditioning solutions will use the more ozone friendly R32 refrigerant and will continue to uphold the high standards of reliability and durability needed to survive extreme Australian temperatures and harsh outdoor environments.
READ MORE
Ready for the next steps? Take the stress out of budgeting for your perfect air con solution with a free quote service!
REQUEST A QUOTE
LOCATE A DEALER
READ MORE
National Asthma Council Australia Recognizes Panasonic air purification