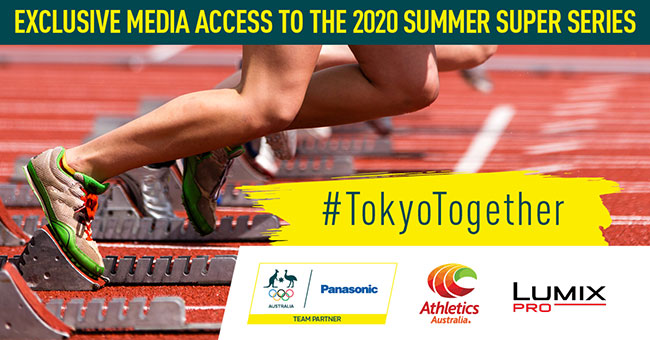 This is your chance to get up close and personal with some of Australia's top Athletic superstars on the road to the Tokyo Olympic Games!
Join LUMIX Product Specialist Mitchell McMillan and Professional Photographer Lachlan Gardiner as they share their tips and tricks to capturing the passion, drama and adrenaline that comes with action sports photography at the 2020 Athletics Australia Track Classics.
The 8 chosen photographers for each event will get hands on experience with our new full-frame mirrorless S Series cameras and complete media access to the stadium and athletes!
Optionally, for those who wish to take part in a full media experience challenge, Athletics Australia can provide a brief with a media shot list. Participating guests can submit their best images for consideration to be shared by Athletics Australia and Panasonic and have the opportunity for feedback based on the shoot requirements.
Event Locations
MELBOURNE

Thursday 6 Feb 2020, 3:30pm - 9:30pm
Lakeside Stadium, Albert Park
Applications close 29 Jan.
CANBERRA

Thursday 13 Feb 2020, 3:30pm – 9:30pm
AIS Track and Field Centre
Applications close 6 Feb.
SYDNEY

Saturday 22 Feb 2020, 3:30pm – 9:30pm
Sydney Olympic Park Athletics Centre
Applications close 13 Feb.
BRISBANE

Friday 20 Mar 2020, 3:30pm – 10:00pm
QSAC (Queensland Sport and Athletics Centre)
Applications close 10 March.
APPLY NOW!
Successful applicants will be notified by phone on the following days:
31st Jan – Melbourne
7th Feb –  Canberra
14th Feb – Sydney
12th March – Brisbane