Get the Panasonic low-down on what's new and good for you – from our popular 'review and keep' offer, to delicious meal plans for our small appliances, the tick of approval for our rose gold hair dryers, and the latest camcorder tech.
Review & Keep a Panasonic Rice Cooker
a SR-CN188WST Valued at $199 RRP or a SR-DF181WST Valued at $129 RRP!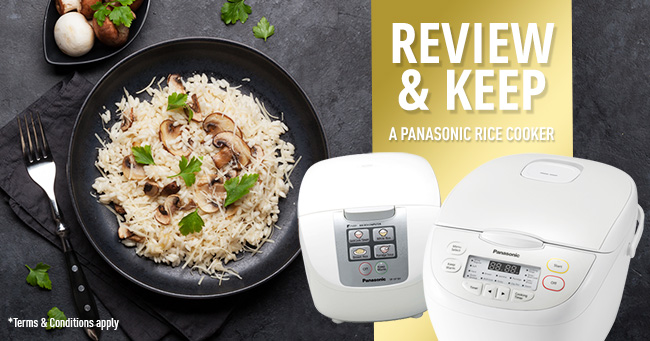 We're looking for keen cooks who'd love to test and keep a 10-cup rice cooker – the SR-CN188WST or SR-DF181WST – and post their review on the Panasonic website with honest feedback.
Four lucky people will receive one of these ultra-convenient models, and share their experience with versatile options that create not only great tasting rice, but also a range of other dishes from steamed dim sum to soups or cakes. Easy to use and clean, Panasonic's one-pot meal machine is theirs to enjoy.
Does this sound like a delicious job you can handle? Tell us in 25 words or less why you would be the perfect rice cooker reviewer. We'll pick the best four answers to receive a popular SR-DF181 or a premium SR-CN188!
ENTER NOW
RICE COOKER
Introducing Panasonic's All-in-one Rice Cooker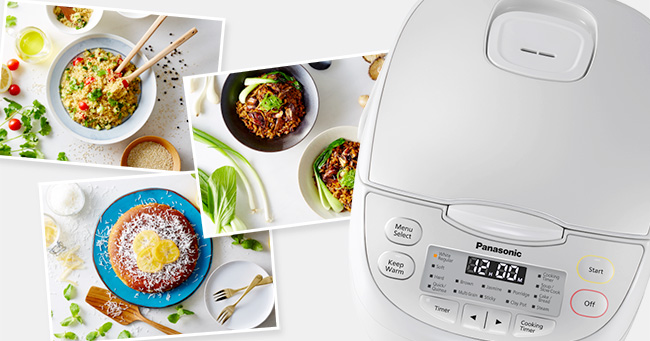 Panasonic's rice cookers will delight home chefs with their ability to turn out a wide range of dishes.  At the touch of a button, cook up to ten cups of perfect rice of every variety, whether it's white, brown, jasmine or sushi. Or, nourish the family with porridge or soup, and steam tasty dumplings.  The cookers' surprising versatility really comes into play when creating 'out of the pot' dishes such as mouth-watering mac 'n' cheese, spicy Thai curry, or delicious crème caramel.
Whether you prefer a popular SR-DF181 or a premium SR-CN188, the family will adore this all-in-one kitchen appliance with features including a pan design that retains heat for even cooking, user friendly controls and easy cleaning.  And for even more convenience, the SR-CN188 has 16 auto menu modes, including recipes.
Visit our website to choose the perfect match for your kitchen benchtop, or for cooking inspiration, go to The Ideas Kitchen to find fabulous rice cooker recipes for the family.
SR-CN188WST
SR-DF181WST
HAIR DRYER
Panasonic's "Game-changer" Hair Dryer Wins Over Beauty Influencers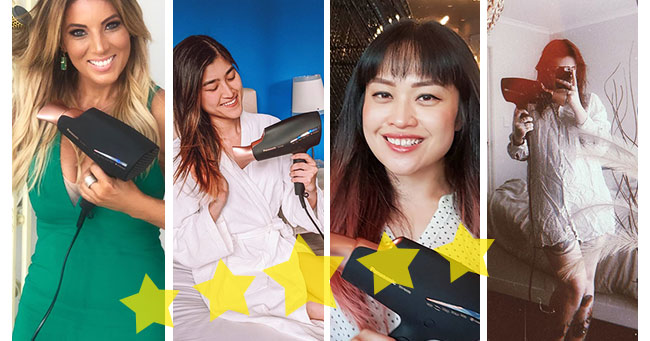 16 of Australia's leading beauty influencers put our premium, Advanced Moisture Infusing Hair Dryer to the test for 30-days straight, to determine whether it was hot or not. The EH-NA98 dryer was trialled by beauty babes with different hair types – long, short, curly, straight, frizzy and smooth and the tribe has spoken! *Drum Roll*
We are thrilled to reveal that 100% of the influencers who used our hair dryer gave it a massive tick of approval. So, what are they raving about?
Less frizz + split ends – Influencers loved Panasonic's innovative Nanoe™ technology which reduces visible hair damage and restores health.
Smoother hair – Our hair dryer produced soft and hydrated locks from the inside and out.
Fast drying ability – Influencers repeatedly mentioned the 'quick-dry nozzle' which dries hair in record time.
Read some reviews for yourself: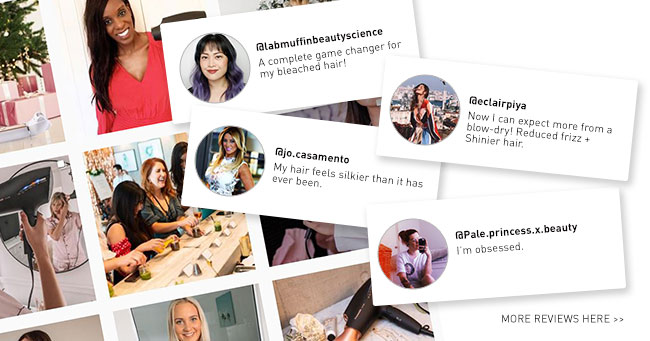 Advanced Moisture Infusing Hair Dryer (EH-NA98)
Moisture Infusing Hair Dryer (EH-NA65)
NEW CAMCORDERS
4K 60P Professional Camcorders with Live Streaming Support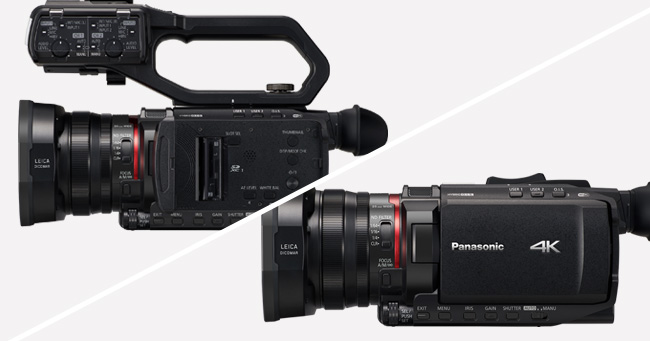 Panasonic has announced three new 4K 60p camcorders designed to provide mobility, efficiency and affordability for small production houses and news gathering professionals.
The lightweight camcorders are ready to go off-the-shelf, and allow working professionals to respond to events as they happen with capabilities including live streaming support, optical image stabilisation, and super slow-motion recording; as well as the convenience of built-in lenses, long battery life, XLR audio input and ND filters.
A heat-dispersing design that includes a newly developed thin fan makes the new models the industry's smallest and lightest camcorder with an integrated lens capable of 4K 60p recording. By pulling in air from the rear panel and efficiently dispersing heat from the front panel, reliable, extended shooting is achieved.
STREAMING CAMCORDERS
TOKYO OLYMPIC
Join the LUMIX Pro Team for Exclusive Access to the Athletics Summer Series Experience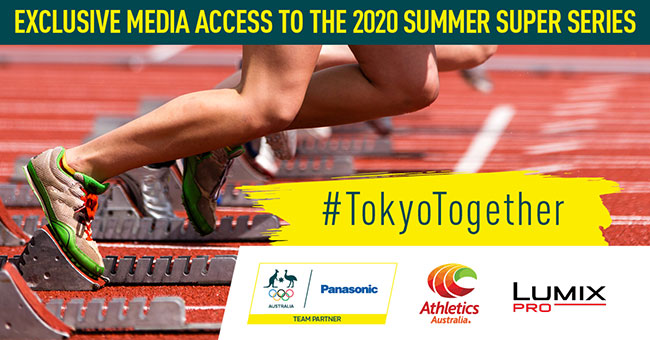 Calling all Sports Photo Enthusiasts! Get exclusive media access to the 2020 Athletics Australia Track Classics capturing Aussie athletes on the road to the Tokyo Olympic Games. You will be decked out with the latest in LUMIX S Series camera and lens technology.
APPLY NOW
S1H NETFLIX
Panasonic S1H Approved as Netflix Primary Camera
Panasonic LUMIX S1H has become the first mirrorless full-frame camera included in the Netflix Post Technology Alliance.
This means that the LUMIX S1H is now approved for use by Netflix as a primary camera. See this link on the Netflix site for further information about Netflix approved cameras.
MEAL IDEAS
5 Day Meal Ideas to Simplify Your Life
We all know that thinking about what to cook can be tricky sometimes, so we've done the hard work for you! Collaborating with 5 creative food bloggers, we have some easy, scrumptious recipes, all made using Panasonic's bestselling 3-in-1 Combination Microwave Oven and must-have Rice Cookers. Get ready for a week-long food fiesta.
Monday lunch – Quinoa & Roasted Veg Salad
Start your week right with this healthy, delicious and protein-packed salad by The Lebanese Plate. This easy microwave meal will keep you energised for hours. Go on, tantalise your taste buds.
Tuesday dinner – Garlic Fried Rice
Want something simple and satisfying for your Tuesday night meal? Michelle from @our.mountain.life has you covered with this flavour-packed fried rice recipe, made using Panasonic's SR-DF181WST 10-cup Rice Cooker.
Wednesday treat – Gooey Vegan Chocolate Mug Cake
It's hump day and you deserve a treat to keep you going! Talida from @hazel_and_cacao has the perfect, non-dairy microwave mug cake recipe. All you need is a multi-tasking microwave such as Panasonic's 3-in-1 Combi Microwave to create this goodness.
Thursday – Stuffed Jacket Potato with Leek + Ricotta
For a speedy mid-week meal which everyone will love, nothing beats a classic jacket potato dish! Leanne from @raw_homemade has created this yummy microwave meal for those on the go.
Friday brekky – Melt-in-your-mouth Pancakes
Start your Fri-yay with this no mess, no fuss pancake recipe – made in a Rice Cooker. Say goodbye to standing around flipping pancakes and hello to our multi-tasking SR-CN188WST Rice Cooker which does all the work.