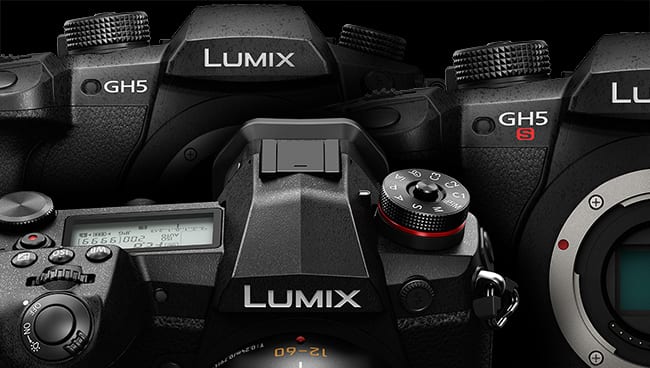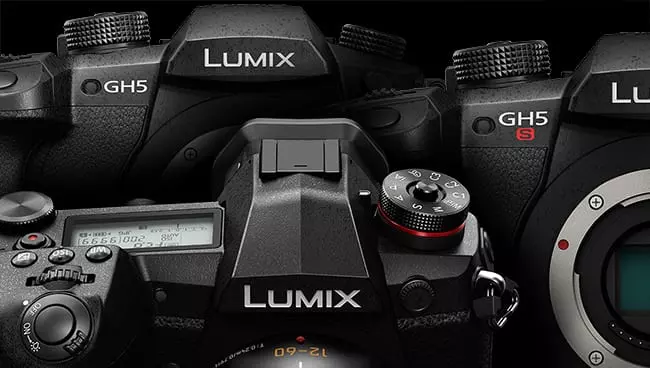 The video-focused GH5S, hybrid GH5 and photo-centric G9 offer photographers and videographers a stunning choice of specialist mirrorless cameras. We put the cameras in a side-by-side comparison so you can choose your perfect match.

The
GH5S Mirrorless Camera
is the one for
filmmakers
. Supporting video recording in the highest 4K quality without cropping, a 10.2-megapixel MOS sensor that boosts low-light sensitivity, and Dual Native ISO, this camera produces stunning films, whenever inspiration strikes.
READ MORE: The new LUMIX GH5S is a videographer's delight
GH5S Reviews

The
GH5 Mirrorless Camera
is the one for
all-rounders
. Offering the perfect balance of high quality stills and phenomenal video technology, it features a 20MP sensor, broadcast grade 4k video recording, breakthrough 6K PHOTO mode, and a powerful DUAL I.S.2 image stabiliser.
READ MORE: A camera revolution: LUMIX GH5 photo & video hybrid
GH5 Reviews

The
G9 Mirrorless Camera
is the one for
photographers
. It adds new capabilities for specialised shooting never before seen in this class of camera, such as the unique 80-megapixel high resolution mode, 6K PHOTO Mode burst shooting with no buffer limit, and Dual SD UHS-II Card slots.
READ MORE: Our LUMIX G9 is the ultimate photography camera
G9 Reviews
IMAGE SENSOR

| | | | |
| --- | --- | --- | --- |
| | GH5S | GH5 | G9 |
| Sensor | MFT Live MOS | MFT Live MOS | MFT Live MOS |
| Megapixel | 10.3 MP | 20.3 MP | 20.3 MP |
| High Resolution Mode | x | x | 80MP |
| Dual Native ISO | | x | x |
| Multi Aspect | | x | x |
The most obvious difference in sensor comparisons is the GH5S' 10.2MP sensor with Dual Native ISO. This is half the resolution of the GH5 and G9 but it doubles the standard low-light sensitivity to a native ISO of 51200 (and 204,800 extended), making this camera the ideal choice for filmmakers who need to work creatively in challenging lighting conditions without compromise. Video specialists will also appreciate the larger multi-aspect sensor that allows all aspect ratios to have the same angle of view – including Cinema 4K; 4K; Anamorphic 4:3 in video recording; and 4:3, 16:9 and 3:2 in photo shooting.
Photographers are more likely to gravitate toward the GH5 and G9 20MP image sensor specs, where they'll appreciate the high-resolution images with new levels of detail, outstanding low-light performance and impressive dynamic range. Ideal for landscape, scenery and still-life photography, the G9 also offers an 80MP high-res mode that allows professionals to produce exhibit-worthy prints.
FOCUS TECHNOLOGY

GH5S
GH5
G9
Type
Contrast AF
Contrast AF
Contrast AF
Depth From Defocus
AF Points
225
225
225
AF Range
-5 to 18 EV
-4 to 18 EV
-4 to 18 EV
Burst Shooting (fps)/
Continuous Electronic
AFS 12 / AFC 8/
AFS 12 / AFC 8
AFS 12 / AFC 9/
AFS 12 / AFC 9
AFS 12 / AFC 9/
AFS 60 / AFC 20
All three cameras offer excellent autofocus in low light, amazingly precise focusing, and fast response in high-speed burst shooting. The GH5S cinematography advantage is the ability to shoot down to the level of -5EV, enabling precise focus even under the lighting of a starlit sky which is ideal for shooting nighttime nature scenes and documentaries. If high-speed action photography is more of a priority, the G9 boasts the fastest-in-class burst shooting* at 20 fps (AFC) and 60 fps (AFS) in 20-megapixel full resolution including RAW.
*For a Digital Single Lens Mirrorless camera as of 8 November, 2017
IMAGE STABILISER

| | | | |
| --- | --- | --- | --- |
| | GH5S | GH5 | G9 |
| Image Stabilisation (IS) | x | 5-Axis Dual IS 2 | 5-Axis Dual IS 2 |
| IS-Stops | x | 5.5-Stops | 6.5-Stops |
The GH5S does away with in-body stabilisation altogether, catering to high-end video creators whose stabilisation rigs deliver better performance without interference from internal systems. The GH5 and G9 integrate 5-Axis Dual IS 2, combining body and lens stabilisers, for incredibly stable performance when shooting handheld stills and video. This feature has been enhanced in the G9 with a new algorithm that uses 6.5-stop compensation to enable photography at much slower shutter speeds and ISO values, even at ultra-telephoto focal lengths up to 800mm* (35mm equivalent).
*Based on CIPA standard [Yaw/Pitch direction: focusing distance f=140mm (35mm camera equiv. f=280mm), when H-FS14140 is used.
VIDEO FORMAT

GH5S
GH5
G9
Video Formats
MOV, AVCHD, MP4
MOV, AVCHD, MP4
AVCHD, MP4
Video Resolution
C4K60p
4K60p
4K60p
Video Bit Depth
10bit 4:2:2
10bit 4:2:2
8bit 4:2:0
Maximum Bit Rate
400mbps
400mbps
100mbps
Variable Frame Rate
Full HD 240fps
C4K/4K 60fps
Full HD 180fps
4K 60fps
Full HD 180fps
4K 60fps/48fps

Unlimited Recording
x
V-Log
Installed
Optional
x
Anamorphic
4K
High-Res /4K
x
Pro-grade video recording performance features really define the GH5S and GH5. The GH5S can record in Cinema 4K at 30 or 60 frames per second which is a world-first for mirrorless cameras, and both cameras include impressive extra filmmaking must-haves like 4:2:2 10-bit internal recording at data rates of up to 400 Mbps for brilliant HDR video, and V-LogL software compatibility for color grading (pre-installed with GH5S, optional with GH5). For situations where extreme slow-motion is required, the GH5S' variable frame rate has been increased to up to 240 frames per second (fps) in Full HD (maximum 10x slower); and it also records overcranked/undercranked video in C4K/4K (60 fps, maximum 2.5x slower). While the G9 has been optimised for stills, it still features some video chops too, recording 4K at up to 60p, 1080 at 180fps and 4:2:0 / 8 bit internal recording.
PHOTO MODE

| | | | |
| --- | --- | --- | --- |
| | GH5S | GH5 | G9 |
| 6K Photo Mode | x | 30p | 30p |
| 4K Photo Mode | 60p | 60p | 60p |
| Post Focus | | | |
| Focus Stacking | | | |
Innovative photo modes built in to each camera ensures photographers will never have to regret the shot that got away. All three models incorporates4K PHOTO, capturing 60 fps in 8MP resolution. The GH5 and G9 take that technology a step further with industry-leading 6K PHOTO that can record a burst of 18MP still images continuously at 30fps with no buffer limit. Each camera also includes Post Focus technology allows users to take a photo and then choose the focal point later, a Focus Stacking for selecting several focus points in the same image.
INTERFACE

| | | | |
| --- | --- | --- | --- |
| | GH5S | GH5 | G9 |
| SD Card | SD 2x UHS-II | SD 2x UHS-II | SD 2x UHS-II |
| Status Display | x | x | Status LCD |
| Time Code | T/C BNC Terminal | x | x |
| WLAN / Bluetooth | | | |
| Remote Input | φ2.5 | φ2.5 | φ2.5 |
| Mic / Headphone Jack | φ3.5 / φ3.5 | φ3.5 / φ3.5 | φ3.5 / φ3.5 |
| Weather Sealed | | | |
The GH5S, GH5, and G9 are all built for the professional, incorporating weather-sealed bodies, dual UHS-II SD Card slots, great support for professional mics, and convenient Bluetooth and Wi-Fi connectivity. For the cinematographers, the GH5S is also at home in the studio interfacing with other broadcast cameras thanks to its compatibility with Time Code IN/OUT synchronisation to make editing multi-camera shots easier. Photographers will appreciate the G9's status LCD on top of the body for detailed settings at a glance. Convenient for tripod shooting, this feature is a staple of pro-level cameras and can also be used at night instead of the rear monitor to reduce the light emitted from the camera.
Lumix G Range
DC-GH5S
DC-GH5
DC-G9