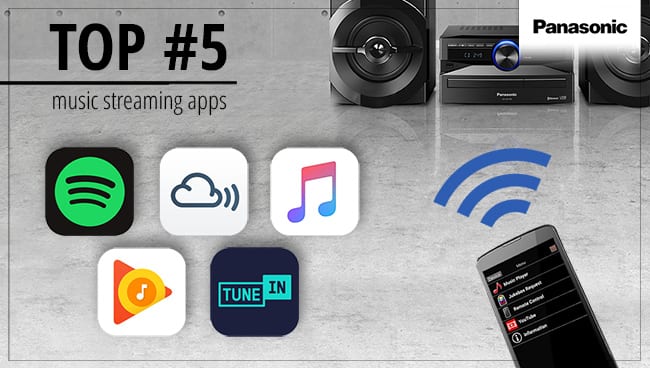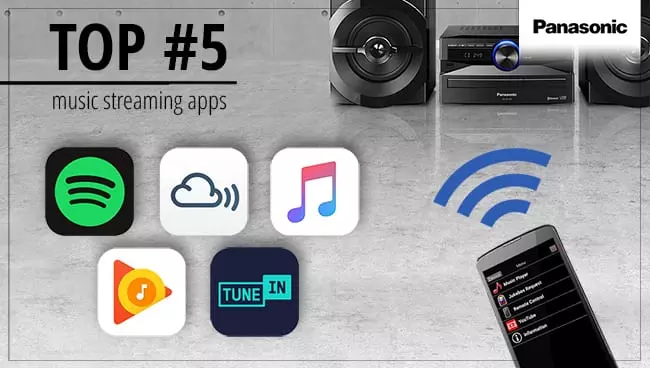 Panasonic Urban Audio gives a stylish twist to wireless speakers and hi-fi systems and the whole range features Bluetooth for easy music streaming. Of course, with so many music streaming services out there, how do you choose the one that's right for you? We've made a shortlist of our favourites to help get you started!
Spotify (iOS, Android)

The granddaddy of music streaming platforms, Spotify basically puts all the music you could ever want in the palm of your hand. If you grew up in the era of buying very expensive albums and singles from the local record or CD store, this is kind of a miracle. You have millions of songs to choose from, whether that's the latest pop hits, classic anthems, or even some esoteric little piece from music history. The app is very user-friendly and makes it easy to play your favorite tunes, discover new tracks, and build the perfect collection. You can create your own playlists or discover ready-made lists to match your mood, put together by music fans and experts. Music aside, Spotify also offers podcast channels, mind/body genres, and multimedia visual integrations.
Mixcloud (iOS, Android)

If you're all about the dancefloor and pledge allegiance to the DJ gods, you will love Mixcloud. It's the unsung hero of music streaming, allowing users to upload their podcasts, DJ mixes, and radio shows. Naturally it's attracted a cult following of 'in the know' music fans enjoying content that can't be found anywhere else. It's a totally level playing field too, offering a platform for everyone from the biggest names, through to festival favourites, underground artists and rising talent. You can search for what you like or browse to discover new content through Mixcloud charts, editorial selections and recommendations – all via human curators and tastemakers instead of driven by an algorithm.
Apple Music (iOS, Android)

Apple Music lets you stream their entire catalogue of 45 million songs, along with everything in your iTunes library – no matter where it came from. If you don't want to use your mobile data, you can download from Apple Music and listen straight from your phone without needing a signal. You also get up-an-coming artist and playlist suggestions every day, along with access to Beats 1 radio, plus exclusive content like documentaries about your favorite artists, concert films, and original TV shows. And another big plus for Apple Music is that if you have a specific music request, just ask Siri! If you're feeling lazy, you can even let the Apple create mixes for based on the music you like the most.
Google Play Music (iOS, Android)

Google's music streaming service deserves a lot more attention than it gets, given the unique features it offers like YouTube integration for watching commercial-free content, and a vast music locker that lets you upload 50,000 of your own songs and stream them anywhere for free. You get access to over 40 million tracks and curated playlists, as well as a wide variety of podcasts and radio stations and Google Play Music has a few cool extras too, like a Shazam-style music detective that can identify any music playing around you and save it to your library!
TuneIn Radio (iOS, Android)

Stream your favorite radio stations ( and enjoy an array of extra features) for free with TuneIn. This incredible app puts radio from home and around the globe in the palm of your hand, and it even lets you pause a live stream, rewind back to catch something you might have missed or record a station. TuneIn also great commercial-free music from all of a range of genres, and a podcast menu that will blow your mind!
Panasonic Urban Audio Range
The UA7 is a freestanding one-box speaker with a distinctive hexagonal design that packs a ground-shaking 1,700W of power output, making it perfect for parties and home entertainment.
READ MORE: Introducing Panasonic's UA7 multidirectional smart speaker.
SC-UA7 Wireless Speaker
The UA3 boasts a powerful amplifier, producing expansive sound in a stylish compact body designed for benchtops or shelves. The system allows users to play music from a variety of sources, including Bluetooth, USB, CD and radio.
SC-UA3 Mini Hi-Fi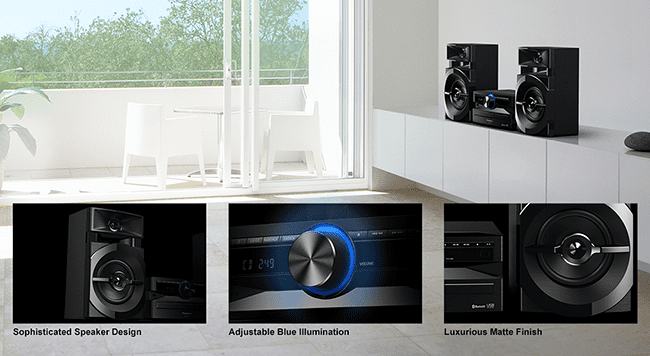 The UX100 is a compact mini system that delivers strong bass and clear room-filling sound. Its luxe design looks great in any room, while Bluetooth and DJ Jukebox features make it the life of every party.
SC-UX100 Mini Hi-Fi