The LUMIX G9 takes the outstanding developments that debuted with the GH5 and adds new capabilities for specialised shooting never before seen in this class of camera. In this portable, field-rugged, affordable package you'll find everything you need for capturing incredible wildlife, nature and landscape imagery. A stellar lineup of features deliver incredible responsiveness, stunning image quality, precise operability and outstanding mobility. It really is the ultimate photography camera!
Ultra-fast Autofocus, Plus Burst Shooting in Full Resolution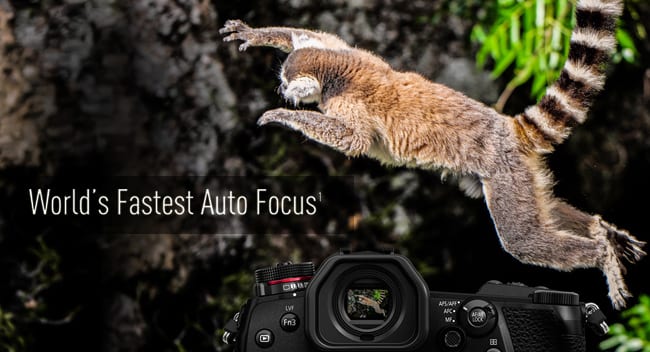 At the heart of this camera is an agility that matches your fast-moving subjects, thanks to powerful field-shooting performance features. Panasonic's advanced DFD (Depth From Defocus) technology allows the LUMIX G9 to calculate focal lens movement by comparing depth of field values of two images at incredibly high speed. By combining the AF drive with a maximum read speed of 480 fps, the G9 can achieve the industry's fastest level autofocus in up to 0.04 seconds*1 and fastest-in-class burst shooting*2 at 20 fps (AFC) and 60 fps (AFS) in 20-megapixel full resolution including RAW. A new pre-burst shooting mode has also been introduced to the G9, allowing the camera to commence shooting 0.4 seconds prior to shutter release.
Continuous Burst Shooting with 6K PHOTO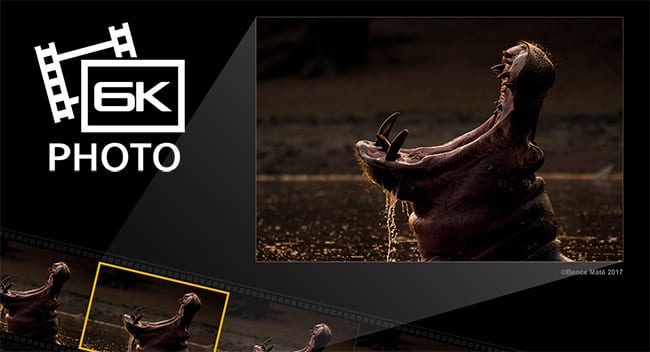 Never regret the shot that got away! You can make the most of the G9's high-speed capabilities with 6K Photo, recording a burst of 18-megapixel still images continuously at 30 fps with no buffer limit. The camera also incorporates 4K Photo, capturing 60 fps in 8-megapixel resolution. In 6K/4K Photo, three modes can be selected depending on the situation: 6K/4K Burst, 6K/4K Burst (Start/Stop) and 6K/4K Pre-burst.
20MP MOS Sensor Delivers Pure Image Quality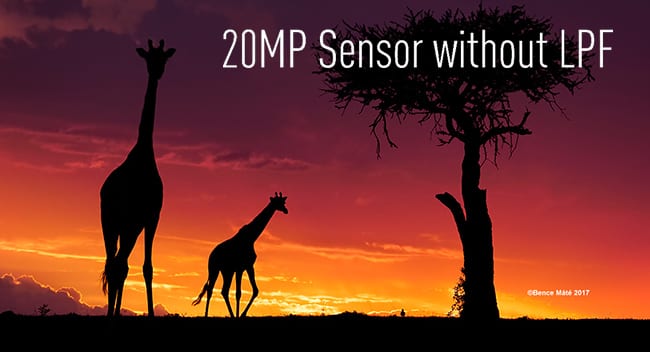 Convey the natural world's wild beauty with the G9's ability to capture high-precision images with natural textures and dazzling new levels of detail. The camera's 20-megapixel Digital Live MOS sensor (without Low Pass Filter) delivers intensely sharp image quality with an extremely wide dynamic range. The marriage of this advanced sensor with a Venus Engine processor provides extraordinary colour and texture expression. Multipixel Luminance Generation and Intelligent Detail Processing render intense brightness and contrast. Three-Dimensional Colour Control zings with rich colours from dark to bright shades and Multi Process Noise Reduction makes your images pop even at high ISO settings, which is invaluable in low-light shooting.
5-Axis Dual I.S.2 Stabiliser with 6.5-stop Compensation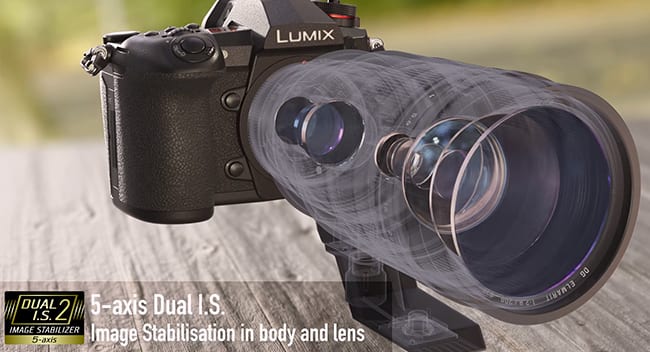 Enhance handheld photography, particularly telephoto and one-handed shooting, with stabiliser tech that lets you capture clean, vibrant images. Panasonic's Dual I.S. 2 technology combines 5-axis internal stabilisation with the optical image stabilisation in selected lenses*3. This feature has been enhanced in the G9 with a new algorithm that uses 6.5-stop compensation to enable handheld shooting at much slower shutter speeds and ISO values, even at ultra-telephoto focal lengths up to 800mm*4 (35mm equivalent).
80MP High Resolution Mode Heightens Subject Details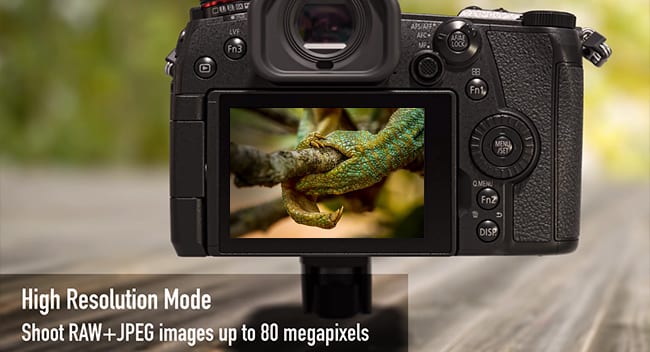 Ideal for landscape, scenery and still-life photography, High Resolution Mode composes shots from 8 shutter releases to produce 80MP JPEG /RAW images in-camera – a level of resolution generally seen only on medium format cameras that cost many times more than the G9. Designed for tripod shooting, this feature provides amazing ease, detail and flexibility, allowing photographers to create very detailed scenes and large prints from their images.
Designed to Maximise High-Speed Action Photography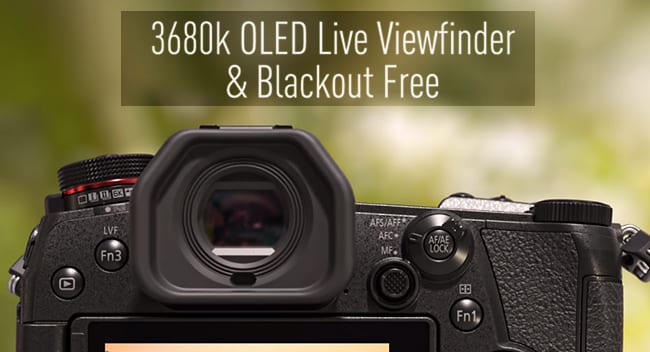 The G9 has breathtaking ergonomics. At 0.83x (35mm camera equivalent), the magnification ratio of the Live View Finder (LVF) is the largest in its class*5. This OLED LVF display has a high 120 fps (frames per second) refresh rate with no blackout*6, key to shooting high-speed action, along with switchable magnification, Night Mode and AF Point Scope, designed to provide both comfort and excellent results in the field. A status LCD on top of the body – also largest-in-class – provides detailed settings at a glance. Convenient for tripod shooting, this feature is a staple of pro-level cameras and can also be used at night instead of the rear monitor to reduce the light emitted from the camera.
Ruggedly Constructed and Highly Mobile for Field Use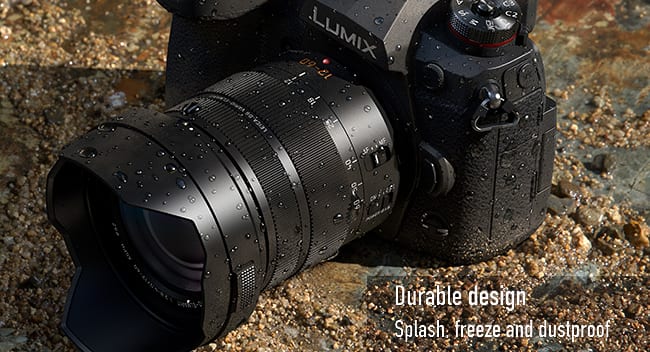 The LUMIX G9 weighs just 579 grams but it's built like a tank to withstand even heavy use out in the field, boasting a magnesium alloy full diecast armour frame and splash/dust/freezeproof construction thanks to weather sealing on every joint, dial, and button. Travel photographers will also appreciate the introduction of USB charging and operation on this model, along with a dual SD card slots allow you to record in relay, backup, and simultaneous modes.
LUMIX G9 ambassador gallery goes wild
Renowned photographers go wild with the new LUMIX G9 in Kenya, Madagascar and Zimbabwe to capture incredible wildlife, nature and landscape imagery. This stunning LUMIX ambassador gallery features the work of Ewen Bell, Bence Máté and Joakim Odelberg.
VIEW ALL GALLERIES
LUMIX G9 Mirrorless Camera
Available in PRO Kit, LEICA Kit and Body Only.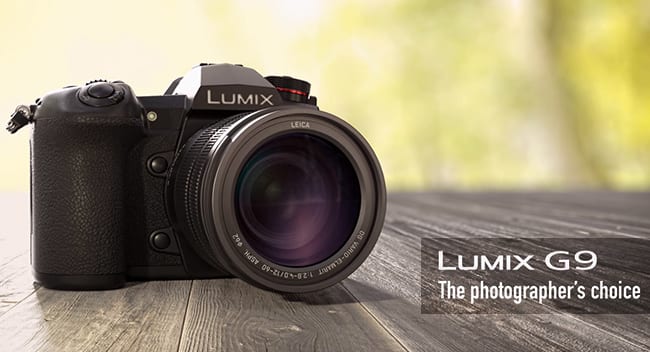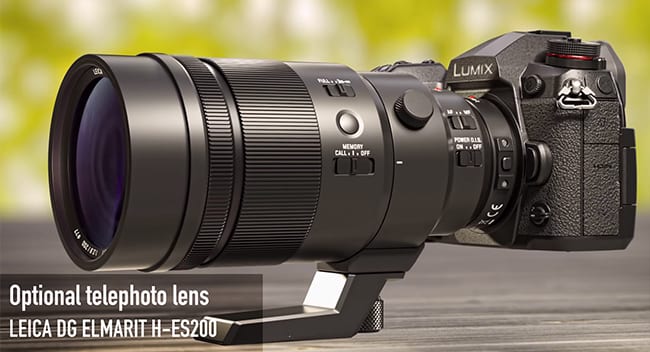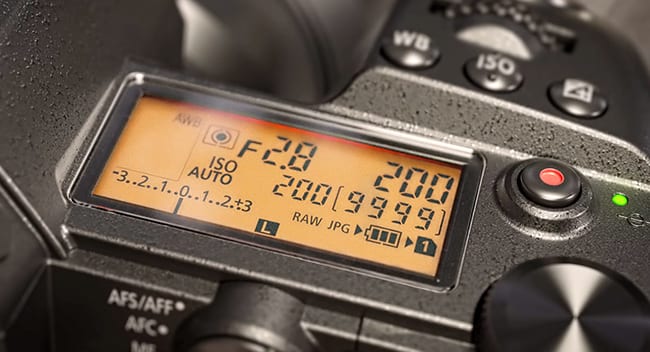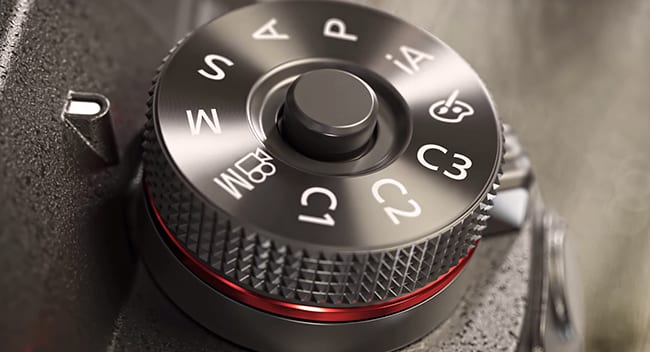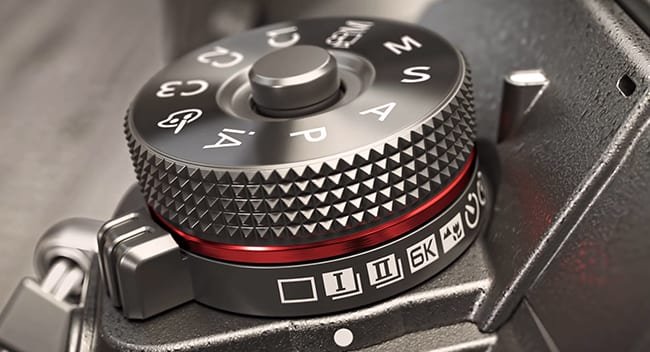 LUMIX G9
*1 In 1-Area AF, at wide-end with H-ES12060 (CIPA) in LVF120 fps setting.
*2 For a Digital Single Lens Mirrorless camera as of 8 November, 2017.
*3 5-Axis Dual I.S.2 can be used with the following lenses as of November 8 2017. A firmware update may be required. H-FS14140, H-RS100400, H-ES200, H-ES12060, H-HSA12035, H-HSA35100, H-FSA45200 and H-FSA100300.
*4 Based on CIPA standard [Yaw/Pitch direction : focusing distance f=140mm (35mm camera equiv. f=280mm), when H-FS14140 is used.
*5 As a Digital Single Lens Mirrorless camera, as of November 8, 2017.
*6 In 20 fps (AFC) / 60 fps (AFS) setting.