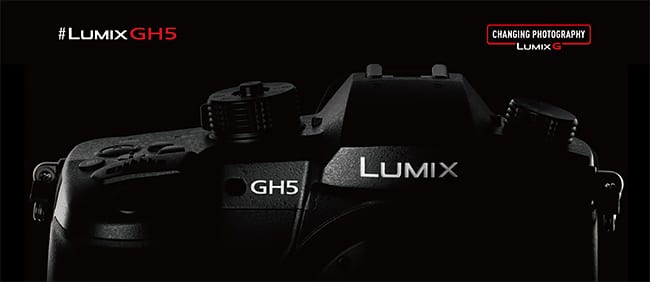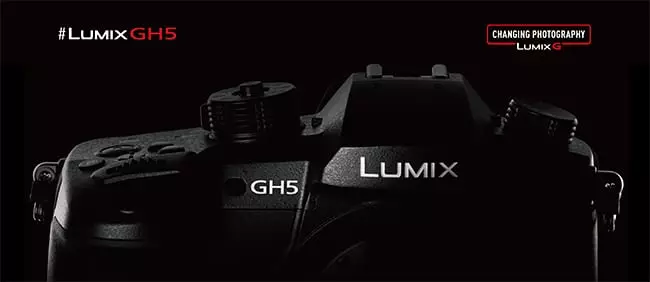 The new LUMIX DC-GH5 mirrorless camera truly sets the gold standard in professional 4K video shooting performance and hybrid photography, introducing a trio of world-firsts that make it an undisputed leader in its class. It is the first consumer digital camera to offer 4K 10-bit 4:2:2 25/30p video recording to SD Card*1; has the distinction of offering 4K quality video at 50/60 frames per second (fps)*2; and has evolved its original 4K Photo to the stunning 6K Photo*3. The GH5 is set to hit Aussie shores in April 2017 and if you pre-order yours in-store now and you'll also get a bonus cinematography-caliber V-Log profile upgrade.
4K 10-bit 4:2:2 25/30p video recording to SD Card
The GH5's 10bit 4:2:2 video recording in 4K resolution captures over 1 billion colours – in comparison, other cameras in this class can only offer 16.7 million colours. The result is cinematic, subtle gradation and far more colour information. For the serious film maker, this provides significantly more editing flexibility in post-production. In the past, this level of quality could only be achieved with a broadcast camera, far larger and heavier and costing many times more than the GH5. The GH5's sleek, powerful body and direct SD Card recording is a highly mobile and lightweight solution with no compromise on quality – meeting the demands of a range of challenging professional shooting conditions, particularly when the user can't carry a lot of equipment.
4K quality video recording at 50/60 frames per second (fps)
The GH5 is the only camera in its class to offer amazing 4K quality at 50/60fps. This higher frame rate is perfect for capturing very natural motion for applications such as documentary film making and news reporting. It's also ideal for creating gorgeous slow motion footage while maintaining the level of detail provided by 4K resolution. For those who need even higher frame rates for cinematic slow motion, the GH5 is capable of recording at up to 180fps in full high definition.
Breakthrough 6K Photo mode: shoot 30fps bursts at 18MP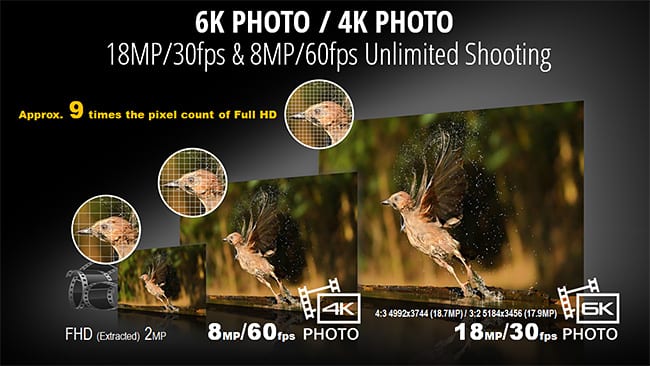 Panasonic was the first to introduce 4K Photo, allowing users to select a high quality still photo from a precise moment of video footage. Now, with 6K Photo, the GH5 can record a burst of 18 megapixel still images continuously at 30fps with no buffer limit, so photographers never miss that decisive moment. The original 4K Photo now features twice the frame rate, capturing 60fps in 8-megapixel resolution. In 6K/4K PHOTO, three exclusive modes can be selected depending on the situation: 6K/4K Burst, 6K/4K Burst (Start/Stop) and 6K/4K Pre-burst.
20-megapixel Digital Live MOS sensor for incredible image quality
The GH5's 20-megapixel sensor – with the Low Pass Filter removed and a new Venus Engine processor – delivers high-resolution images with new levels of detail, outstanding low-light performance and impressive dynamic range.
Powerful 5-Axis Dual IS 2*4 photo and video image stabilisation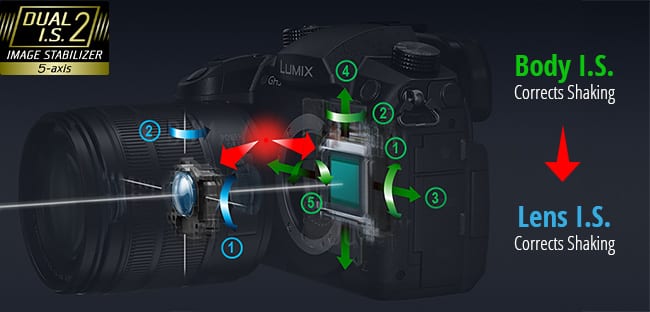 Panasonic's Dual IS 2 technology combines 5-axis internal stabilisation with the optical image stabilisation in selected lenses to provide up to 5 stops of image stabilisation, even at telephoto focal lengths. Dual IS lets photographers use much slower shutter speeds and ISO values and still achieve pin sharp results. Videographers can get incredibly stable performance when shooting handheld, even in the highest quality video modes. This is a revolutionary improvement for professionals, and in most cases will eliminate the need to carry a tripod or Steadicam rig.
Built for professional photographers and videographers

The flagship GH5 camera is built for professionals whose reputation rests on their ability to capture a once in a lifetime moment, making it the perfect choice wedding and event videographers, documentary photographers and film makers.
Rugged construction
With its splash, dust and freeze-proof magnesium alloy body, the GH5 can reliably perform in any environment. This camera also features technology that prevents overheating to ensure recording without time restrictions – even with stabilisation activated and using the highest quality 4K video modes.
Reliable operation
Large capacity batteries give hours of uninterrupted video shooting and when paired with the optional battery grip the battery life is doubled. The Dual SD UHS-II Card slots – a first in for LUMIX cameras – also provide the flexibility and protection of recording simultaneously to both cards or backing up data to the second SD Card slot.
Advanced displays
For precise shooting, the camera is equipped with a best-in-class 3.6 million-dot OLED viewfinder to deliver perfect results in the brightest outdoor conditions, supported by a 3.2-inch articulated touch screen monitor.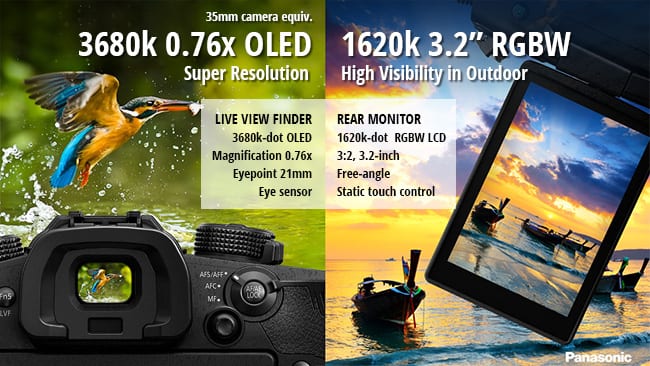 LUMIX DC-GH5
READ MORE
Pre-order LUMIX GH5 instore for bonus V-Log profile upgrade valued at $149RRP.
Read full LUMIX DC-GH5 press release.
*1 4:2:0 8-bit in 4K 50p/60p on an SD Memory Card.
*2 For a Digital Single Lens Mirrorless camera as of 4 January, 2017.
*3 6K PHOTO' is a high speed burst shooting function that cuts a still image out of a 4:3 or 3:2 video footage with approx.18-megapixel (approx. 6000 x 3000 effective pixel count) that the 6K image manages.
*4 5-Axis Dual I.S. 2 works when attaching the lens that complies with it. The compliant lenses are H-HSA12035, H-ES12060, H-FS12060, H-FS14140, H-HSA35100, H-FSA45150 and H-FSA100300 as of 4 January, 2017. H-RS100400 is also going to be compatible with 5-Axis Dual I.S. 2 in February, 2017. Firmware update of the lens is required.