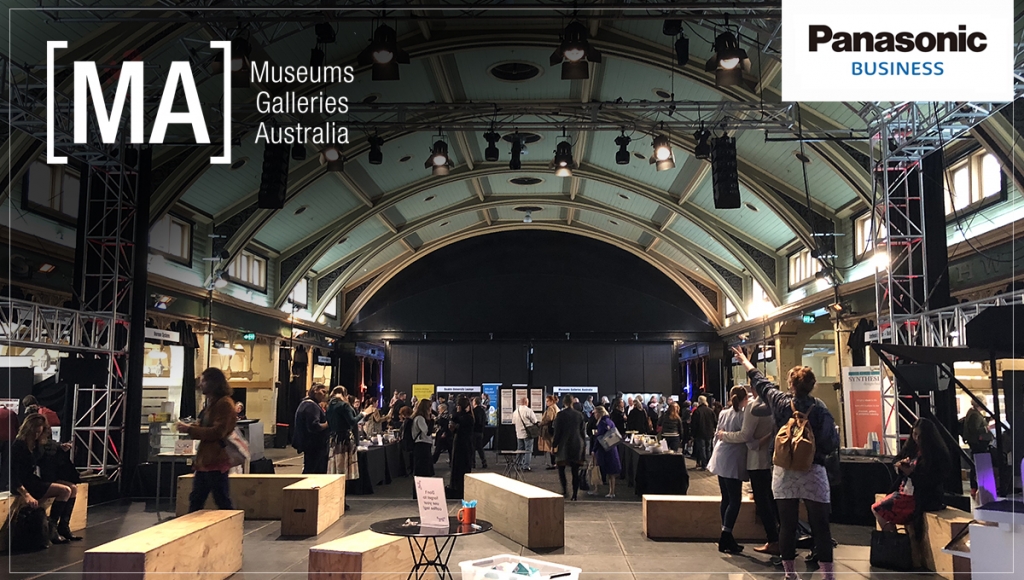 As the official sponsor at last month's Museums & Galleries National Awards (MAGNA), the prestigious annual event that forms part of the Museums Galleries Australia (MGA) National Conference, Panasonic Australia was able to support the arts community and showcase our innovative visual technologies designed for venues incorporating digital content into exhibitions.
2018 Museums & Galleries National Awards
Sponsored by Panasonic
Congratulations to this year's winners and commended entries!
SEE MAGNA 2018 WINNERS
https://www.museumsaustralia.org.au/magna-2018-winners
"Recent advances in projection technology now allow a greater deal of flexibility with how the technology can be used in the real world, especially for non-traditional venue spaces. For instance, laser projection now allows exhibits to be mounted on any angle, in much smaller spaces, and in a more aestheticly pleasing fashion. A great example of this that we showcased at MAGNA is the Panasonic PT-JW130, a 'Space Player' that opens up exciting possibilities for spatial design by combining lighting and image projection in one clever device."
– Jason Lee, Marketing Manager, Panasonic Australia
Panasonic PT-JW130 Space Player
Watch below Panasonic's Space Player in action
The revolutionary 2,000 lumen 1-Chip DLP™ Space Player laser projector combines the functions of traditional lighting and video projection to create engaging, projected visuals able to support a wide variety of applications, by highlighting objects with light and moving media. Easy installation, adjustable projection angle and exceptionally long life, makes the Space Player a great solution to support specialty projection museums, showrooms, hotels, function halls, exhibitions, restaurants or in any area where spotlighting is used to capture attention.
Read more about Panasoni's PT-JW130 Space Player: Panasonic 'Space Player' hybrid spotlight and laser projector
TH-75BQE1 75" 4K Interactive Display
Watch below the TH-75BQE1 on the news
An interactive touch screen designed for collaboration, the TH-75BQE1 makes digital whiteboard communications more affordable and effective. 4K resolution provides a perfectly clear picture ensuring every detail is visible, not only for the audience of a large room, but also when working directly on the screen. This clarity, combined with a 75-inch screen, makes reading text easy even when displayed in larger classrooms, meeting spaces, and exhibition venues.
TH-75BQE1 Display
---
Contact us
Contact us for more information on Panasonic Business products:.