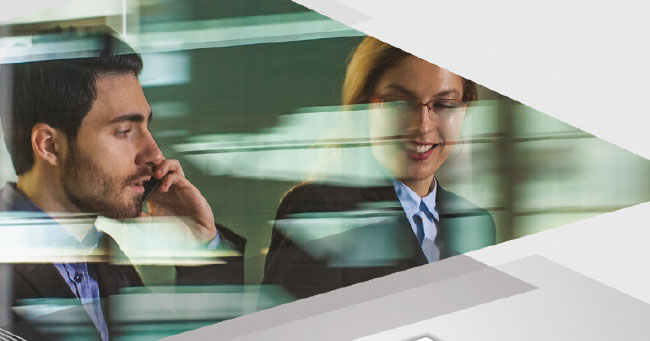 As leaders in Business Communication Solutions, Panasonic understand the importance of keeping your businesses connected with customers when staff are working from home, remotely, and away from the office.
Panasonic Business Communication systems support a number of solutions and features that can help your business transition to remote working and working from home arrangements.
Panasonic Mobile & PC Softphone Applications
Through the use of Softphone applications, remote staff can use their Smartphone and PCs with full office phone extension connectivity.
Mobile Softphone is a secure application designed for Panasonic IP-PBX platforms that combines visual and audio communications into a mobile device, allowing your employee's smartphones to be registered as a company phone network extension to make and receive calls.
The Mobile Softphone solution is optimised for Panasonic KX-NS700/1000 and KX-NSX1000/2000 UC systems, helping businesses transition to IP in an increasingly mobile environment.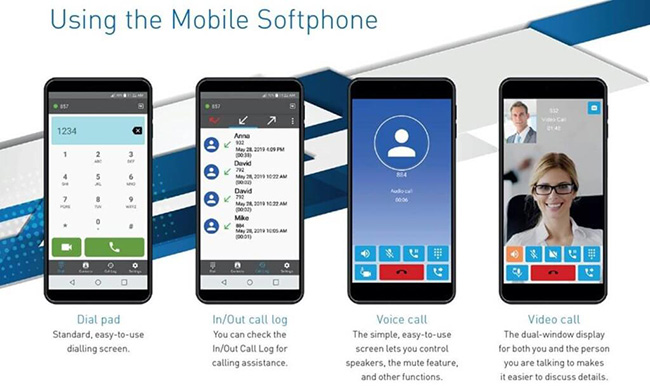 The PC Softphone application is similar to Mobile Softphone, but designed for use on your employee's computers. Users can see missed calls, log into a call group, and easily check voicemail messages via several user selectable GUI's*.
These applications allow your company to increase productivity without the need to invest in additional server room space or network connectivity, making it ideal for enhancing communications for sales teams and retail floor staff.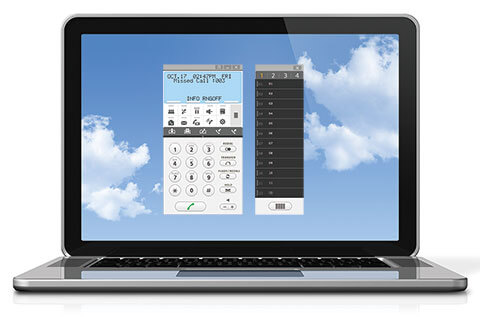 "Mobility is a 'must have' when it comes to business communications today. Unified Communication apps such as Panasonic PC & Mobile Softphone are a great way to extend the functionality of our customers' Panasonic phone systems beyond the office, making workforces much more mobile."
Fifi Tjiong, Product Marketing Manager, Panasonic Business Communications.
These solutions are cost-effective and offer seamless, secure connectivity for your small to medium business, allowing your mobile workforce to feel empowered. A built-in Media Relay Gateway means no additional server is required. Person to person smartphone video communications on the move are supported, as well as 3-person remote video conferencing calls.
"This solution frees workers from their desk and helps save time and money, which is something any business can appreciate. With only a single license and no server being required, the mobile app is easy to provision and install on both new and existing systems, Panasonic customers can be quickly up and running in no time."
Paul Bailye, Group General Manager, CommsPlus Distribution
Panasonic recognises the importance of security to your business. The solutions support SIP-TLS (Transport Layer Security) for encrypted, unbreakable connectivity. External sources can't view the SIP communication data and are restricted from access to company networks. This ensures easy, seamless integration into even the most security sensitive environments.
BYOD Support
Panasonic KX-NS/ NSX systems support a variety of mobile devices allowing employees to sync a mobile phone with their office extension for access to calls and features.
The need to support BYOD (bring your own device) continues to revolutionise the way employees use personal mobile phones for work. The Panasonic Mobile Softphone application can be installed on the employees' smartphones, supporting both iOS and Android platforms.
Through the Panasonic Communication Assistant application, your availability status and call forwarding preferences can be remotely updated, mirroring the flexibility you would have if you were working in the office.
The Panasonic Mobile Twinning feature is also supported and allows up 4 mobile phones to be set up to ring in parallel for incoming calls. Twinning enables you to fully utilise your team to more effectively manage important calls or clients, offering an effective solution to maintain fast response times and customer service quality.
Panasonic IP Handsets for Remote Working
The Panasonic KX-NS700 system features a built-in Media Relay Gateway (MRG). This allows connected handsets to work remotely, allowing IP phones in locations away from the office, such as in the homes of your teleworkers.
By connecting over the internet, Panasonic IP phones and Panasonic DECT wireless systems can be configured remotely and used as KX-NS700 extensions, further extending the versatility of your telecommunications system.
With support for multiple time zones, IP handsets at remote offices and homes can be programmed to display the correct time. Furthermore, MRG enhances network security by rejecting connections from non-Panasonic SIP phones when a SIP extension remote connection occurs.

Panasonic KX-NT680, KX-NT630, and KX-NT500 series IP handsets and the built-in Media Relay Gateway enable your customers to stay connected when working from home or remotely, and are compatible with Panasonic KX-NS700, KX-NS1000, KX-NSX1000 and KX-NSX2000 unified communication systems.
Contact us to setup a consultation with an authorised Partner to discuss your business's remote working needs.
*MRG (Media Relay Gateway) connection of extensions with PBX requires DSP resources
---
Contact us
Contact us for more information on Panasonic Business products:.