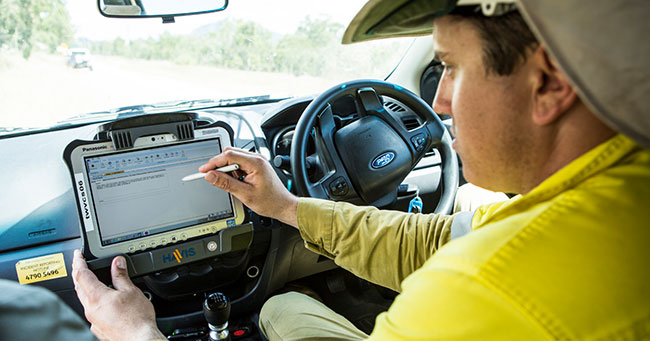 The business benefits of providing mobile workers with a rugged tablet or notebook to boost productivity and improve communication with co-workers and head-office is now widely accepted wisdom. However, the willingness of companies to invest in vehicle mounted docks and cradles to effectively secure and safely house these devices when mobile workers are on the move has lagged far behind.
You wouldn't give your office-based employee a desktop computer and a screen then not provide them with a desk to sit at, so why subject employees working in mobile offices such as cars, vans and trucks to less than ideal working conditions?
This is where Panasonic docking solutions can help. To spur you into action, we've identified the top 5 reasons for mounting your mobile business devices.
1. Improved Productivity
An improvement in productivity is usually the end goal for all our docking solutions customers. Equipping your mobile workforce to remain connected with their support team while on the road, or improving efficiencies via real-time access to data for staff in your warehouse could add up to significant time and cost savings.
2. Ease of Use
The convenience of a mounted solution allows users to be more productive, and ensures their device is always close to hand. Adjustable positioning and simple yet secure docking and release mechanisms will ensure they can transition from working in the vehicle to working on-site with minimal fuss. Our solutions take into account ergonomics, available space and customised user requirements. A properly installed mounting solution ensures your mobile workforce can operate the devices safely and comfortably.
3. Connectivity
Panasonic recognises the importance of connectivity to today's mobile worker, so to optimise wireless connections our docking solutions are integrated with dual antenna pass-through. Additional components such as rugged routers, vehicle antennas and Mobile Performance Management (MPM) software can also be supplied and installed by authorised Panasonic Partners as part of a full vehicle solution to maximise 3G/4G/5G and WLAN connections.
4. Device Security & Employee Safety
Tablets and notebooks are expensive tools that can contain information that is valuable to your organisation. A docking solution that allows employees to physically lock the device in place or stow it away out of sight when the vehicle is parked reduces your exposure to theft and data vulnerabilities.
With a track-record of installing solutions across a range of commercial vehicle types including vans, trucks and emergency response, we have valuable experience with technical requirements, vehicle safety and vehicle design rules to ensure the optimal solution for your staff and your fleet.
5. Investment Longevity
Panasonic docking solutions are built with longevity in mind. Compatible with standard VESA mounting brackets, consistent use of power cables, and docking stations designed to support multi-generational devices, integrating with our TOUGHBOOK device range means future upgrades to your mobile hardware doesn't necessarily mean your entire in-vehicle solution needs to be replaced too. There is no denying that Panasonic's tablet and notebook docking solutions benefit both the user and the business. If you're ready to chat about how we can help your mobile fleet or logistics team improve productivity and efficiency, let's connect!
---
Contact us
Contact us for more information on Panasonic Business products:.