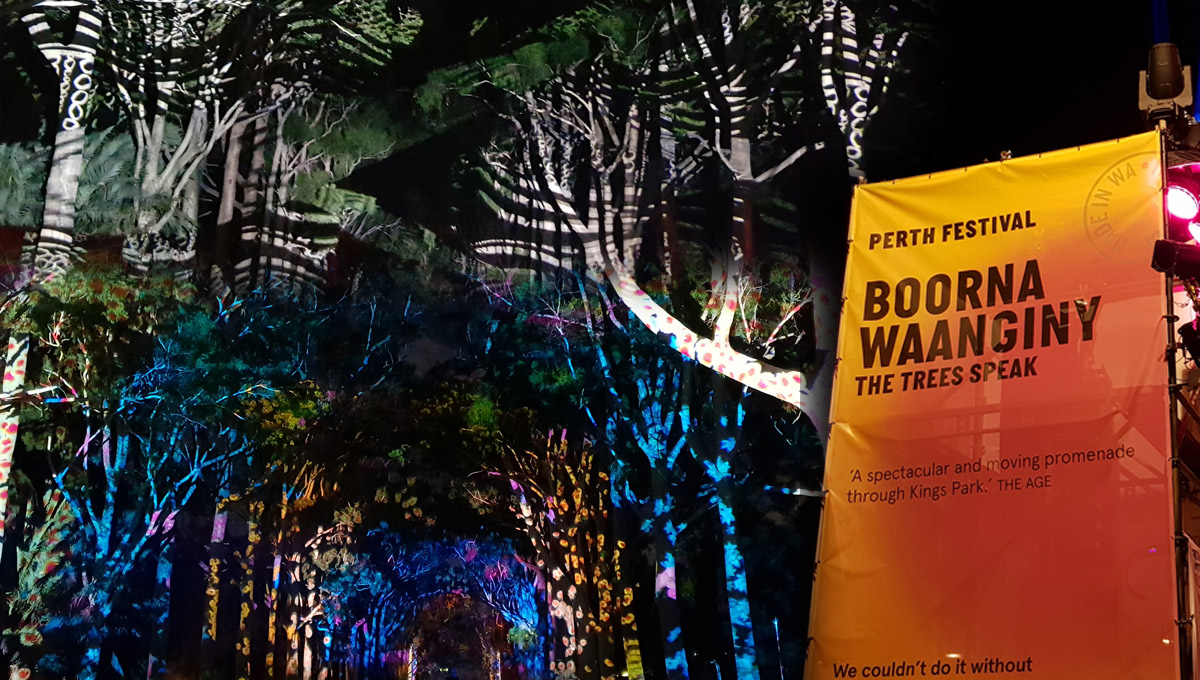 Perth Festival's extraordinary hit 'Boorna Waanginy: The Trees Speak' returned in 2019 to transform Kings Park into a nocturnal wonderland over four spectacular nights. In this epic work, Noongar culture, science, cutting-edge technology and breathtaking artistry came together to celebrate the unique and fragile beauty of South Western Australia's landscape.
Perth Audiovisual (PAV) used Panasonic projectors to transform the avenues of Kings Park into an ever-moving canvas, where trees and flowers bloom, flocks of birds descend, wetlands fill, bush fires rage and the stories of the formation of the land unfurl.
"Two years of passion, research, huge artistic integrity and logistical planning went into making this unique spectacle set in one of the world's largest inner-city parks. From the inception, the creative and technical teams knew this project was going to be something very special both from a visual sense and the message it conveyed over its moving journey."
– Lee Williams, General Manager, PAV
Two vision trucks and four purpose-built projection towers were positioned over the 1.2km walk, with each tower housing high resolution projectors. PAV utilised eight Panasonic 3-chip DLP projectors (4 x PT-DZ21K 20,000 lumen and 4 x PT-RZ12K 12,000 lumen), connected by more than five kilometres of optical fibre and powered by custom media players and mapping software.
And that's a wrap on Boorna Waanginy. Being entrusted to produce this wonderful event for the second time, working alongside Perth's finest creative and production minds is an honour. Thanks to the tens of thousands that shared our journey.#boornawaanginy #perthfest #hellopav pic.twitter.com/DJrT07QFZN

— Lee Williams (@Lee_G_Williams) February 12, 2019
This technological feat allowed more than 230,000 visitors to experience the six seasons of the South West through an immersive tunnel of light and sound, accompanied by the evocative words of Noongar author, Kim Scott explaining each season as it was thrillingly brought to life.
And that's a wrap for #boornawaanginy 2019 part of #perthfest . An amazing event to be a part of with a very talented team of people.We leave you with a clip and say goodnight to our little friends the Numbats.Perth Festival #perthevents #myperth #projectionmapping #panasonicprojectors #avgeek @coolux_intl

Posted by PAV Events on Monday, 11 February 2019
Boorna Waanginy: The Trees Speak
Director Nigel Jamieson
Artistic Associate & Designer Zoe Atkinson
Media Artist Sohan Ariel Hayes
Artistic Associate & Cultural Advisor Dr Richard Walley
Sound Designer Kingsley Reeve
Composer Ash Gibson Greig
Lighting Designer Mark Howett
Lighting Associate Designer Sean McKernan
Writer (Six Seasons) Kim Scott
Paintings Appearing in Six Seasons Shane Pickett
Ecologist Consultant Mandy Bamford
Project Contributors Prof Stephen Hopper & Dr Noel Nannup
Created with guidance from Noongar community Elders, Whadjuk Working Party members and the South West Aboriginal Land and Sea Council.
---
Contact us
Contact us for more information on Panasonic Business products:.