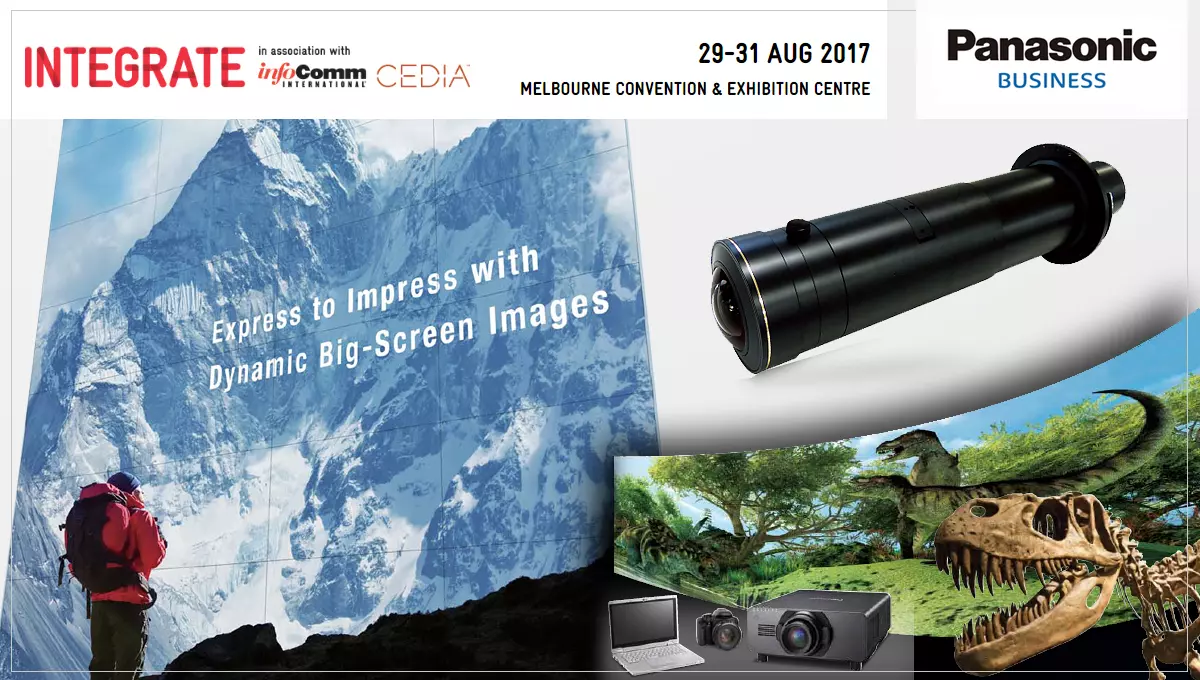 Now entering its ninth year, Integrate is Australia's premiere AV and Integration trade show. The Panasonic AV Division will once again be among the top exhibitors, presenting the latest in projection, flat panel display, live vision switchers and broadcast quality remote camera products at our Integrate 2017 booth. We'll also be launching exciting new products to the Australian market, including laser projection, 4K interactive and video wall LCD displays and professional video cameras that made a big splash at InfoComm 2017 as part of our immersive AV solutions showcase.
READ MORE: Panasonic unveiled immersive AV solutions at InfoComm 2017

Experience Panasonic AV Solutions at Integrate 2017
29-31 Aug 2017, Melbourne Convention & Exhibition Centre
Panasonic Booth: E40
Now entering its ninth year, Integrate is Australia's premiere AV and Integration trade show. The Panasonic AV Division will once again be among the top exhibitors, presenting the latest in projection, flat panel display, live vision switchers and broadcast quality remote camera products at our booth.
FEATURED PRODUCTS
PT-RZ21K Series 3-Chip DLP™ Laser Projector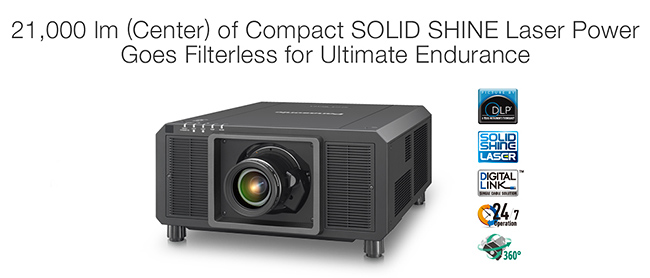 A game-changing addition to Panasonic's SOLID SHINE Laser projector lineup, the PT-RZ21K Series delivers 20,000 lumens and 20,000:1 contrast ratio in WUXGA (PT-RZ21KU) or SXGA+ (PT-RS20KU) resolution for exceptional picture quality. Incorporating the latest 3-Chip DLP™ technology and proprietary image processing engines assure class-leading color performance, white balance accuracy, motion handling and more. Equipped with an efficient cooling system and new filter-free design, stable and continuous operation during mission critical applications is made possible making the PT-RZ21K Series an ideal projection solution for rental, staging and large venue installations.
PT-RZ21K
PT-MZ670 Series 3LCD Laser Projector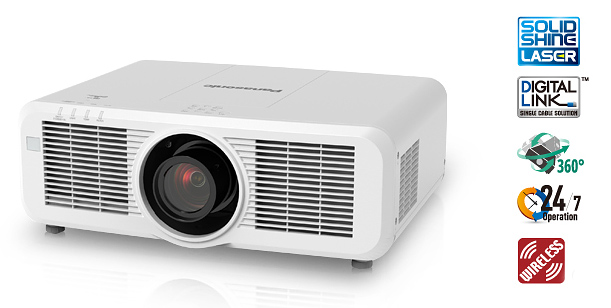 Innovative PT-MZ670 Series installation projectors are Panasonic's first 3LCD products to feature our acclaimed SOLID SHINE Laser Phosphor light-source technology. The series comprises four compact 3LCD lens-interchangeable models, the PT-MZ670/L (6,500 lumens ANSI) and PT-MZ570/L (5,500 lumens ANSI), both with WUXGA resolution, and the PT-MW630/L (6,500 lumens ANSI) and PT-MW530/L (5,500 lumens ANSI) with WXGA resolution. The projectors meet consumer demand for high-brightness solutions combining the affordability of 3LCD with the long-term cost-savings of SOLID SHINE Laser.
PT-JX200 Space Player Laser Projector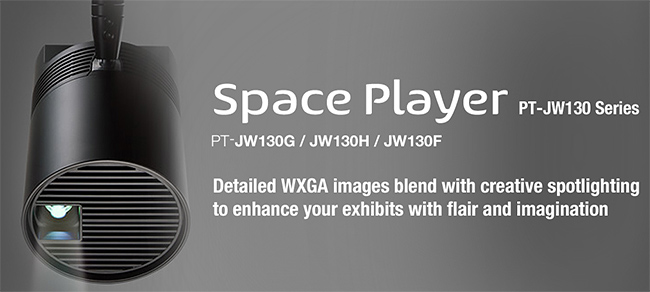 The revolutionary 2,000 lumen 1-Chip DLP™ Space Player laser projector combines the functions of traditional lighting and video projection to create engaging, projected visuals able to support a wide variety of applications, by highlighting objects with light and moving media. Easy installation, adjustable projection angle and exceptionally long life, makes the Space Player a great solution to support specialty projection for retail signage, museums, restaurants and more.
PT-JX200
ET-CUK10 Series Auto Screen Adjustment Upgrade Kit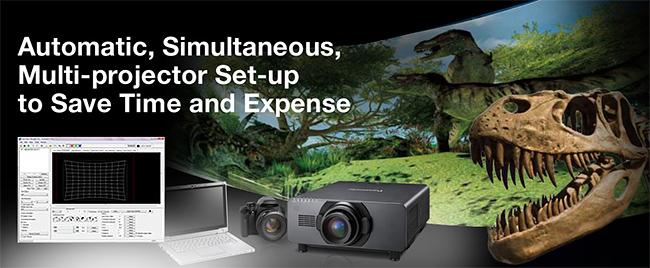 Panasonic's ET-CUK10 Auto Screen Adjustment software kit for DLP projectors dramatically reduces installation time and cost for multi or curved screen installations, by eliminating the need for grid-by-grid content alignment. By applying the Auto Screen Adjustment function to Geometry Manager Pro software, users can greatly save installation time and costs, and can also set up multiple projectors automatically and simultaneously.
ET-CUK10
TH-75BQE1 Interactive 4K Touch Panel Display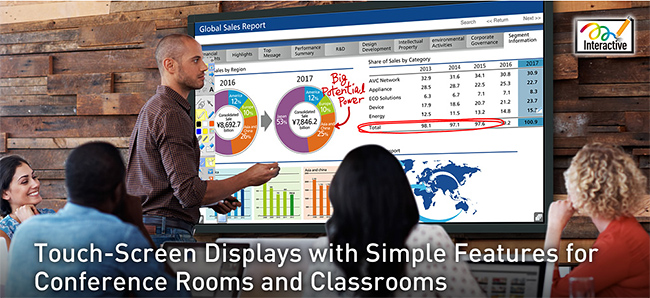 Making dynamic presentations on a digital whiteboard affordable for companies and schools, the new TH-75BQE1 75-inch 4K UHD Direct-LED display gains deep versatility when interfaced with free downloadable Panasonic Whiteboard Software via USB and HDMI®/VGA cables. The software dovetails with the touch-panel for effortless operation, and in Whiteboard Mode, allows users to write and draw on screen with a tool palette for line thickness and color adjustment. Included PowerPoint® Link Mode enables import, modification, and resaving of PowerPoint® files, while expanded presentation tools such as Loupe, Spotlight, and Fade-out Marker ensure professional-level presentation Video-capture and screen-capture functions are useful for recording presentations, and pages of work can be saved for later distribution. Facilitating up to 10-point touch, the panel enables natural notation with an included stylus pen. Simple USB memory viewer decodes media on USB sticks; front-facing speakers deliver clear audibility in classrooms; and 4K resolution presents viewers with bright, clear, and legible pictures.
TH-75BQE1
TH-49LFV8 & TH-55LFV8 4K Daisy Chain LCD Video Wall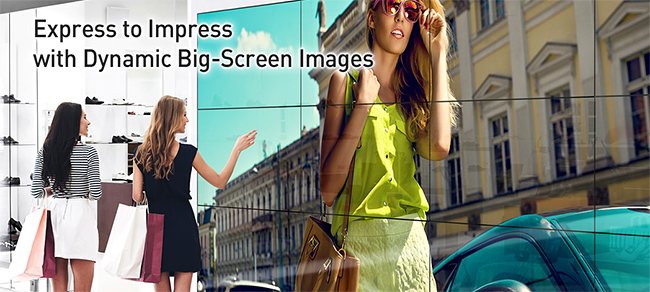 The new LFV8 Series LCD video wall range offers the ability to display 4K images in a 2×2 configuration and larger using DisplayPort. Available in 49 and 55-inches at 450 cd/m2 and 500 cd/m2 brightness respectively, the displays have native 4K-capable DisplayPort inputs and outputs. When installed in a 2×2 configuration across the four Full HD panels, the result is a single, film-like 4K (3840 x 2160/30p) video image. As well as providing an affordable 4K solution for professional installations, the displays can also enlarge and scale UHD (3840 x 2160/30p) across larger video walls, with greater accuracy than is possible with signals of lower resolution.
TH-LFV8
AW-HR140 Integrated Outdoor IP65 PTZ Camera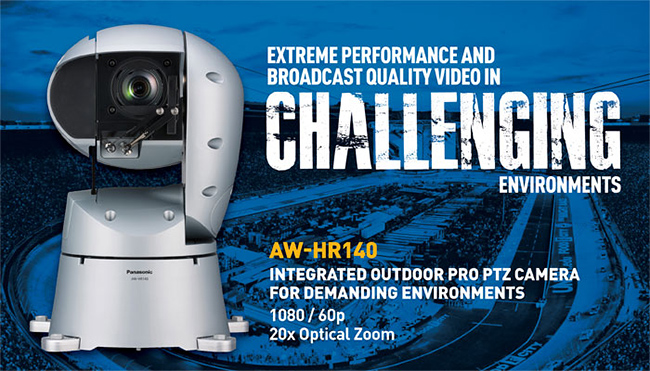 The AW-HR140 integrated outdoor IP64 pan/tilt/zoom FHD remote camera is designed for extreme and challenging outdoor environments featuring a built-in wiper and defroster combined with a thermally designed chassis. The camera is network enabled with multi-channel live streaming and control all over IP. Primary applications for this SDI-output camera are for outdoor live event and sports, arena/stadium capture, as well as broadcast coverage of weather, traffic and scenics.
AW-HR140
360-Degree Live Camera System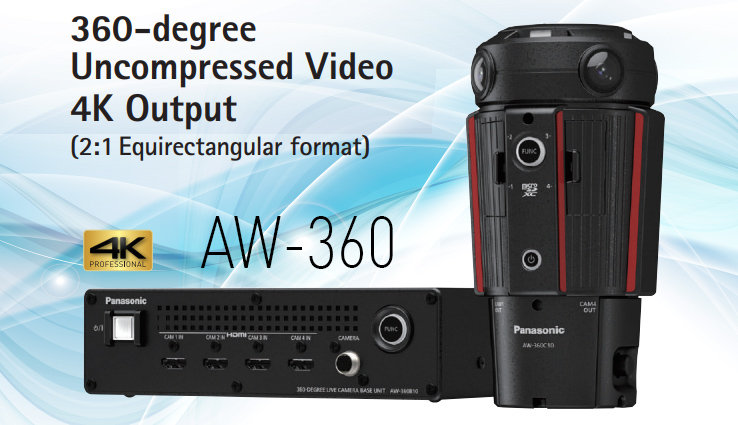 The 360-degree Live Camera System AW-360C10 and AW-360B10 (Camera Head / Base Unit), available in August, generates industry-standard 2:1 equirectangular format 360-degree seamless video by real-time live stitching the output of four cameras, giving the viewer the sense of immersion in a variety of scenes, such as live broadcasts of sports, concerts and other stadium events.
AW-360
Network Device Interface (NDI) PTZ Camera Range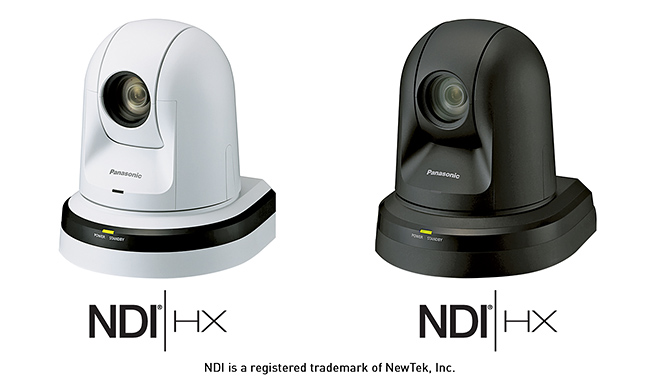 Featuring fully integrated support of NDI version 3, enhanced with a new high efficiency mode, new Panasonic AW-HN38, AW-HN40, AW-UN70, and AW-HN130 professional PTZ cameras can connect directly to an NDI network. With automatic detection by the NewTek TriCaster® and NewTek's IP Series of professional video switchers, the new cameras seamlessly integrate with the hundreds of other NDI-capable products, enabling NDI-based video production workflows without any additional configuration.
PTZ Camera Range
---
Contact us
Contact us for more information on Panasonic Business products:.