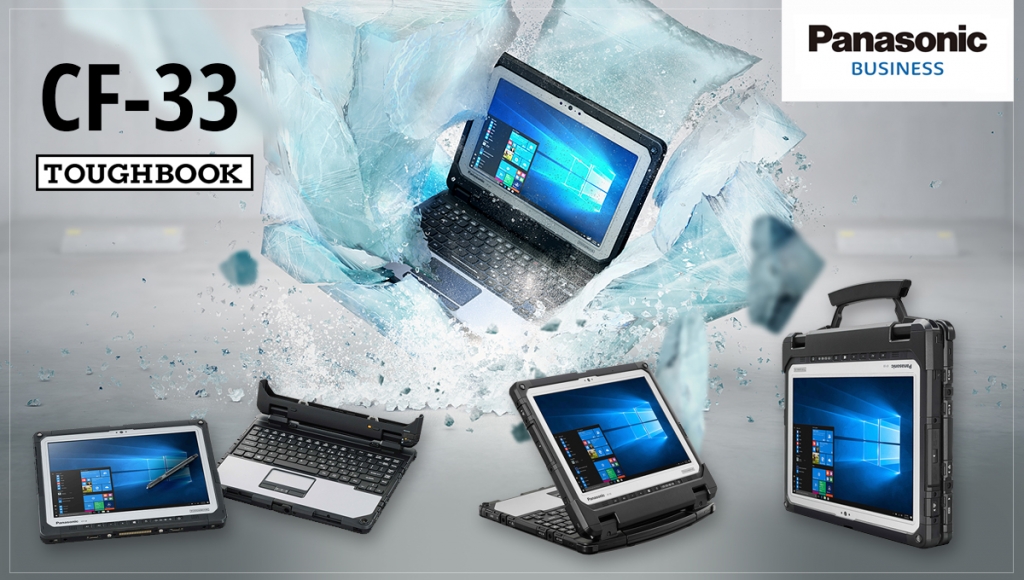 New to Panasonic is the Toughbook CF-33 – the first fully-rugged 2-in-1 detachable laptop of its kind, redefining rugged flexibility for those who work in demanding conditions. The CF-33 offers the best of all worlds for mobile workers; a fully rugged laptop with a detachable keyboard, and larger display tablet featuring a 3:2 aspect ratio – a world first in a fully rugged product. This next-generation device has been purpose-built through customer feedback to meet the needs of mission-critical industries such as emergency services, government agencies, defence, maintenance and transport and logistics, who require unrivalled performance in mobile computing.
Unparalleled configuration flexibility

With multitude of operating modes, the Panasonic Toughbook CF-33 provides the best features of a laptop and tablet for business applications. The detachable keyboard design provides five distinct modes – laptop, tablet, presentation, convertible, or vehicle docked. Compatibility with a range of existing CF-31 docks also provides a more cost effective fleet upgrade option.
Large, bright and easy-to-view display
Designed for outdoor use in bright sunlight or heavy rain, the Panasonic Toughbook CF-33 has a 12″ 10-finger capacitive dual touch QHD screen (2160 x 1440 pixels). Its 3:2 aspect ratio is ideal for viewing business applications for mobile field service professionals or Computer Aided Dispatch for law enforcement officers. Suitable for workers that need to operate touchscreens with gloves, the device uses the latest display technology, providing a new level of viewing quality for tablet users working outside with its 1200cd/m² brightness. In addition, the CF-33 includes an IP55 digitiser pen for workers that need the highest levels of writing, drawing or signature accuracy in the toughest of weather conditions.
Fully-rugged, yet thin and lightweight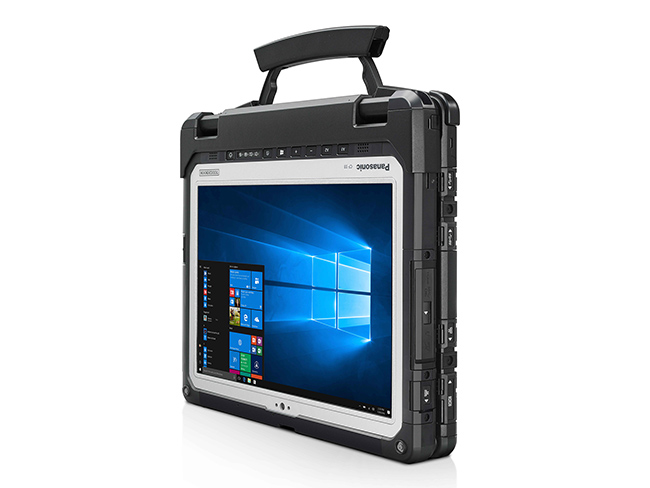 The Panasonic Toughbook CF-33 draws upon its heritage for ruggedness with a magnesium chassis, IP65 rating and drop resistance up to 120 cm, making it ideal for all outdoor usage. But this latest generation of Toughbook is more mobile than ever before, weighing just 2.761 kg in laptop mode – with the detachable tablet weighing 1.527 kg.
7th generation Intel Core processor
The Panasonic Toughbook CF-33 is powered by the latest Intel® technology to deliver the horsepower mobile customers require, while ensuring a long and stable life cycle for years to come. The Toughbook CF-33 is available with Windows 10 Pro when configured with a 7th generation Intel Core processor, and for customers who are still transitioning to Windows 10, there is also a Windows 7 Professional downgrade option when configured with a 6th generation Intel processor. The Toughbook CF-33 with Windows 10 Pro comes with an Intel® Core™ i5-7300U vPro™ processor, 8GB RAM and 256GB SSD.
Long-life, dual hot swappable batteries
The twin hot swappable batteries provide the user with the ability to extend the battery life up to 20 hours, which is particularly useful for those mobile workers with limited access to power. The ability to change the battery while in operation means the Panasonic Toughbook CF-33 can run continuously during extra-long shifts.
Effective mobile field communicator
The Panasonic Toughbook CF-33 is equipped with a 2MP webcam with stereo microphones and an optional 8MP documentation rear camera so users can easily capture and share images with other workers in the field. To ensure mobile workers are always connected to the business, the CF-33 offers a 4G LTE option for connection to the office and workforce management systems, and the option for the latest U-Blox NEO-M8N GPS for precise navigation.
Docking, desktop and mobile versatility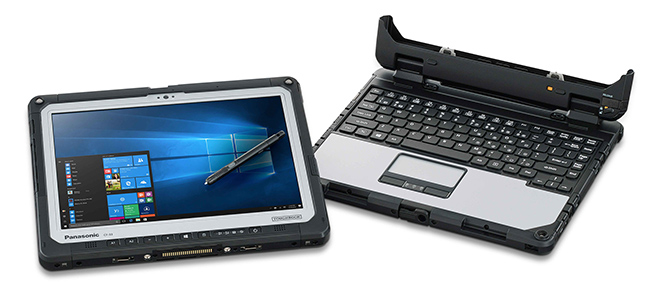 The device's slim, purpose-built vehicle dock has antenna pass-through for the strongest communications signal while in-vehicle, and full port replication to provide users with full functionality when docked. The device can also be locked in storage mode to keep it secure or in convertible mode to allow for secure messaging and access to the GPS functionality. The sleek Desktop Port Replicator allows the Toughbook laptop to be used as a high performance desktop device. The four bay battery charger is ideal for large organisations where the ability to charge multiple batteries can reduce worker downtime.
Toughbook CF-33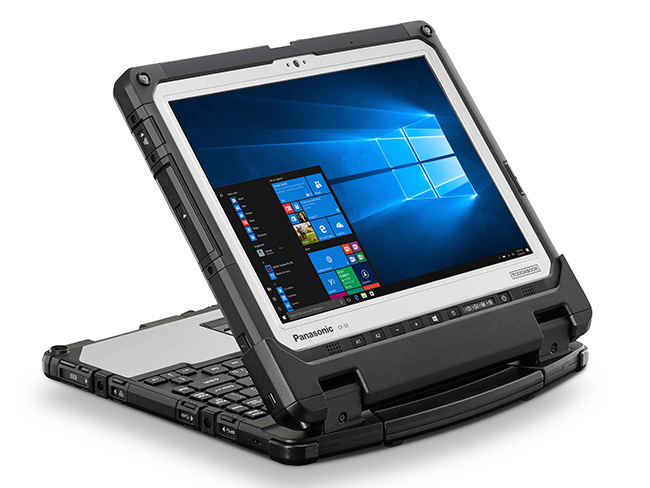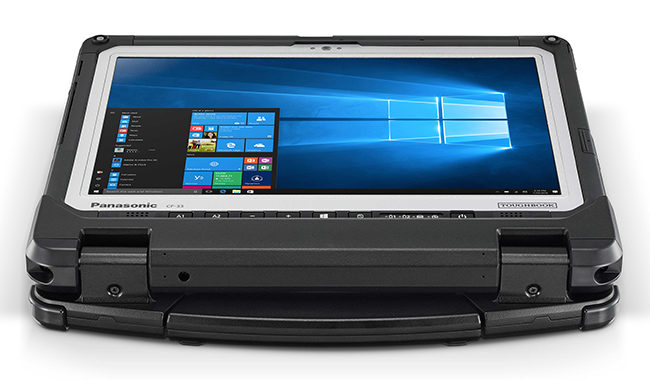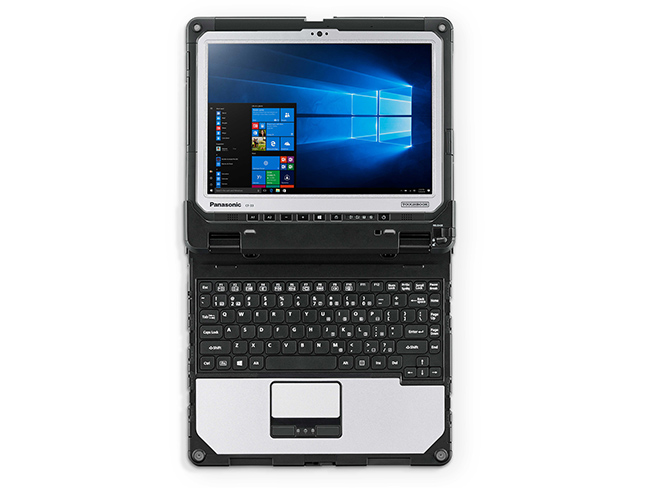 ---
Contact us
Contact us for more information on Panasonic Business products:.