We've created the ultimate immersive Full HD 3D experience with a new 103-inch panel.
We're proud to announce Australia's largest i Full HD 3D Plasma panel – a 103-inch commercial display that will be launched along with an 85-inch 3D display in early 2011. We have a wealth of experience in large-size 2D professional displays with the previous launch of 85-inch and 103-inch Full HD models, both of which have been widely praised for meeting the needs of a wide range of professional customers in applications such as digital signage and business presentation monitors.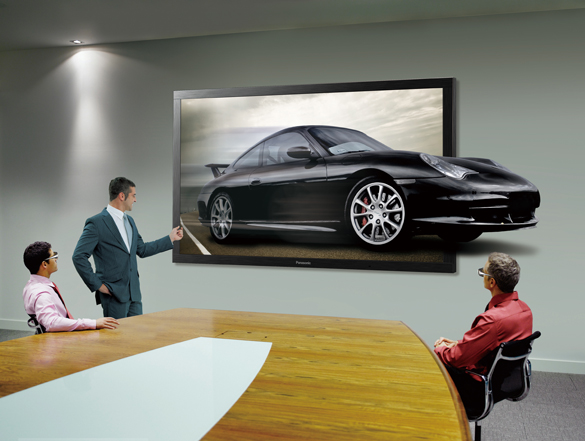 To develop the new professional models, we've advanced our unique technologies employed in our VIERA Full HD 3D Neo Plasma televisions that were launched in the consumer market this year – ensuring that viewers enjoy an amazing immersive Full HD 3D experience on the biggest screens available today.
The technologies include a native contrast ratio of 5,000,000:1 for overwhelming black reproduction, high speed drive technology for outstanding moving picture performance, and crosstalk reduction technology, a crucial requirement for producing clear and crisp 3D images.
The new Full HD 3D Neo Plasmas are ideal for a broad spectrum of cutting-edge applications including: entertainment staging, as a sales tool in car showrooms or the housing industry, for viewing 3D CAD images to improve design accuracy, high-end customised home theatre applications, immersive 3D games, and clear and detailed displays for advanced healthcare environments or educational institutions.
"This is an exciting development for 3D technology. Seeing 3D images on a screen this size is truly amazing. It offers true to life immersive images perfect for commercial installations. These panels are ideal for high-profile installations within the hospitality sector or in convention centres. Additionally, they will create a standout custom home cinema"
Mark Deere-Jones, Director, Business Systems Group, Panasonic Australia



Technology Features:
1. High resolution Full HD 3D images on ultra-large panels with newly-developed ultra high-speed drive technology
To shorten decay time by a third in comparison to conventional models ii, new shortdecay time phosphors have been installed. Also, the inclusion of the world's first iii motion vector prediction allows high-precision light emission controls to predict not only backward and forward movement, but also left-right and diagonal movement to heighten drive speed, thereby allowing a higher illuminating speed of about one fourth the time of conventional models iv. This installation reduces crosstalk, the key to high quality 3D video, to an absolute minimum, giving clear, high resolution 3D images.
With the 5,000,000:1 contrast, the new displays maximise PDP's high quality 3D imaging capabilities across the entire surface of the ultra-large screens, creating an overwhelmingly immersive experience.
2. New "professional quality engine" faithfully reproduces colorful, high-precision images
The ultra-large panels incorporate the newly developed "professional quality engine". Signal processing of each pixel has improved from 20 to 30-bit processing, allowing all color and brilliance signals to be reproduced accurately, as well as achieving double the color reproducibility compared to conventional models v. A professional quality color management system, which is compliant with HDTV broadcasting standards, adjusts picture quality to faithfully reproduce the detail and texture of the original video source, enabling studio monitor-like high-precision image quality. The products also feature 24 Hz video processing technology to allow crisp and smooth playback of movies.
3. New SLOT 2.0 function slots maintain the expandability and flexibility of professional displays
The professional Full HD 3D Plasma panels are developed to be versatile and flexible to meet the various system layouts required for professional installations. To meet the needs of customers, the models have been fitted with Panasonic's SLOT 2.0 function slots into which different terminal boards (sold separately) can be attached. These products are compatible with interfaces such as DVI and HD-SDI, and can be customised for use in a wide array of professional operating environments. To develop the potential of 3D related technologies and services, Panasonic has been active in many initiatives. Earlier this year, Panasonic introduced its first lineup of VIERA Full HD 3D Neo Plasma televisions and a Full HD 3D Blu-ray Disc player, and the Twinlens professional Full HD 3D camcorder is scheduled for Australian release in September. To further contribute to the production and spread of 3D content, the company has also opened the Panasonic Hollywood Laboratory Advanced Authoring Center for the authoring and recording of 3D movies onto Blu-ray Discs. Since the professional 3D business has seen a growing demand for a wide range of 3D system solutions to meet the various needs of customers, Panasonic established the Panasonic 3D Innovation Center on June 3 in Japan for customers working in the 3D business. Panasonic will utilise this newly established center to build closer relationships with customers, and develop 3D-related technologies and services to offer total solutions to match customer needs and create new demand.
The 103-inch and 85-inch Full HD 3D commercial Plasma panels will be available in Australia in January 2011. Pricing will be announced closer to the release date.
For more information on Panasonic commercial Plasma panels visit www.panasonic.com.au or call 132 600.
i As of January 7, 2010
ii Compared with PF12 Series Full HD Plasma display panels launched by Panasonic in the fiscal year
ended March 2010
iii For a Full HD 3D flat panel display as of June 9, 2010. Survey by Panasonic
iv Compared with PF12 Series Full HD Plasma display panels launched by Panasonic in the fiscal year ended March 2010
v Compared with PF12 Series Full HD Plasma display panels launched by Panasonic in the fiscal year ended March 2010
---
Contact us
Contact us for more information on Panasonic Business products:.