We are pleased to introduce the new PT-DZ570 Projector Series
The PT-DZ570 series features a versatile 2:1 wide lens zoom range, wireless functionality and convenient side-by-side operation to allow for reliable operation and simple installation, as well as low maintenance and acquisition costs.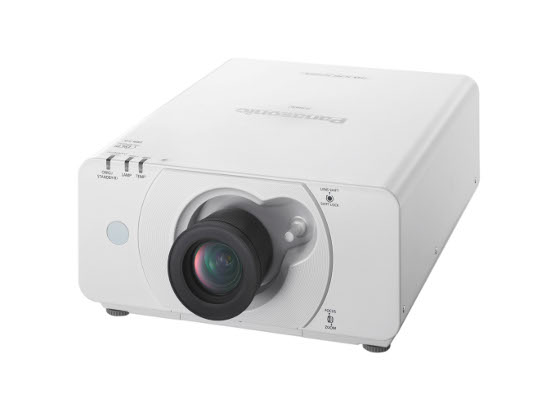 The PT-DZ570 uses a single lamp unit for stunning image quality with up to 4,500 lumens of brightness; and also offers a high contrast ratio of 2,000:1 and native WUXGA resolution of up to 1920 x 1200 pixels for 16×10 Full High-Definition viewing. This compact, 1-chip DLP Series is well-suited to a range of environments, including education, healthcare and corporate settings.
"With a 2x zoom lens and a horizontal/vertical lens shift feature that makes it possible to move the projected image without moving the projector, these new models can be installed in an existing mounting position, significantly reducing maintenance and installation costs,"
David Cuckney, Group Manager – AV/IT, Business Systems Group, Panasonic Australia
Key Features
Exceptional Image Quality
The PT-DZ570 Projector Series features Panasonic's original RGB Booster, which delivers levels of colour reproduction and brightness that make each colour stand out. It combines Panasonic's proprietary Vivid Colour Control technology with a Lamp Modulation Drive System in a 1-chip DLP projector that produces bright, vivid colours.
The exclusive Daylight View TM Premium feature measures surrounding illumination with a built-in ambient light sensor and corrects the image in real-time, producing clear, crisp images with remarkable depth, even in brightly-lit rooms. The new Series takes colour fidelity a step further with the Rec. 709 Mode for optimal colour reproduction for projecting HDTV sources.
Furthermore, a unique Panasonic image correction circuit named Detail Clarity Processor 3 enhances each area of the screen to produce natural, crisp images and sharp details. The DICOM Simulation Mode reproduces medical images clearly.
Both the PT-DZ570E and PT-DW530E projectors feature a 16:10 aspect ratio so users can take advantage of the Side-By-Side Function, making it possible to simultaneously project content from two sources in a single projection, such as a PowerPoint presentation from a PC and a video segment from a DVD player.
The PT-DZ570E also comes equipped with a built-in Waveform Monitor, allowing users to easily view the waveforms on the screen and adjust the settings accordingly if the output level of the source device fluctuates.
Low Maintenance and TCO, High ROI
Panasonic's PT-DZ570E, PT-DX500E and PT-DW530E projectors feature a new dust-resistant design for greatly improved operation and reliability – eliminating the need for an optical system air filter, therefore significantly reducing the units' maintenance costs. In addition, a highly-efficient cooling mechanism designed to optimise airflow inside the unit enables the projectors to withstand operating temperatures of up to 45° Celsius.
The projectors are equipped with 2x zoom lens and a horizontal/vertical lens shift feature that makes it possible to move the projected image without moving the projector. This enables the customer to install their new projector in the existing mounting position, saving time and money associated with new projector installation process.
As the new Series features the same lamp used in Panasonic's PT-D6000 Series projectors, customers that have invested in both projectors can reduce additional inventory costs and simplify stock management. For even greater convenience, the lamp is located in the rear of the projector, meaning the device does not have to be removed from the ceiling mount when the lamp needs to be replaced.
For added flexibility, the PT-DZ570 Series can be easily operated over a LAN which is ideal for ceiling-mounted use.
Eco-friendly functions
The new Eco Management function of the PT-DZ570 Series projectors significantly lowers power consumption by intelligently adjusting the status of the projector according to ambient light conditions and absence of input signals. The ecological design of the new Series greatly reduces environmental impact, with power consumption at 0.3W in Eco Standby Mode.
Optional accessories
In addition, optional accessories including the ET-UW100 (Easy Wireless Stick) and ET-WM200U (Wireless Module) mean the PT-DZ570 Series projectors are wirelessly-enabled, allowing freedom of flexible layout in presentation rooms.
Multi Projector Monitoring and Control Software is available for monitoring and controlling multiple Panasonic projectors from a single PC, so users can check a projector's status and condition without having to walk to the room where it is installed.
Pricing
PT-DW530E               $4949.00 RRP
PT-DX500E                $4399.00 RRP
PT-DZ570E                $8249.00 RRP
The PT-DZ570 Series projectors are available now from authorised Panasonic Business Systems dealers.  For more information on Panasonic Business Systems products visit our official site here or call 132 600.
---
Contact us
Contact us for more information on Panasonic Business products:.