At Integrate 2010 we demonstrated our versatile 3D projection solution ideal for applications from museums to conventions.
The solution was demonstrated using two Panasonic 2D PT-DZ6710E projectors stacked on top of each other to display 3D content. One projector's lens is used for the left-eye image and the other for the right-eye image, projecting two 'side by side' images that are then combined to produce a 3D image when projected onto a screen or wall.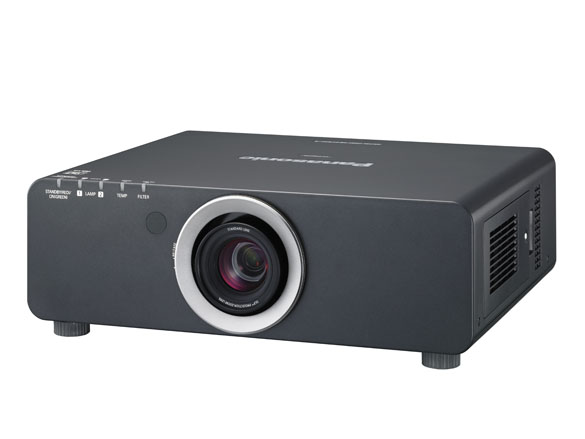 The 3D image can then be viewed using disposable 3D glasses. In natural vision, people see slightly different images with their right and left eyes. This difference is called 'visual disparity'. The brain processes these images with visual disparity to reconstruct spatial conditions, enabling us to see things with three dimensional depth and solidity. This visual disparity is artificially produced for 3D images so that the brain will interpret it as depth and solid-appearing objects.
"Panasonic offers a range of technologies that allow Australians to enjoy 3D. This solution allows large audiences to view 3D on a big screen.It's ideal for the professional rental market and for museums and convention centres that want to create their own 3D displays for key exhibitions and events – playing 3D movies, advertisements or any other 3D promotional material."
David Cuckney, AV/IT Group Manager, Panasonic Australia
The Panasonic PT-DZ6710E is a 6,000-lumen single-chip DLP projector that offers wide-aspect WUXGA projection with 1920 x 1200 pixels and a 2,000:1 contrast ratio. The projector offers 'geometric adjustment', which allows images to be projected onto spherical, cylindrical and other specially shaped screens and surfaces. Multi-screen mode allows up to 100 projectors (in 10 x 10 configuration) to create a single image. Edge blending ensures a smooth, seamless image by controlling luminance while blending the edges of adjacent screens.
Find out more about the PT-DZ6710 Projector on the Panasonic Global Site here
Panasonic's PT-DZ6710E projector is available now priced from $30799rrp. Disposable 3D glasses are available from third party-suppliers and typically start from $1.00 RRP
For more information on Panasonic professional projectors please visit www.panasonic.com.au or call 132 600.
---
Contact us
Contact us for more information on Panasonic Business products:.