Convenient, easy-to-use and feature packed system for Australian SMB market.
We're pleased to announce our new SIP Cordless Phone System – the Panasonic KX-TGP500 range – a pure VoIP solution that delivers business-quality VoIP service to meet the needs and budget of SoHo and small businesses. With easy-to-use features including support for three simultaneous network conversations, DECT radio technology and supporting up to six DECT cordless handsets, the solution provides small business owners with a 'big business' solution alternative that is affordable without sacrificing key business functionalities. With a simple 'plug and play' setup, the SIP Cordless phone system comes preconfigured with MyNetFone's VoIP service and delivers up to 3 voice lines, Number Portability and powerful call features, such as Auto-Attendant and Voicemail to Email.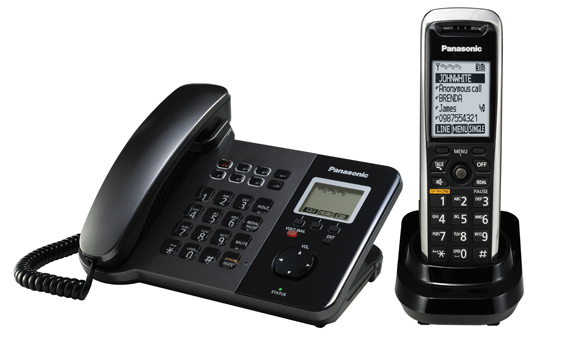 KX-TGP500 – Key Features
SIP based VoIP Cordless Phone System with Location Free Base Station and 1 Cordless Handset
Simple 'plug and play' setup
Up to 6 DECT Cordless Handsets and allows you to have up to 8 phone numbers
DECT radio technology and Wide band G.722 audio support
KX-TGP550 – Key Features
2 Handset System – 1 Corded Handset Station and 1 Cordless
Handset Call Button on the base unit
One-touch call transfer with Busy Lamp indication
Simple 'plug and play' setup
Up to 6 DECT Cordless Handsets and allows you to have up to 8 phone numbers
KX-TPA50 – The TGP500 systems can be expanded up to a total of 6 cordless handsets by adding the KX-TPA50 cordless handset.
The Panasonic KX-TGP500 range also boasts outstanding voice quality and the convenient cordless design eliminates the need to run dedicated network wiring to each employee workstation, making it ideal for small offices.
"This versatile new series is a pure-VoIP SoHo and SMB solution that meets their needs and budget. With flexible configuration options and convenient cordless design, it has never been easier to deploy and expand a SIP-based phone system. The benefits of SIP are especially compelling in today's business environment where every dollar counts. The reduced hardware costs and simplicity of routing calls over an Internet connection can add up to significant savings on monthly telephone bills. Combined with MyNetFone's VoIP service and at a significantly lower price-tag, this package is also ideal for integrators and resellers wanting to differentiate themselves within the SOHO channel"
Jerry Ng, Product Marketing Manager, Unified Communications, Panasonic Australia
Series Details:

Key Features of KX-TGP500 and KX-TGP550
• Support for 3 simultaneous network conversations
• CODEC: G.711a-law / G.711mu-law / G.722 (wideband) / G.729a / G.726 (32K)
• DECT radio technology
• 2.1? Large LCD with white back light on cordless handset
• Handset call button with status indicator on base unit (KX-TGP550 only)
• Hands-free speaker phone on base unit and cordless handset (KX-TGP550 only)
• Up to 6 DECT cordless handsets
• Support for up to 8 SIP registrations (i.e. up to 8 DID lines or extensions)
• Ethernet pass-through port (KX-TGP550 only)
Key Features of KX-TPA50 (additional handset)
• 2.1? Large LCD with white back light on cordless handset
• Bright message waiting indicator
• Soft keys
• 100 phone book memory
• 10 Last dialed number
• Local or network intercom
• DID specific ring tones
• 10 days stand-by and 5 hour talk time
SIP Cordless Phone Systems start from $425 RRP for a base system. For more information on Panasonic Communication Solutions, contact Panasonic on 132 600 or visit our official site

here
About My Net Fone Limited
My Net Fone, ASX (MNF) is Australia's leading provider of fully IP-based VoIP, data and video services to residential and business enterprise customers. The company is renowned for providing cost effective, innovative solutions and services with high quality, true flexibility and convenience to its customers. Since its inception, the company has won numerous awards including Sydney City Business Awards, Deloitte Technology Fast 50 and Deloitte Technology Fast 500 Asia Pacific 2009, PC User, Money Magazine and many others. The company made its maiden profit in FY 08/09 and has been cash flow positive for seven consecutive quarters. As of February 2010, MyNetFone has 80,000 customers across all parts of Australia.
---
Contact us
Contact us for more information on Panasonic Business products:.