Macau is developing an international reputation for its larger than life casinos, and has recently attracted further attention after one of the world's largest architectural 3D light and sound shows at the Venetian Hotel, 'Winter in Venice', was created by Australian entertainment communications company, Laservision.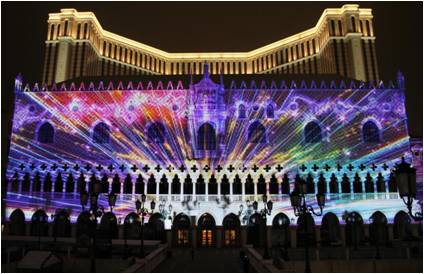 Renowned for creating impressive multimedia attractions, special events and architectural lighting, Laservision, with a helping hand from Panasonic, has continued to impress with this latest display.
Utilising technologies used during the London 2012 Olympic Games Opening Ceremony, this visually stunning display spans over 4000sqm and has taken over 12,000 production hours and 35 crew members, including several Panasonic factory engineers from Japan.
The extraordinary sound and light show employs over half a million lumens of light power, projected onto The Venetian's façade, which is provided by 26 high definition, large format,  liquid cooled Panasonic DZ21 video projectors – all seamlessly edge-blended to create a single, mammoth piece of dynamic art.
Chris Maw, Product Marketing Manager Projectors – Business Systems Group, Panasonic Australia, noted the show was the best of its kind he had seen and said, "The Winter in Venice exhibit is truly an impressive production, and is a fantastic example of the sort of high quality display that can be achieved with the new large format projectors such as the DZ21."
View the 'Winter in Venice' exhibit and marvel at one of the world's largest architectural 3D light and sound shows here.
---
Contact us
Contact us for more information on Panasonic Business products:.