This competition is now closed

Win tickets for you and 3 mates to the most exciting AFL matches of the season, including two tickets to the Toyota AFL Grand Final!
From March 22nd Panasonic is giving away 4x reserved AFL tickets each round of the season on Facebook, including 2x tickets to the Toyota AFL Grand Final, as part of the Your AFL Moment competition.
AFL Authorization Code: GFAFL10/17
What to submit
We're looking for people passionate about the great game of AFL to submit their own photo or video that captures the essence of how they see the game. We don't want to see photos of your favorite player, we want to see you behind the ball, your dog taking a mark, or your fanatical nanna dressed head to toe in her teams gear – show us what the AFL means to you.
Submit Your Moment and Get the Most Votes to Win!
Once you've captured Your AFL Moment visit the Panasonic Australia Facebook page to submit your entry. Submit your moment to the AFL round that you'd like to win tickets to and get as many of your friends and family to vote for you. The entry with the most votes will win tickets to that AFL round.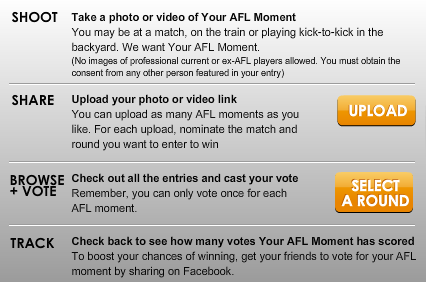 Timings and Rounds
Each week there will be a new round and a new winner announced. Entries for each round will close on the Sunday (11:59pm AEST) prior to the weeks match. This way we can get the tickets out to you if you win. Be sure to get back to our winner validation email before the Tuesday (3pm AEST) of that round otherwise we will have to pass on your tickets to the next person with the most votes in that round.
We have a leader board for each round so that you can check on how you're placed, we recommend checking on it regularly.
The rounds are as follows: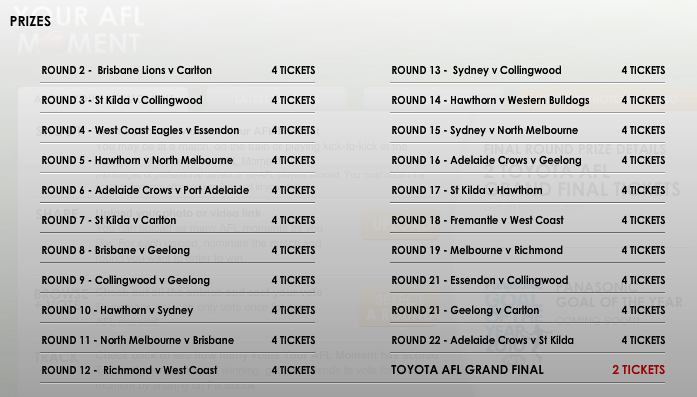 Toyota AFL Grand Final Round
All rounds will be open for entry and voting from Monday 22nd March, except the Toyota AFL Grand Final.
You can enter photos/videos for the Toyota AFL Grand Final round when the finals series kicks off on the 23rd August 2010. This round closes on Sunday 19th September 2010 at 11:59pm (AEST).
You cannot enter the same moment you entered in previous rounds and same voting rules apply. Please note there will be not Semi-final rounds in this competition.
Important Things to Know
This competition is open to Australian's 18 years or older
We will not accept images/videos that include current or ex-AFL players
You must obtain the consent of those people featured in your moment and not include third party copyright protected content
Prizes only include tickets and we will not be providing transport or accommodation arrangements so be sure you can make your match before entering
To view Your AFL Moment you will need to have Flash 9 or above. To download the latest Adobe Flash Player for free visit the Adobe website
For full competition Terms and Conditions please click here.
Enough Talk. Take Me to Your AFL Moment!
We look forward to seeing Your AFL Moment and good luck! Be sure to join Panasonic Australia on Facebook where we will be running future promotions as well as keeping you in the know with the latest products and news.