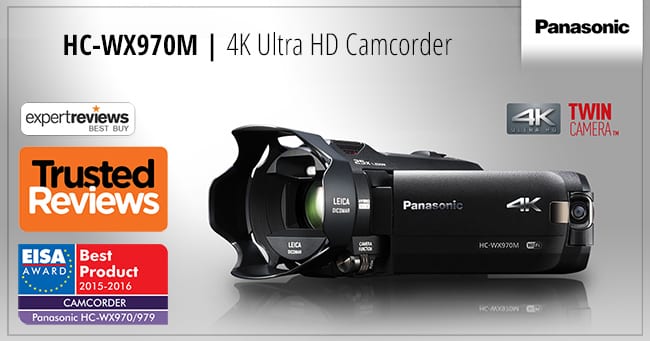 The outstanding Panasonic HC-WX970 is the flagship model in our camcorder range. This premium camcorder features 4K Ultra HD recording to take your videos to the next level. One major advantage of this feature is that 4K videos can be converted to Full HD with better definition and crisper detail than videos only shot in Full HD. Another great use of 4K video is 4K Photo Mode (a new feature professional photographers are loving) that allows 8 megapixel still images to be extracted from a 4K video clip with incredible clarity and detail, enough to be used in large prints.
You can also enjoy remarkably lifelike detail with this model, thanks to High Dynamic Range (HDR) Movie*. HDR Movie mode is a world-first for Full HD camcorders and its importance cannot be understated. It allows the camcorder to shoot 50 images per second, with 25 images exposing for shadows and 25 exposing for highlights. These images are then combined in real time and interpolated back to 50 images per second, resulting in stunning videos that retain lots of detail in difficult lighting and high contrast environments.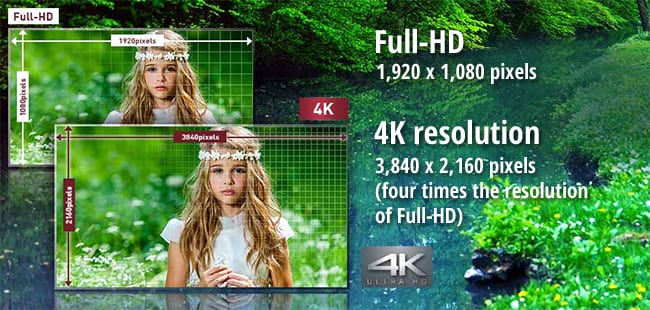 You'll even see things from a new perspective with the HC-WX970 camcorder. It's equipped with a built-in Twin Camera that lets you experiment with capturing two scenes at once, layering them with picture in picture, filming your own reaction to the action, and even rotating the sub camera to film a wide angle shot while zoomed in with the main camera.
So, how is this camcorder faring in the real world? The reviews are in, from both critics and consumers, and it's clear that the HC-WX970 is winning many fans. It even picked up a prestigious Best Product award from the European Imaging and Sound Association jury!
* Only in Full-HD
Awards & Critic Reviews
European Imaging and Sound Association Jury
"Movie-makers looking for a 4K camcorder are rewarded by Panasonic's HC-WX970/979 – an affordable model that packs welcome features into its compact body, including an innovative twin recording function. In addition to its main Leica Dicomar lens (married to an 18.91MP sensor), the camera provides a secondary swivel lens next to the tilting 3in touch display. This allows simultaneous capture of two different scenes – with one placed in the corner of the main shoot, selfie-style. Achieving high-quality, smooth footage is made easy by the camera's efficient image stabilisation circuit and Level Shot function that automatically counters tilt, and varied recording modes include HDR (High Dynamic Range) for brilliant, impactful pictures." – Best Product EISA Award Winner: EUROPEAN CAMCORDER 2015-2016.
Expert Reviews
"The HC-WX970/979's fantastic 4K image quality and HDR mode makes for wonderfully well-exposed scenes." – Recommended 5/5 Stars.

Trusted Reviews
"The Panasonic HC-WX970 is a great high-end option for 'prosumer' 4K early adopters, with comprehensive features and great image quality." – 8/10 Stars.

Customer Reviews
Pete from Everett, WA
"I don't have the 4k TV yet, but when I hooked this camcorder up with the HDMI cable to my 1080 TV, the picture was better than any 1080 camcorder I've used. It has a lot of neat features like prerecord where you activate it and it is like a 5 second loop, so when you do hit the record button it goes back 5 seconds so that you don't waste media space and you don't miss anything. Also you need to link it to a smartphone and it opens up a lot of other features like remote record or even remote playback, which works way smother then 2 other major brands that I own. It's the most I've spent on a camcorder but it's amazing, and I have zero remorse." – BH Photo Video 5/5 Stars.
NG, Verified Purchase
"It's probably the best high end consumer camcorder in the market. 4K/FHD video recording capabilities, precise and fast auto focus with great image stabilization, Night mode with IR video recording is very good and great feature to have, MP4 and AVCHD recording modes with 5.1 channel sound recording capabilities. All in all, amazing camcorder by Panasonic." – Amazon, 5/5 Stars.
Read more
HC-WX970 product page.
Panasonic's 4K cameras named 'Best Product' by European Imaging and Sound Association.
Bring stunning cinematic quality to your home movies with our flagship camcorders.
The wonderful world of Wi-Fi supercharges our latest cameras and camcorders.