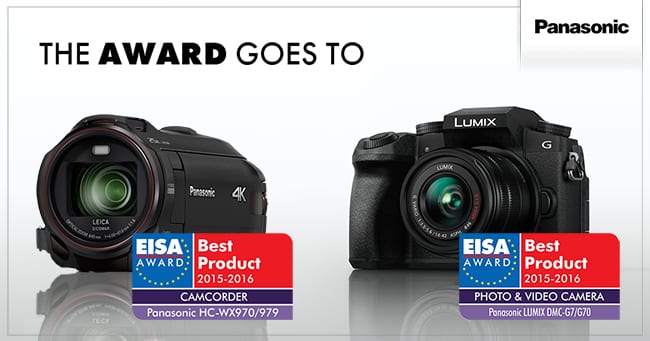 Panasonic is proud to announce that the LUMIX DMC-G7 Digital Single Lens Mirrorless (DSLM) Camera and the HC-WX970M 4K Ultra HD Video Camera have been honoured with a 'Best Product' award from one of Europe's most respected consumer electronic associations, the European Imaging and Sound Association (EISA).
EISA is the unique association of 50 special interest magazines from 20 European countries who have joined together to form the world's most prestigious multimedia magazines association. Each year, the editors-in-chief from all EISA member magazines meet to decide which products deserve the EISA Award. This year, Panasonic achieved a fantastic result, taking out two of the coveted awards for Best Product in "Photo & Video Camera" and "Camcorder" categories.
LUMIX DMC-G7
Winner EUROPEAN PHOTO & VIDEO CAMERA 2015-2016
The LUMIX G7 impressed the EISA jury by opening up the world of 4k video to everyone. Whether used for capturing memories on film to last a lifetime or taking amazing stills from 4K footage the LUMIX DMC-G7 is changing photography for good.
Watch and read below what EISA Awards experts have to say about our G7:
"The G7/G70 is a true video + stills hybrid camera that brings internal 4K video recording at a very affordable price. This is backed up by a full range of video features including microphone input and a focus peaking display. Stills photographers are not neglected, with a 16-million-pixel Four Thirds sensor, 2.36-million dot OLED Live View Finder, ISO 100 (Extended) -25600, continuous shooting at 8 fps, and a silent electronic shutter with speeds up to 1/16000 sec. The large grip, twin control dials and fully articulated touchscreen give excellent handling. For amateur filmmakers in particular, the G7 is a game-changer" – EISA Jury.
Panasonic HC-WX970M
Winner EUROPEAN CAMCORDER 2015-2016
The Panasonic HC-WX970M video camera is the world's first consumer camcorder equipped with the High Dynamic Range (HDR) Movie function in Full HD quality. It enables the user to record beautiful videos with a more dynamic range of contrast between dark and light areas when played back. The camera also features a unique additional camera on the side of the display to help capture different points of view, or provide narration for the footage. Video capture appears as picture-in-picture, and the camera also features an electrical zoom and dedicated titling.
Watch and read below what EISA Awards experts have to say about our HC-WX970M:
"Movie-makers looking for a 4K camcorder are rewarded by Panasonic's HC-WX970/979 – an affordable model that packs welcome features into its compact body, including an innovative twin recording function. In addition to its main Leica Dicomar lens (married to an 18.91MP sensor), the camera provides a secondary swivel lens next to the tilting 3in touch display. This allows simultaneous capture of two different scenes – with one placed in the corner of the main shoot, selfie-style. Achieving high-quality, smooth footage is made easy by the camera's efficient image stabilisation circuit and Level Shot function that automatically counters tilt, and varied recording modes include HDR (High Dynamic Range) for brilliant, impactful pictures" – EISA Jury.
Read more
G7 mirrorless camera: one shot gives you up to 60 images.
What the critics are saying about the new LUMIX G7 camera.
Tutorial: how to use the new 4K Photo modes on the LUMIX G7.
Bring stunning cinematic quality to your home movies with our flagship camcorders.
Product Webpage
DMC-G7ZOOM Twin Lens Kit.
DMC-G7TWIN Twin Lens Kit.
DMC-G7Single Single Lens Kit.
DMC-G7 Body Only.
HC-WX970M Camcorder.