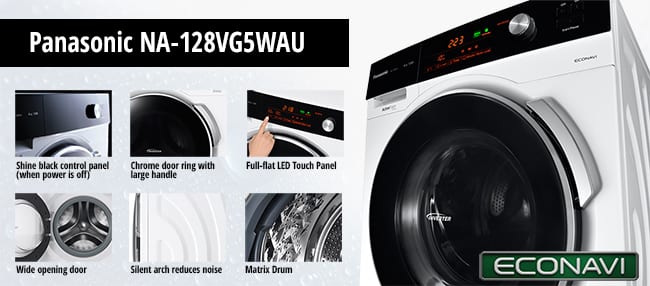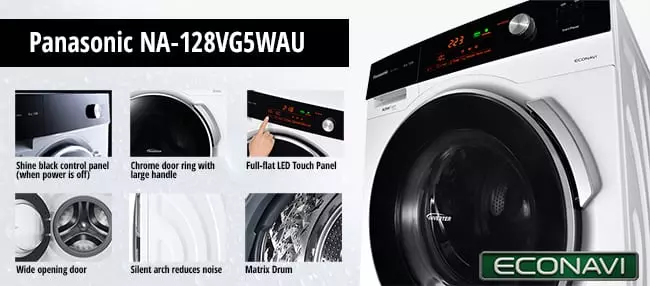 We've released a superb 8kg ECONAVI Front Load Washing Machine (NA-128VG5WAU) that features our powerful new ActiveFoam technology. This high-tech front load washer also offers a stylish LED touchscreen panel for easy operation and a combination of energy-saving features.
Highly concentrated foam boosts washing performance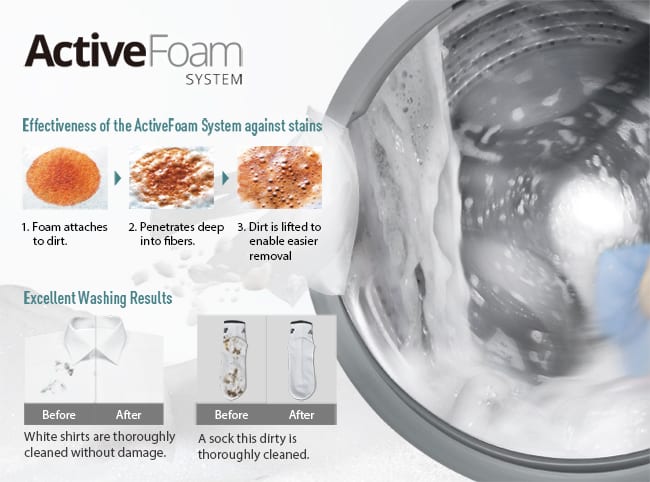 With conventional washing machines, detergent is distributed through the washing machine and foam is made during agitation. Here at Panasonic, we have figured out how greatly improve on this process with our new ActiveFoam technology. The detergent is turned into foam in the detergent case, where it is highly concentrated using pressurised water. Creamy foam is then vigorously sprayed onto clothes from the top of the drum before washing starts where it surrounds dirt and thoroughly lifts and removes it during the powerful washing sequence. What's more, because this ultrafine foam thoroughly dissolves detergent, the rinse cycle is more efficient with a distinct lack of residue remaining after the wash.
Function meets design with the LED touchscreen panel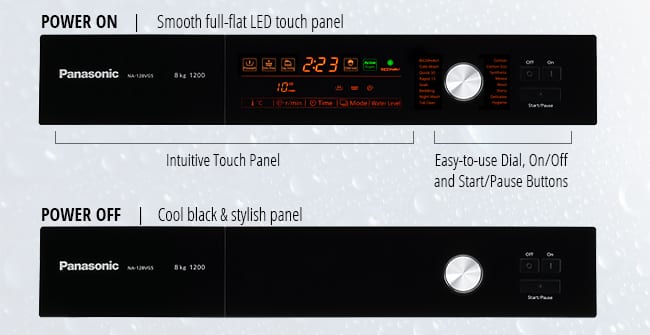 16 versatile washing programs and a range of optional settings are all at your fingertips, via the stylish LED front panel. The black touchscreen provides intuitive setting operation, while the easy-to-use dial makes program selection a cinch.
Reduce wasted water and energy with our clever eco features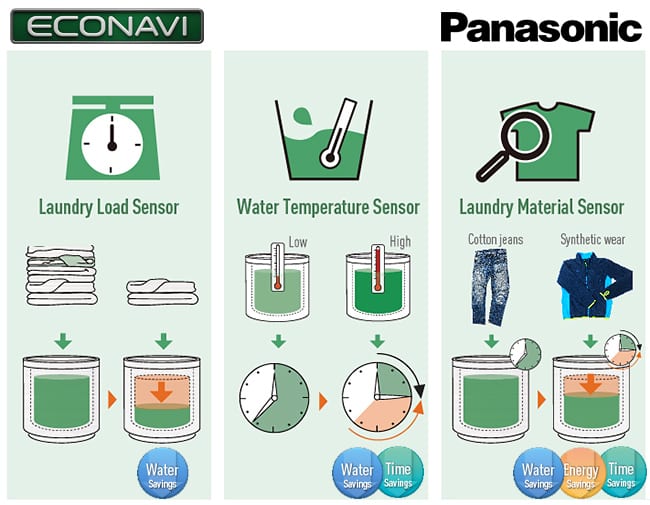 The new 128VG5 front load washer features ECONAVI sensors, 3D sensor wash and an Inverter motor to precisely detect the amount of laundry in the drum and adjust to the needs of each load. This combo reduces water and energy waste, lightening the load on your bills.
ECONAVI Sensor Technology uses a Clothes Material Sensor to detect whether the wash is primarily composed of cotton or synthetics so it can adjust accordingly, a Water Temperature Sensor to adjust operation time when the water temperature is hotter, and a Load Sensor to adjust the water level according to the load size.
3D Sensor Wash allows the movement of the drum to be analysed in 3 dimensions, detecting the movement of the laundry in the machine and making adjustments to enable the laundry to tumble from the optimal position.
The Inverter Motor supports the sensor technology by changing the motor's rotation and output based on the sensor input from inside the washing machine.
Check out the NA-128VG5WAU ECONAVI Front Load Washing Machine.