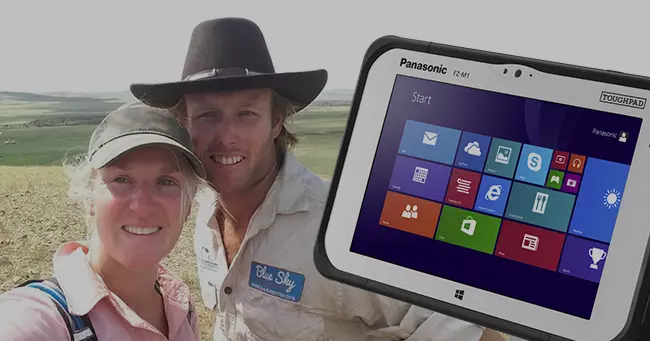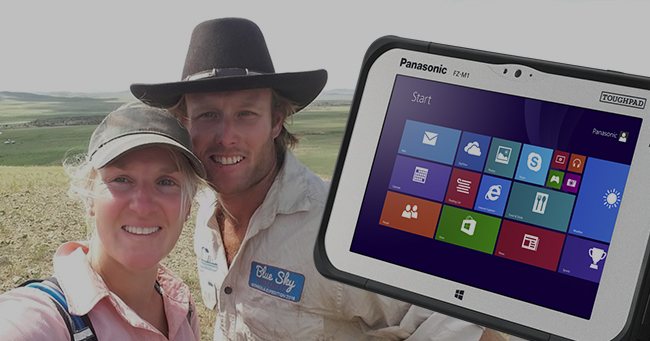 In October 2015, Blue Sky Walkabout adventurers Nic and Donna Cuthbert successfully completed a daring four-month, 2,000km unsupported crossing of Mongolia by horseback. Setting off in early June from the towering Altai Mountains bordering Russia, the expedition saw Nic and Donna cross Mongolia from West to East.  During the expedition, which traversed some of the worlds most remote and least populated areas, they and their four horses faced numerous challenges including vast desert crossings, grueling high altitudes and wind-swept, snowy mountain passes.
Aiding them throughout this arduous journey was a fully rugged Panasonic Toughpad FZ-M1. Weighing in at a mere 540g and only 18mm thin, the FZ-M1 is light and compact. It can also stand up to nearly any environment with a fully rugged MIL-STD-810G (1.5m drop) and all-weather IP65 dust and water-resistant design.
So how did the Toughpad FZ-M1 perform for the Blue Sky Walkabout duo? Nic Cuthbert is here to give us the low-down.
Environmental extremes were no match for the FZ-M1
"Travelling by traditional means through Mongolia on horseback meant that our Toughpad was subjected to the well-documented environmental extremes found on the Eurasian Steppe*. For us this meant starting out on our expedition towards the end of a harsh winter while it was still snowing, travelling through the heat of summer and completing our journey in the new winter," Nic said.

"Apart from the everyday knocks, vibrations and dust of travelling by horseback, our Toughpad was used in 45 degree heat while crossing a desert in the remote Uvs region of Mongolia. Months later it was used throughout many sub zero nights as we maintained watch over our horses. Snow, rain and other inclement weather never posed a problem for us while using the Toughpad."
*Areas of Mongolia experience some of the world's most extreme diurnal temperatures at times swinging between plus forty and sub zero, in the same day. (Nandintsetseg, Scott Greene, Goulden (2007) Trends in extreme daily precipitation and temperature near Lake Hövsgöl, Mongolia).
The FZ-M1 lived up to its lightweight and portable reputation
"Travelling by horseback means that weight is an issue. For the safety of our horses and the ultimate success of the Blue Sky Walkabout expedition we needed to ensure that the weight that our horses were carrying was kept to a minimum. Filming of the expedition in HD by DSLR and drone therefore meant that we needed a computing solution that not only offered processing performance but also was lightweight and portable. Our Toughpad FZ-M1 was the perfect solution. Recharged using a lightweight solar panel and coupled with a Bluetooth mouse and keyboard, our Toughpad was used for all of our data storage and photo editing," Nic said.
The reliable FZ-M1 kept the adventurers in touch and on track
"We also used the Toughpad FZ-M1 supplied by Panasonic to navigate, using detailed topographic maps of our route throughout Mongolia. Tracking between minute water sources in the desert meant our ability to survive therefore relied on accurate navigation and using the Toughpad for this task ensured dependable accuracy. As modern adventures we rely on technology that not only provides in-field solutions to navigation and data management but that also allows us to stay in touch with our followers. That the Toughpad FZ-M1 is lightweight, water and dust resistant, and powered with full Windows functionality meant that we could rely on it to deliver these mission-critical outcomes." Nic said.
Read more about Blue Sky Walkabout as the adventure across the globe.
Read more
Check out the FZ-M1 product page.
Contact us
---
Contact us
Contact us for more information on Panasonic Business products:.