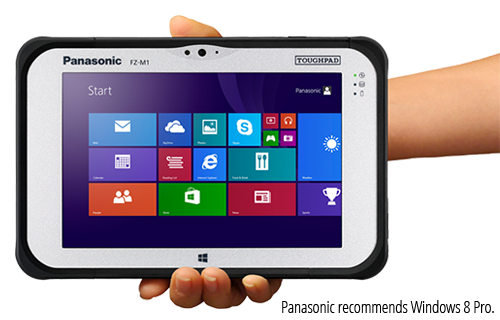 Our Windows operated Toughpads and Toughbooks run Windows 8.1 Pro, the latest generation of Windows for the enterprise that offers greater navigation and functionality than its predecessor*, plus the ability to run all legacy applications and recent enhancements. A lot of what you need is built right into the operating system but when it comes to apps, whether downloading, customising or creating, you'll find the possibilities are endless.
What applications can run on the Windows 8 Toughpads and Toughbooks?
Right out of the box, Windows 8.1 comes with apps to do all the basics and a lot more. In addition to the built-in apps, there are over 100,000 applications in the Windows Store and with new apps added every day. What's more, Panasonic has worked with its partners and customers to develop enterprise-grade Windows apps for Toughpad users in specific vertical markets.
Can Toughpads and Toughbooks run my custom applications?
Our Windows range is powerful enough to run just about any enterprise application designed to work with Windows 8.1. Of course, some customisation could be required to maximise navigation.
How can I develop applications for Toughpads and Toughbooks?
Virtually any Windows 8.1 application will work on the Windows operated Toughbook family, so no porting is necessary. However, Panasonic offers a Software Developers Kit (SDK) for developers to create custom applications utilising the barcode reader and other peripheral configurations, for both the traditional Windows desktop environment and the modern Metro style.
*A Windows 7 Professional downgrade option is also available and supported, however Panasonic recommends Windows 8.1 for small screen devices.
MORE
---
Contact us
Contact us for more information on Panasonic Business products:.