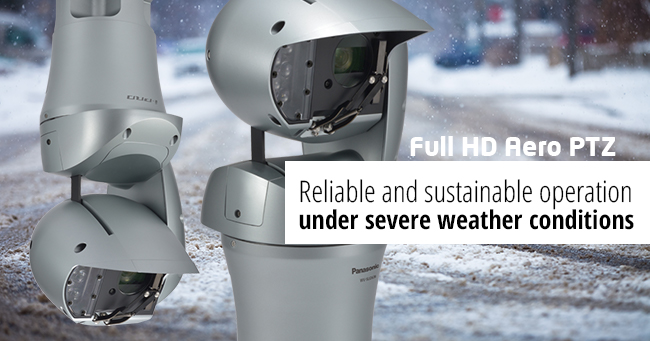 The Panasonic line-up of integrated security and video surveillance solutions has expanded to include a new rugged PTZ (pan/tilt/zoom) camera built to deliver Full HD images in extreme environmental conditions. The Aero PTZ (WV-SUD638) is ideal for a variety of applications, including ports, transit, airports, city surveillance, highways or any area or location, that are prone to severe natural weather conditions or other factors that might wreak havoc on the operation and reliability of a typical video surveillance camera.
Highly rugged, sleek body designed to weather any storm
The Aero PTZ network camera provides reliable and sustainable operation for mission-critical and other applications even under severe weather conditions, from rain and snow to extreme temperatures and gale-force winds. A highly durable, 360-degree aerodynamic spherical and rounded surface design minimises wind drag for heightened visual stability, and its special lightweight fiberglass body enables the camera to be especially resistant to corrosion from direct exposure to wet conditions such as salt-sea sprays.
Added features ensure an outstanding operating temperature range
A wide operating temperature from –50 ºC to +55 ºC and rugged construction allows the Aero PTZ to be resilient in arctic-to-desert climate ranges. The camera conforms to IP67 Ingress Protection (IP), which means it can sustain submersion in water for a short period of time. Aero PTZ's built-in wiper keeps the lens clean in rain and snow and it also includes an integral heater to keep internal electronics operating at optimal temperatures as well as a defroster to keep the viewing lens clear.
Exceptional image stability and low/no-light performance
A Video Stability Augment System (SAS) has been built into the Aero PTZ to deliver exceptional image stabilisation, virtually eliminating camera shake. It provides an outstanding high-wind load durability of 60m/s (approx. 134 mph) and can yield clear imagery with its optional long-range IR LED capability for superior performance in low-light and no-light conditions of up to nearly 500 feet.
Full HD resolution with 360-degree viewing
The Aero PTZ offers Full HD resolution of 1080p at 60 fps with a 30X optical zoom lens with integrated image stabilisation. 360-degree Sphere Vision 3D viewing provides 360-degree continuous panning and +/- 90-degree tilt range, while Super Dynamic Light Range Compensation ensures a wider dynamic range compared to conventional cameras.
Learn more about the Aero PTZ (WV-SUD638) camera
*Panasonic WV-SUD638 Aero PTZ camera launches in September 2016
---
Contact us
Contact us for more information on Panasonic Business products:.