The Cathedral Basilica of Saints Peter and Paul, mother church of the Roman Catholic Archdiocese of Philadelphia, provided a glorious backdrop for Pope Francis' recent visit to the city, where a special papal mass was celebrated for the people of the Archdiocese. Live video feeds of the mid-morning mass for the 2,200 congregants as well as for worldwide viewers were made possible by several newly-installed Panasonic remote production cameras, including six AW-HE130 integrated 1/3" pan/tilt/zoom and two AW-HE870 2/3" 3-CCD multi-purpose units.
AW-HE130 HD Integrated Camera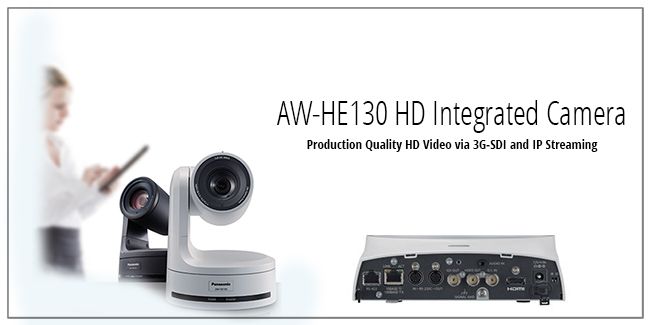 Production Quality HD Video via 3G-SDI and IP Streaming
The AW-HE130 P/T/Z incorporates new high-sensitivity; low-noise 1/3″ 3-MOS imagers that produce stunning pictures, even in low light conditions. Revolutionary new features include Power over Ethernet+ (POE+) for easier integration; and multi-stream transmission of H.264 HD video and audio (up to 1080/60p at 25Mbps.) The HE130 adds many innovative features to previous Panasonic P/T/Z models, such as a 3G-SDI output (up to 1080/60p); stereo mic/line-level inputs for embedded and streaming audio; a Night Mode for hi-res; near IR video acquisition (using an optional IR-illuminator in the 900nm range); an Optical Image Stabilizer (O.I.S); and IP-Live Preview for remote control and management of up to 16 cameras via Browser.
Find out more about the AW-HE130 HD Integrated Camera.
AW-HE870 2/3 3-CCD HD/SD Multi-Purpose Camera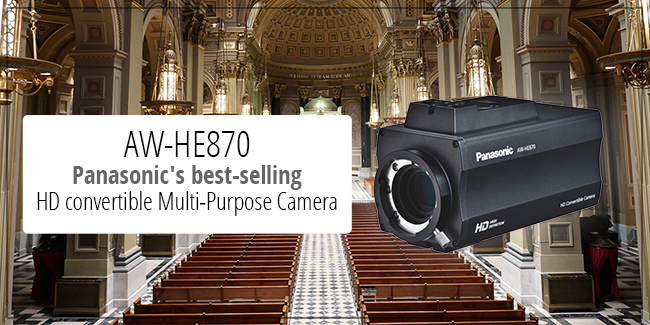 The AW-HE870N is a cost-effective, versatile 2/3″ HD/SD convertible camera that supports 1080i/720p/480i image acquisition. Delivering affordable image capture for a wide range of applications and lighting conditions, the HE870 is compatible with most 2/3-inch motor drive zoom lenses, all current Panasonic Broadcast pan/tilts and controllers, and many third-party systems. The versatility, high video quality, and cost effectiveness of the HE870 makes it ideal for use in education, government, houses of worship, corporate, rental and staging, and other applications. The HE870's 38-bit digital signal processor (DSP) and 14-bit A/D converter deliver super-sharp images. The camera's high sensitivity is measured at f11 at 2000 lux for superb video capture in varied lighting conditions. Panasonic's advanced spatial-offset, image-processing technologies provide exceptional high definition imaging, and 12-axis color correction allows for precise control and matching of HD video.
---
Contact us
Contact us for more information on Panasonic Business products:.