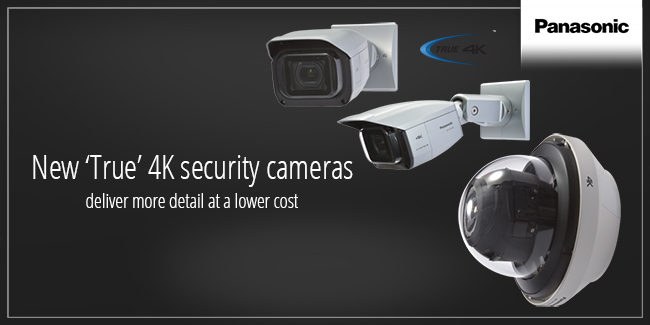 Here at Panasonic Australia, we've launched a new 'True 4K' security camera range. The key benefits of the new cameras are superior image quality and a wide field of view, covering a greater area in high detail. They offer benefits for a variety of organisations, and are ideal for areas that require ultra-high resolution, low-light capabilities and wide angled surveillance. For example, a large car park requires vehicle model, colour and licence plate identification as well as people monitoring. A typical 50,000 square metre car park would need around 70 HD cameras to provide effective coverage, while it would only require 21 Panasonic 4K cameras.

See more with superior image quality
The WV-SF781L dome camera and WV-SPV781L box cameras deliver excellent image quality and resolution at both the centre and corners of an image, and are aimed at applications where a large number of cameras are required to provide full coverage – such as stadiums, car parks, intersections, airports, railway stations, factories, warehouses and port facilities. 4K has four times the resolution of Full HD, and provides images in extremely high detail.
Few cameras mean fewer costs
Our new 4K security cameras can effectively cover a field of view four times larger than 1080p cameras and a view nine times larger than 720p cameras. They can also cover two and three times the distance of 1080p and 720p cameras respectively. This has the potential to reduce the overall cost of a surveillance system by up to as much as half, when the reduction in installation, cabling, network costs and maintenance is taken into account.
Purpose-built 4K optical technologies
Panasonic's custom-designed lens and sensor deliver 4K resolution images with very consistent sharpness across the entire frame. In comparison, some 4K cameras use inferior optics, which compromises quality. Panasonic has a purpose-built optical system to ensure our 4K cameras produce the highest quality images.
Advanced footage review features
When it comes to searching for footage, the reduced number of cameras means faster search time, which means better safety as well as greater operational efficiency. Another important safety feature we offer is Virtual PTZ (Pan Tilt Zoom) operation, which allows you to focus on one smaller area in view while still recording the whole area – so if an incident occurs in a location such as a stadium it is easier to track both at the time and when reviewing footage later.
Read the full press release.
---
Contact us
Contact us for more information on Panasonic Business products:.