Australian users can now harness the power of NDI-based workflows across Panasonic's entire line-up of AW-Series PTZ integrated cameras, including the newly released AW-HE38H, by either purchasing a camera with NDI|HX configured at the factory or by upgrading a standard camera after purchase with a paid licence from NewTek*.
Advantages of NDI|HX support
Enabling Network Device Interface (NDI|HX) with enhanced new high-efficiency mode on a Panasonic camera allows users to connect Panasonic professional PTZ cameras directly to an NDI network. One of the many advantages that NDI|HX provides is automatic detection by the Panasonic AV-HLC100E Live Production Centre, NewTek TriCaster® and NewTek's IP Series of professional video switchers so now Panasonic's remote camera line-up can seamlessly integrate with the hundreds of other NDI-capable products thus NDI-based video production workflows are possible without any additional configuration which is a huge step towards truly remote productions.
Accessing NDI|HX support
Cameras can be supplied with NDI|HX pre-installed at the factory (AW-HN38, AW-HN40, AW-HN130 and AW-UN70) or thanks to a software license sold by NewTek existing Panasonic PTZ cameras (AW-HE38, AW-HE40, AW-HE130 and AW-UE70) can be upgraded to support NDI|HX.
Panasonic AW-HE38
NDI | HX Compatible Entry-level HD Integrated PTZ Camera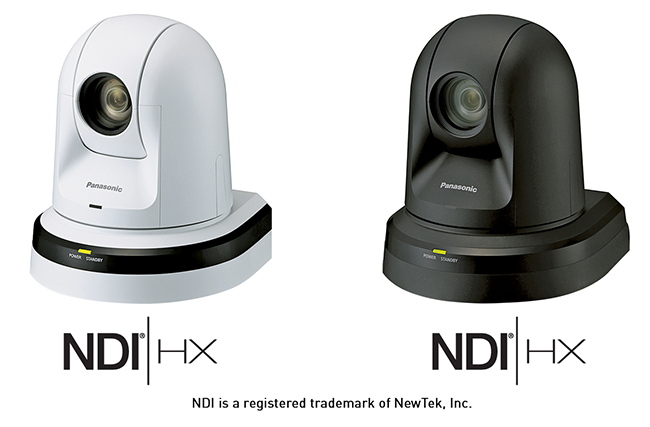 The AW-HE38 is a low cost, Full HD remote camera with integrated pan-tilt that shares newly-developed 1/2.3-type MOS sensor and Digital Signal Processors (DSP) for high sensitivity as the AW-HE40 with the difference of a 22x optical zoom instead of 30x optical zoom. It is available with HDMI output only, making it ideal for a wide variety of applications, including lecture theatres and meeting rooms.
To purchase Newtek's license please visit: https://store.newtek.com/index.php/panasonicndihxlicense.html
To upgrade the supported models, please visit:
AW-HE130 Series
AW-UE70 Series
AW-HE40 & AW-HE38 Series
*To upgrade Panasonic cameras to support NDI|HX, the latest (free) Panasonic firmware version must be loaded. After which, users can purchase the licence from Newtek which will enable them to support NDI|HX.
---
Contact us
Contact us for more information on Panasonic Business products:.