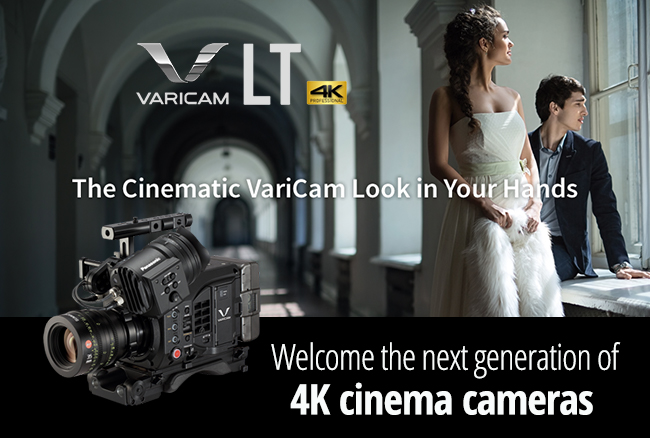 We are so excited to announce the debut of the new compact 4K Super 35 VariCam LT Cinema Camcorder. The VariCam LT camcorder offers the same super 35mm sensor and superb imaging capabilities that distinguish the award-winning VariCam 35, but brings significant reductions in size, weight and price, making it a more accessible choice for cinematographers.
Incredible image quality
Incorporating this identical imaging "DNA" in a more compact rendition, the VariCam LT (model AU-V35LT1G) delivers 14+ stops of dynamic range with V-Log, and the esteemed cinematic VariCam image quality and colour science, as well as the VariCam 35's breakout innovation, dual native ISOs of 800/5000.
Lightweight and versatile
Weighing just under 2.7kg and having superior capability to similar sized cameras, the VariCam LT will be the ideal camera for handheld, SteadiCam, jib, crane, drone, gimbal and overall cinema verité work. The VariCam LT is likewise tailor-made for owner/operators, independent filmmakers, documentary makers and corporate production creators.
Multiple Image formats
The VariCam LT delivers superb image handling in multiple formats ranging from 4K, UHD, 2K and HD, and like the VariCam 35, is fully capable of High Dynamic Range (HDR) field capture. The new 4K camcorder offers Apple ProRes 4444 (up to 30p) and ProRes 422 HQ (up to 60p) support for HD recording, as well as Panasonic's AVC-ULTRA family of advanced video codecs. New codecs introduced in the VariCam LT include AVC-Intra LT and AVC-Intra 2K-LT, both designed to offer capture rates up to 240fps in imager crop mode, ideal for sports and other fast motion footage.
Read the full press release
Find out more about the VariCam LT camcorder
---
Contact us
Contact us for more information on Panasonic Business products:.