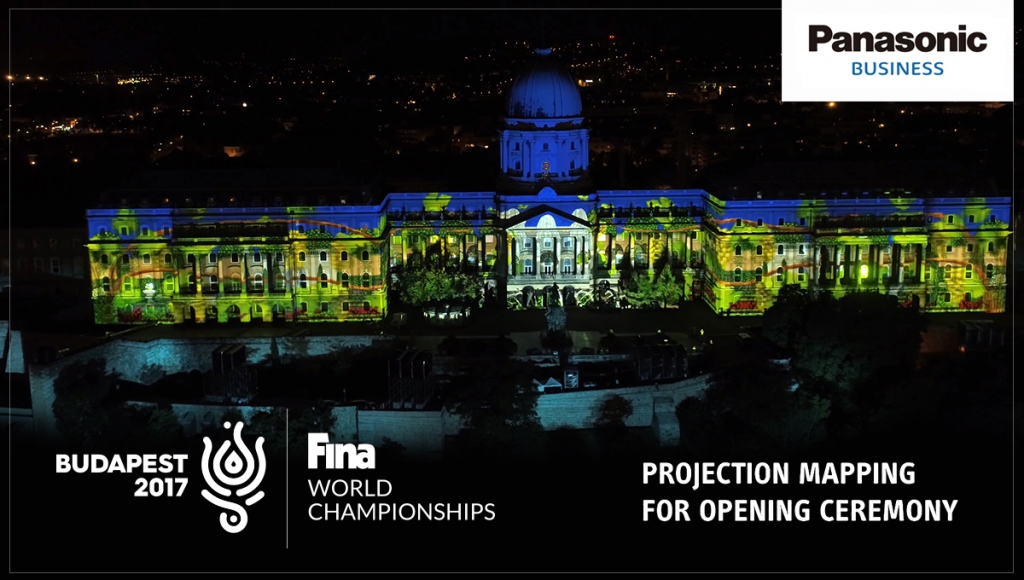 The Opening Ceremony of the FINA Budapest 2017 World Championships included the biggest projection mapping show ever made in Hungary, with 50 of Panasonic's PT-RZ31K projectors used to achieve this incredible feat. Made in collaboration with talented artists from Maxin10sity and Bordos.ArtWorks and technically supported by Visualpower Kft, the 3D mapping show transformed Buda Castle's facade with a visual feast of moving images.
WATCH: Buda Castle Projection Mapping | Full Show
Technical provider, Visualpower relished the challenges posed by the Buda Castle projection mapping, mounting a bank of Panasonic projectors on the opposite hillside and calculating the total light output required to majestically illuminate the castle's façade.
Video credit: Maxin10sity – The Projection Mapping Company
WATCH: Buda Castle Projection Mapping | The Challenge
Visualpower's professional design of the project for the opening ceremony took more than six months to complete and culminated in technical implementation on a mammoth scale. A team of 50 people assembled 41 tons of scaffolding to house 50 Panasonic PT-RZ31K projectors in ten projection positions to create a lightshow of 1.5-million ANSI lumens across the 9000sqm exterior surface of the castle.
Video credit: Visualpower Kft – Visual Technology Service Provider
Panasonic PT-RZ31K 3-Chip DLP™ Projector

The PT-RZ31K Series combines 3-Chip DLP™ with proprietary SOLID SHINE laser technology for brighter and immersive visual experiences with brilliant 30,000 lm images in WUXGA resolution.. Designed for convenient and flexible on-site installation, along with a range of advanced features that promote lower cost of ownership, this projector produces magnificent image quality in large venue applications.
Panasonic Projectors
Photo Gallery : Projection Mapping Show
Click on image to enlarge
Photo Gallery : Behind The Scenes
Images were extracted from the video "Buda Castle Projection Mapping Challenge"
---
Contact us
Contact us for more information on Panasonic Business products:.