Storytelling truly comes to life at Ballarat's Sovereign Hill, where the AURA light and sound show features around 20 Panasonic laser projectors incorporating cutting-edge 3D technology and edge blending. Hundreds of projections across a 64-acre site recreate regional history via an astounding and unique immersive experience, transporting viewers from the Dreamtime, to the gold rush and the Eureka rebellion as it's never been seen before.
The AURA experience begins in Sovereign Hill's theatre with a 3D documentary exploring space before visitors travel in carts to a stage where the Wadawurrung creation story is told with projections on a magnificent lake. The magnificent finale takes place in an outdoor theatre as gunfights and protests erupt under the night sky, illustrating a land transformed by the gold rush.
"The story is told through a series of projection surfaces throughout the whole site, so it starts with the back of the doors and then opens up to the next layer of surface on some moving tents where the image has to be tracked, so the automation system is talking to the projection system to control where the image is. It's a very big projection undertaking and Panasonic were exceptionally supportive."
– Nick Eltis, Technical Director, Technick
Feel the vibrations as stars explode in front of your eyes, watch as land is transformed by the gold rush, and dive into the chaos of the Eureka Rebellion. AURA is Sovereign Hill's totally new immersive theatre experience. Find out: https://t.co/yiWQqnqGxT pic.twitter.com/Y9I0tzjzuq

— Melbourne (@Melbourne_in) April 10, 2019
Designed by Creative Director Andrew Walsh AM and his Accolade Event Management team of local and international talent, AURA features cutting-edge 3D projection technology to be seen only at Sovereign Hill. Two years in the making, this large scale installation involves hundreds of projections that depend on the unrivalled brightness, uncompromising colour and exceptional low maintenance of Panasonic Solid Shine light source projectors.
"We weren't as fearful in putting in what is something like 20 projectors into the show because we are using laser hybrid projectors that doesn't require us to have constant lamp changes. The networkability of all of those projectors mean that we can also monitor them. We can look at their health and wellbeing from afar."
– Andrew Walsh, Director, Accolade Event Management
The Freedom to Create with Large Venue Panasonic Projectors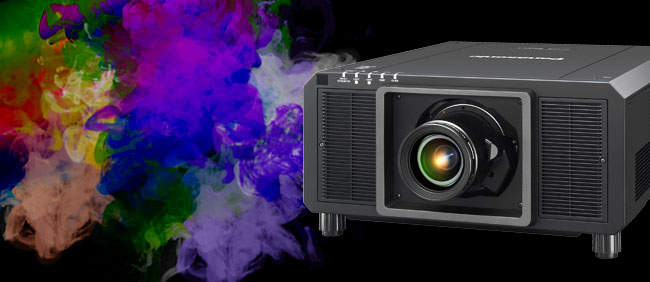 Panasonic has been the leading light in projection solutions for more than 35 years. Our large venue projectors are high-lumen models, capable of displaying huge, vivid images for any type of content. They're already making breath-taking AV displays possible in auditoriums, theatres, trade shows, concerts and large, challenging, outdoor venue locations across the world. They've also been used to successfully project stunning, high quality images on monuments and large buildings, creating some of the most engaging 3D projection mapping experiences.
Panasonic Large Venue Projectors
---
Contact us
Contact us for more information on Panasonic Business products:.