Panasonic Corporation was honoured with an Technology & Engineering Emmy Award for its pioneering development of removable solid-state media for video camera/recorders.
The Emmy was specifically presented for the companys creation of the P2 video recording format.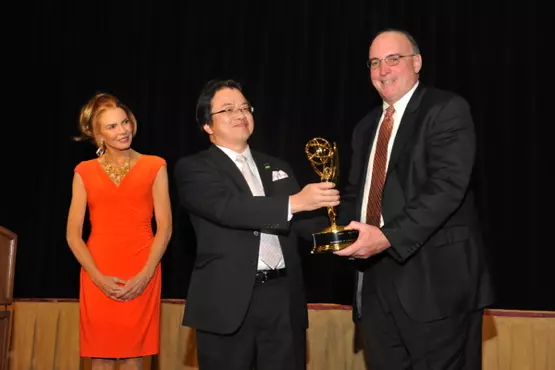 The ground-breaking P2 recording media and accompanying hardware were introduced in 2003 and provided a substantial improvement in workflow by being file based with computer editing, a significant reduction in maintenance and operating costs by eliminating mechanical transports from cameras and recorders, and an overall higher reliability.
With the industry's first solid-state, no-moving-parts design, P2 products have dramatically reduced the downtime associated with mechanical issues. P2 products are better able to perform in extreme environments and are resistant to temperature extremes, shock and vibration, unlike mechanical tape, hard disk and optical disc-based systems. Reducing the ongoing cost of acquisition, P2 cards can be used reliably again and again, without deterioration in quality.
"Panasonic is honoured to receive the coveted technical Emmy for its pioneering efforts in the development of solid-state video recording,"
said John Baisley, Executive Vice President, Panasonic Systems Communications Company of North America (PSCNA). "Since its inception nearly a decade ago, the P2 recording format has provided video users extensive productivity benefits and Panasonic continues development of the P2 format with new HD and now 3D models."
Panasonic's current line-up of high-capacity P2 cards offers transfer speeds substantially faster than most professional solid-state memory cards offered by other manufacturers. All P2 cards use high-quality solid-state memory, extremely durable, die-cast aluminum construction and impact-proof connectors. Additionally, P2 cards facilitate dependable performance during recording in all types of environments, as well as instant access and complete data compatibility in all P2 camcorders and workflow tools.
Panasonic accepted the Emmy Award from the National Academy of Television Arts & Sciences at an awards ceremony held at Las Vegas' Venetian Hotel during the ongoing Consumer Electronics Show.
For more information on P2HD, click here.
---
Contact us
Contact us for more information on Panasonic Business products:.