Meet the Panasonic KX-TPA68, a new SIP wireless communication terminal designed for intuitive use and added flexibility as a member of the KX-TGP600 SIP wireless phone system family.
The new wireless desk phone is designed to help increase collaboration among employees by enabling real-time shared call appearance, allowing users to pick up calls, retrieve held calls and join calls from lines shared across multiple KX-TPA68 wireless desk phones registered to the same base unit. With these capabilities, users can monitor the status of up to six phone lines in real-time on the same screen and complete actions using single touch operations.
Equipped with a 3.5-inch color LCD, the KX-TPA68 features superior sound quality, with a full duplex speaker-phone and 4 dB higher voice volume than the previous model. Additionally, Panasonic introduced an upgraded noise reduction feature, which automatically adjusts the received audio volume in noisy environments, to further improve quality. The KX-TPA68 wireless desk phone can work alongside any combination of up to seven additional Panasonic wireless or desktop DECT phones per KX-TGP600 base unit.
Key Features: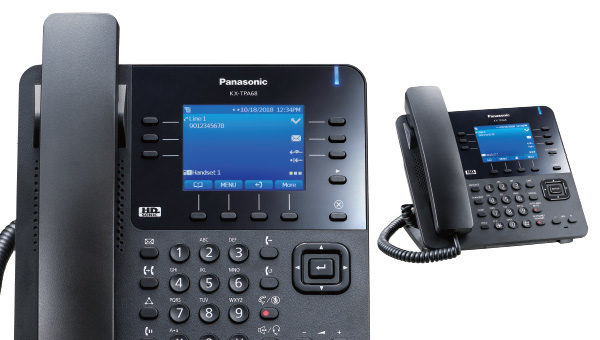 Intuitive Operation: The large color LCD screen enhances the user interface, allowing every detail to be visible at-a-glance for users.
Key System Emulation: This feature supports easy to use PBX and key system functionality to bridge the gap as employees move from a PBX system to hosted environments, without sacrificing features or functionality.
Flexible Function Keys: This new model includes 18 self-labeling flexible function keys – arranged as 3 pages of 6 keys – that indicate both icon and status.
Privacy Features: Businesses can set privacy privileges to define which operations are allowed for specific users, ensuring a collaborative, but controlled communication environment.
Easy Installation: The phone offers easy and flexible installation without the need for complex wiring.
Contact Directory: The phone is able to store up to 500 phone numbers for easy look up and ease-of-use.
KX-TPA68 Wireless Desk Phone
---
Contact us
Contact us for more information on Panasonic Business products:.