The new Panasonic Toughbook FZ-L1 tablet is an important addition to our growing rugged Android portfolio. Mobile workers will love the design and ease of use of this rugged device and IT administrators will appreciate the ease of management, functionality and attractive total cost of ownership.
With its 7-inch display and optional barcode reader, the FZ-L1 is suitable for a wide range of roles in industries such as retail and hospitality, manufacturing, transportation and logistics. In the retail and hospitality sector, the Toughbook FZ-L1 is perfect for real-time ordering, inventory checking and goods location; in the logistics business the device is well suited to job routing, navigation, inventory management and proof of delivery; and in the warehouse it's great for tasks such as pick-up confirmation, operation management and goods identification.
Available as wi-fi only for inside workers or with optional voice and data capability for field-based workers, the Toughbook FZ-L1 tablet is slim and lightweight, weighing in at around 480g, but rugged enough to stand up to business needs. The powerful yet energy efficient device is built on the Qualcomm® Snapdragon™ mobile platform to ensure long-term Android support. A rich ecosystem of management tools and peripherals are available at launch to ensure the device can be tailored to meet the needs of the mobile workforce and the technology administrators.
Certified As Android Enterprise Recommended
The Panasonic Toughbook FZ-L1 tablet meets Google's requirements for Rugged Certification, thanks to specs such as military standard MIL-STD810G with an IP67 rating; "zero touch" management options including QR, NFC; along with security and future-proofing that exceed Google's criteria.
Panasonic Toughbook FZ-L1
Android Tablet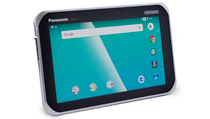 Android™ 8.1
7″ HD (1280 x 720) enterprise display with Glove & Rain modes
2GB RAM and 16GB flash storage
Qualcomm® Snapdragon™ CPU
Optional 4G Data capability
Tested to MIL-STD-810G*
5 metre drop resistance*
IP67 rated*
User replaceable battery with warm swap function
Full work shift battery life
Enterprise level security and manageability (COMPASS)
3 years standard warranty
*Tested by an independent third party lab following MIL-STD-810G
and IEC 60529, Sections 13.4, 13.6.2, 14.2.5 and 14.3
---
Contact us
Contact us for more information on Panasonic Business products:.