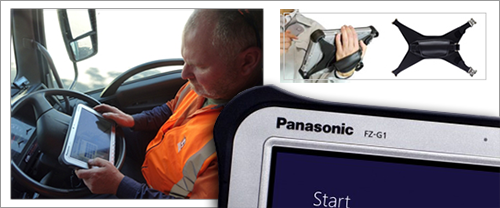 In a perfect example of Panasonic Toughpads being tough enough for the real world, one of New Zealand's top companies (specialising in construction and maintenance) has chosen to comprehensively outfit their road crews with the Windows 8 Toughpad FZ-G1.
Fulton Hogan, who specialise in building and maintaining transport and civil infrastructure, has operations across New Zealand and wider Australasia, and according to NZ IT Service Delivery Manager, Graeme Mackin, the company had always struggled to find a good mobile device running a standard Microsoft operating system.
When the Windows 8 Pro, Intel Core i5-based Toughpad FZ-G1 became available, Mackin was immediately interested.
"These devices weigh just over a kilogram, yet are essentially a complete desktop PC in a tablet format. More than that, they deliver the advantages of certified tough design to eliminate the issues we've experienced with other devices in demanding environments," Mackin said.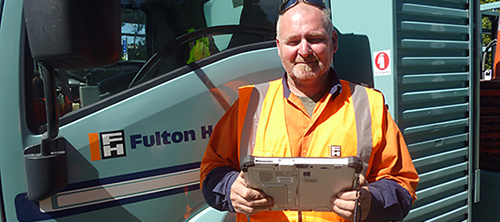 He went on to praise the long lifespan of the new Toughpad range, noting that with around 60 Toughpad FZ-G1s already commissioned and another 200 set to be deployed, Fulton Hogan can lease the devices over a considerably longer period with confidence in their ability to perform.
"Toughpads are far less likely to break. The local dealer, Comworth, takes great pride in the capability of the devices and more than that, provides local support so if something goes wrong, it gets sorted fast," Mackin said.
"The reliability of these products means less down time, happier end users and the ability to keep working where other devices would let you down."
MORE
Watch the video "Panasonic FZ-G1 Fully Rugged 10-inch Windows Tablet".
British Airways now fly with FZ-G1 Toughpad tablets
The Good Gear Guide was impressed with our FZ-G1 fully-rugged tablet.
Watch what happens when a FZ-G1 is frozen and dropped.
The Toughpad FZ-G1 performs like a star.
Tough new ways to do business.
---
Contact us
Contact us for more information on Panasonic Business products:.