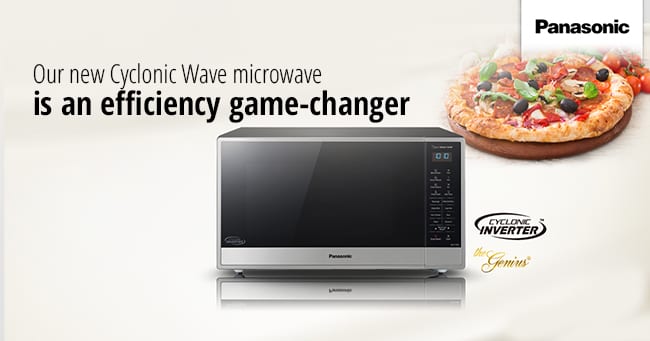 We've just introduced the new Panasonic 44L NN-ST785S Cyclonic Inverter Microwave Oven, featuring next-level technologies to produce evenly-cooked food every time.
Brand new Cyclonic Wave Technology cooks a variety of foods efficiently without the frustration of undercooked centres and dried out edges. The cyclonic wave distributes microwave energy gently in a three dimensional, circular pattern to contact all food surfaces evenly, resulting in perfectly thawed, cooked or heated meals, regardless of their shape and size.
"Unlike traditional microwaves that pulse power on and off, Panasonic's popular Inverter Technology provides continuous power for gentler cooking and more consistent results. With the addition of the new Cyclonic Wave Technology, heat is now delivered more evenly than ever before, ensuring delicious meals with no cold spots, as well as very effective defrosting.' -Nicolas Cauzac, Product Marketing Manager Microwaves, Panasonic
This clever new microwave also offers Intelligent Sensor Cooking, which makes preparing perfectly cooked food even easier. Simply select the type of food you want to cook, rather than inputting a time, power or weight, and a sensor analyses the temperature inside the microwave, letting you know the exact moment your food is ready to eat.


NN-ST785S Cyclonic Inverter Microwave
• 1,100W of cooking power
• 18 sensor programs
• Turbo defrost mode
• Multi-stage cooking
• Countertop or built-in