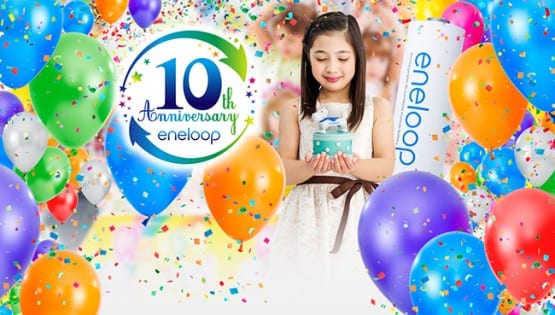 On Saturday November 14, our eneloop rechargeable battery range celebrates its 10th Anniversary. Since the range debuted in 2005, the eneloop brand house has become a trusted household name in more than 80 countries globally with over 330 million cells shipped.
Learn more about eneloop rechargeable batteries.

Check out the latest eneloop family member

eneloop Rechargeable Battery Family Pack
There is something for everyone in the family with this terrific pack comprised of six AA batteries, four AAA batteries, an overnight charger, two C adaptors and two D adaptors. The adaptors are super versatile, as you simply slot in your AA battery and you can use it like a C or D battery.
Check out the eneloop Rechargeable Battery Family Pack product page.
Do you want to stop contributing to battery waste and get on the eneloop trolley?