The reliable, easy-to-use Panasonic KX-TGM420 amplified cordless system is the home phone solution for everyone affected by mild to moderate hearing loss. It simplifies everyday calling with voice volume up to 40 dB to clarify caller voices, and a speech booster to ensure that callers hear you. For added convenience throughout your house, the KX-TGM420 system can be expanded to include six full-featured handsets*.
*KX-TGM420 includes one handset; KX-TGM422 includes 2 handsets; KX-TGMA44 additional handset can be purchases separately.
Easy to see and easy to hear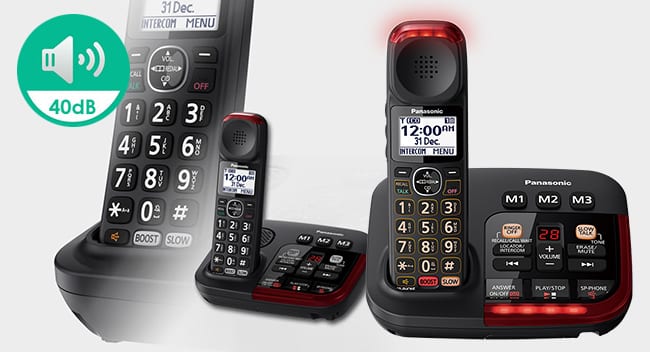 The amplified KX-TGM420 not only makes everyday call management easier, but also more convenient with enlarged touch controls. Backlit, easily visible buttons let you choose six tones for clarifying different voice types. Plus, boost volume for caller voice amplification up to 40 dB and set ringer tone volumes up to 100 dB. A white-backlit LCD and enlarged backlit numeric call dial keypad make calling quick and simple in any light conditions.
Audible and visual call alerts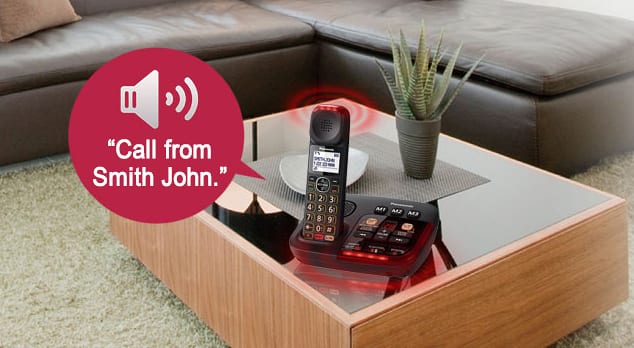 To complement the system's 15 ringtone options, bright red LED visual ringers on the base unit and handsets also flash when someone calls. And together with Panasonic's Talking Caller ID, the KX-TGM420 system not only alerts you audibly and visibly to incoming calls, but also announces who's calling.
Slow down those fast talkers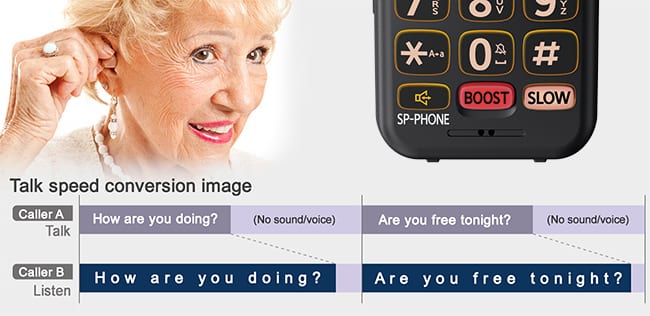 To understand quick-talking callers and voice messages, the KX-TGM420 comes with one-touch Slow Talk control to automatically slow the speed of speech while conversing in real time. It's ideal for clearer conversations and conference calls, screening incoming calls and voice message playback. Slow Talk touch buttons are conveniently located on both base unit and handsets.
Power when the power goes out
Two built-in backup batteries* in the base unit keep you connected when the power goes out. When fully charged, the batteries provide power for up to 13 hours of continues use and up to 9 days standby.
*Rechargeable Ni-MH batteries are installed in the base unit at the time of shipment.
Added features for extra convenience
Speakerphone
Intercom
DECT 6.0 Plus for extended signal range
Noise reduction for clearer calls from noisy locations
Talking digit keypad
100-number phonebook
250-number call block
9 speed dial numbers
Up to 17 minutes of voice messaging