Instagram's favourite skin scientist Dr Michelle Wong also known as 'Lab Muffin' is a science educator with a PhD and a kick-ass beauty content creator. She is devoted to helping people understand the science behind beauty products and make an informed decision when it comes to their skin. It's safe to say, we all need a Lab Muffin in our life!

Having worked with Michelle last year to launch our Micro-Foam Facial Cleanser and Ionic Facial Toner, we are delighted to sit down with her again and talk all things DIY beauty. Michelle is all for using everyday ingredients found in our kitchen pantries to beautify skin. We got her thoughts on this trending topic, and asked her to share her top DIY skincare remedies for you to try!
Why do you think people are becoming more interested in natural DIY skincare?
I think a lot of people are looking to simplify their routines, and DIY skincare is one way to do this. Some people are also suspicious of ingredients in their skincare, whether it's based on fact or fearmongering.
Why is cleansing your skin considered the most important step in skincare?
Cleansing your skin of any dirt that's accumulated during the day, and getting rid of makeup is important for healthy skin. Dirt, oxidised oils, pollutants and makeup can contribute to breakouts and aging skin. Even your natural skin sebum can clog pores!
What makes Panasonic's Micro-Foam Facial Cleanser the perfect at-home cleanser?
It works with any foaming cleanser. Unlike a lot of other facial cleansing brushes, it doesn't scrub at your skin with harsh bristles – there is a soft-bristled brush attachment, as well as an attachment with massaging balls which is gentle enough to use several times a day. There's also the heated plate attachment which is relaxing to use, and helps break down makeup so you don't have to rub your skin as hard.
What are some surprisingly powerful ingredients in the kitchen, which are great for skincare?
Oatmeal is a fantastic treatment for soothing skin. It contains aventhramides which are anti-inflammatory and reduce skin irritation/ redness. Cooking oils such as olive oil or coconut oil can be fantastic for removing makeup. And if you are looking to exfoliate your face, sugar, especially the types with fine crystals is great. Larger crystals can be useful for exfoliating body skin, which is less sensitive.
What are 3 at-home beauty remedies you can whip up in your kitchen?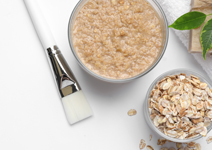 For a calming DIY face mask, I would recommend mixing ground oatmeal + water together and leaving it to soak for 5 minutes. You can then apply it to your face and wash it off after 10 minutes. Tip:  you can also massage it into your skin when it's wet as a gentle scrub.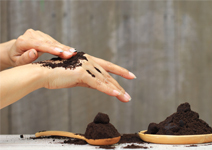 Body scrubs are also fun to do while home in the shower! For a moisturising scrub, just mix ground coffee + coconut oil together to make a thick paste and then apply all over body. Pay attention to dry patches on your elbows, knees and feet.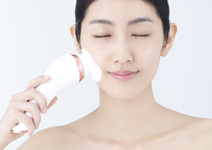 If you are looking for a kitchen hack to remove make-up gently, put any cooking oil on a cotton pad and swipe over your face to remove makeup. Follow with a foaming cleanser such as Panasonic's Micro-Foam Facial Cleanser.
Tell us your everyday, favourite beauty must-have for flawless skin?
I've been using Panasonic's Micro-Foam Facial Cleanser and Ionic Facial Toner for nearly a year now and I am a fan!
Want more from Michelle? Follow her on Instagram @labmuffinbeautyscience and read her blog posts on labmuffin.com to get woke about your skincare and informed about the science behind some of your fav beauty products.
Visit our website to find out more about our popular Facial Cleanser and Toner duo!
Disclaimer: If you are allergic to any of the ingredients used, please do not try at home. We recommend that people with sensitive skin perform a patch test first to ensure there is no reaction.