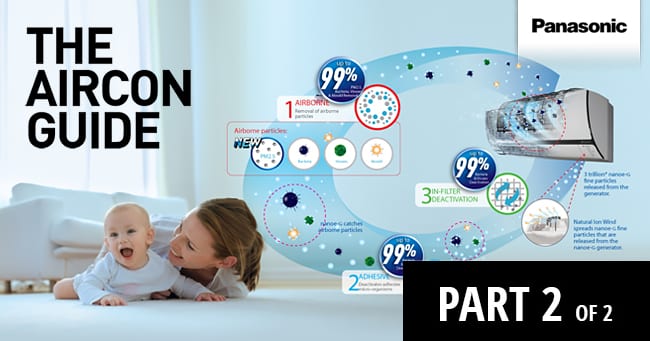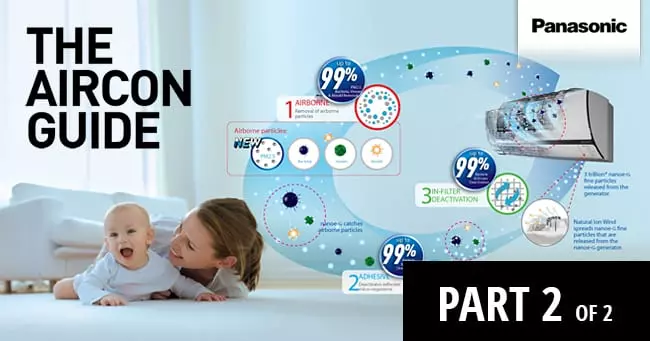 PART 1 of Air Conditioning Buyer's Guide  Download the Buyer's Guide (PDF 702Kb)
After carefully considering our Part 1 of the Panasonic Air Conditioning Buyer's Guide, you are now ready to choose the perfect Panasonic air conditioner for your needs. From wall split models designed to treat individual rooms through to cassette and ducted solutions for your entire home, you are sure to find Panasonic has just the right product for you.
ROOM AIR CONDITIONING
Our-award winning ECONAVI and Inverter room air conditioners promote energy efficiency without sacrificing comfort and convenience, by applying high-precision sensor and control technologies to optimise heating and cooling operations from room to room. Affordable and easy to install, these wall split systems are mounted high on the wall and provide efficient heating/cooling as air sinks through the room. Wall splits are designed to heat/cool one room and are comprised of an indoor fan coil unit and an outdoor condenser.

With advanced ECONAVI sensors to save energy and the powerful nanoe-G purifying system to filter the air, this air conditioning series provides the ultimate in comfort for your home.
Energy saving Inverter technology and air purifying filter combine to save you money on your power bill and ensure the air that you breathe is free of allergens and bacteria.
Stay cool all summer long and save money on your power bill thanks to clever Inverter technology. This smart range even purifies and dehumidifies the air in your room.
Choose the wall split system that best suits your needs with the Panasonic Air Conditioning Sizing Wizard. This clever tool will also show you product features, the advantages of Panasonic technology, prices and dealer locations.
View online
Download for iOS
DUCTED AIR CONDITIONING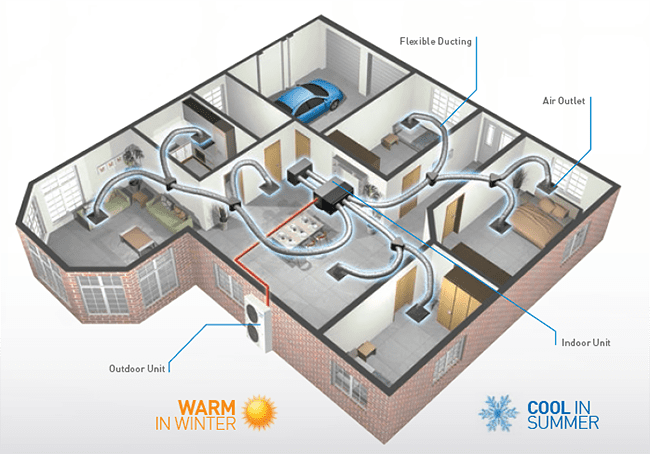 We offer a range of ducted air conditioning solutions for homes and medium-sized buildings such as offices and restaurants. Consisting of an outdoor unit and a concealed indoor unit, these systems deliver air through pipes (usually in the ceiling) into each room via ducted or cassette vents. These systems look very discreet and have been designed with flexibility in mind, which is extremely helpful when designing a system for your home, and also makes installation much easier. Both the indoor and outdoor unit are compact and lightweight, making them easy to transport, and easy to install. With easy to use controls, settings like on/off, temperature adjustment, operation mode and fan speed adjustment are all at your fingertips. Each system also allows detailed settlings like weekly timers, plus your air conditioner can easily be zoned by your installer to allow complete choice over which rooms you heat or cool.
Cassette models allow for a neat fit within the ceiling space to match a modern décor and provide uniform cooling and easy installation.
These models are discreetly hidden in the ceiling space to provide an ideal match for large homes and light commercial buildings.
Specialist Locator
To find your nearest Panasonic air conditioning specialist, simply call 1300 COMFORT (1300 266 3678) or select from the list of specialists on our locator site:
https://www.panasonicair.com.au/specialist-locator.
PART 1 of Air Conditioning Buyer's Guide
Download the Buyer's Guide (PDF 702Kb)